News
Lessons from a trailblazer
---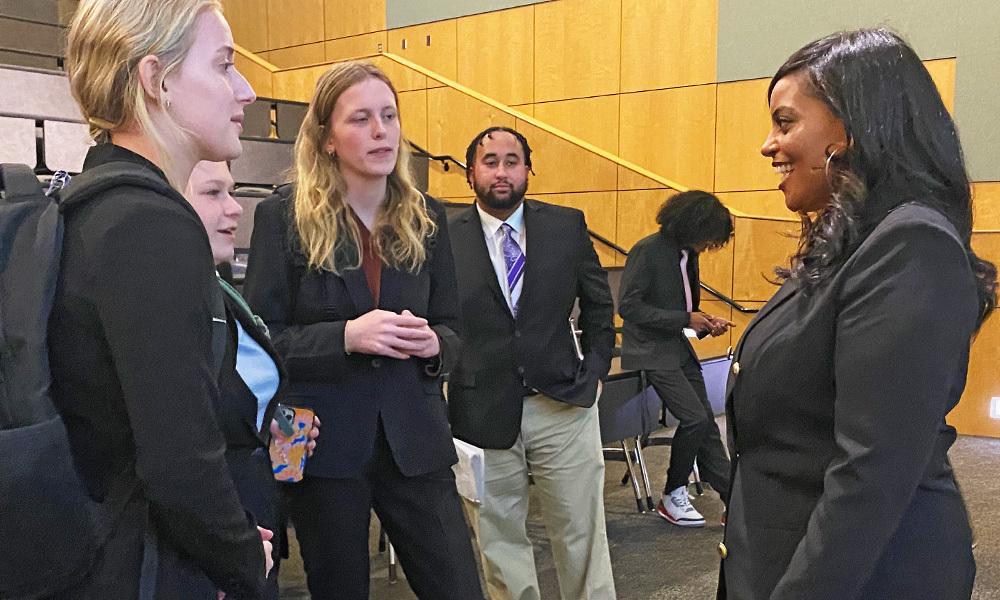 SUMMARY: JMU alumna, Alexys Feaster ('03), shares insights about her career journey to the point of founding her own consulting company.
---
The Hart School of Hospitality, Sport and Recreation Management recently hosted Alexys Feaster ('03) to share important lessons she's learned throughout her career. Senior Sport and Recreation Management student, Jordan Elbert, acted as a moderator for the evening, asking questions about Feaster's background and professional experience.
Feaster has worked in numerous industries including finance, politics and entertainment. Notably, she served on Barack Obama's re-election campaign, spent time as an investment banker and served as chief of staff at Roc Nation, Jay-Z's entertainment company. Her broad professional experiences led to her current role as founder and CEO of The Kinship Advisors, a consulting firm that provides advisory services to clients in many industries.
While speaking with students, Feaster emphasized the importance of being true to oneself. She explained that authenticity "is crucial to building a successful career because it allows you to bring your unique perspective and ideas to the table." She urged students to stay true to their values and beliefs, even in the face of challenging situations and unsatisfying professional positions. 
Taking a risk can be scary, especially for young adults who may be uncertain as to which career path to follow. But Feaster says, "Start with doing what you love." She went on to explain that passion is reflected in your work, and others will take notice. "I was inspired by Ms. Feaster after hearing of her prowess even in the face of fear and rejection," said Dani Nathan, a senior SRM student.
Feaster went on to discuss the value of networking and building professional relationships, noting that her connections in the Obama re-election campaign led to her position at Roc Nation. Encouraging students in the audience to create new connections, she shared three pieces of advice: be proactive in building relationships; always follow up; and seek out opportunities to be of service to others.
Feaster concluded by offering a distinction between mentors and champions. Mentors, she said, can offer valuable advice and guidance, but champions are those who actively advocate for you and help you achieve your goals. "Seek out champions who believe in you and your abilities. Be on the lookout for opportunities to be a champion for others too," she said. Feaster has done just that by becoming a member of the Hart School's Advisory Board, where she hopes to support students in their endeavors.