Alumnus and accomplished chef returns to campus
News
---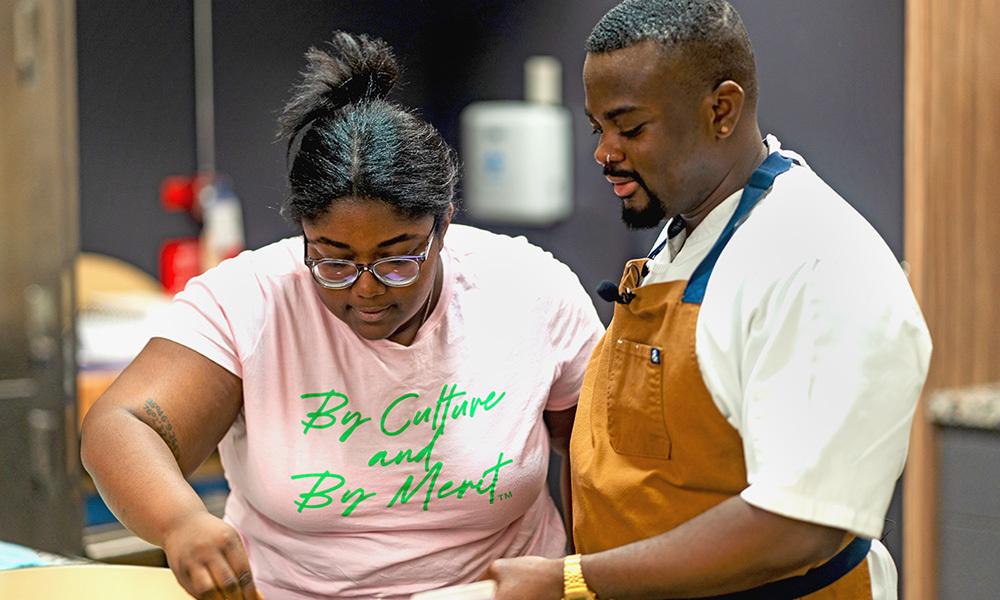 SUMMARY: Chef, Emmanuel Baiden ('17), returns to campus for a lesson in cooking.
---
Emmanuel Baiden ('17), private chef and caterer with his own business, MannyEats, and executive chef at Penny's Wine Shop in Richmond, visited campus to teach and cook with students in the Hart School's instructional kitchen. With the help of some Hart School culinary students, Baiden made Korean beef short ribs with sweet potato grits and roasted oysters with apple poblano butter, two of his already famous dishes from Penny's. 
Baiden graduated from the Hart School with a Hospitality Management degree before earning a position at Keswick Hall and Golf Club, a Mandarin Oriental resort hotel and Five Star Forbes-rated establishment in Charlottesville, VA. He is currently the owner of Manny Eats, his catering business specializing in traditional and modern cooking with West African influences, and is the executive chef at Penny's Wine Shop. Most recently, Baiden was selected as the VIP chef at The Virginia Governor's Cup, pairing each of the 12 Governor's Cup Case winner's wines with tasteful dishes.
Baiden was joined in the Hart School's instructional kitchen by JMU students from across the university, who were eager to learn from an accomplished chef. Students in attendance were able to observe Baiden as he demonstrated how to cook some of his most popular dishes. Following the demonstration, students had the opportunity to sample the dishes and ask questions. One of the attendees, Emmy Forvargue, said, "...it was one of the best dinners I have had in my entire life!"