News
Cuisine is culture: "MasterChef" winner visits the Hart School
---
SUMMARY: Chef Gerron Hurt takes to the Hart School's demo kitchen to inspire and educate students.
---
On Friday, February 25, the Hart School of Hospitality, and Sport and Recreation Management, in collaboration with the Center for Multicultural Student Services, hosted season nine champion of the TV series "MasterChef," Chef Gerron Hurt. The evening highlighted the background and history of Soul Food, with the master chef taking students through a demonstration and answering questions throughout the process. 
As a Louisville, Kentucky native, Chef Gerron grew up eating and creating delicious Southern and Soul Food dishes. He was invited to the Hart School's instructional kitchen to share his knowledge and joy for cooking with students, who joined in-person and via Zoom. 
Gilpatrick Hornsby, interim executive director of the Center for Faculty Innovation and associate professor in the Hart School shared why this event was unique amongst others. "First and foremost, it provided us an opportunity to celebrate the excellence of an African American chef. Chef Gerron is the first African American winner of the show 'MasterChef' in nine seasons. Secondly, it showed the commitment of the Hart School and the Center for Multicultural Student Services to providing students with excellent and diverse experiential learning opportunities. Lastly, it exposed JMU to the greater culinary world by showing off what our programs and students have to offer."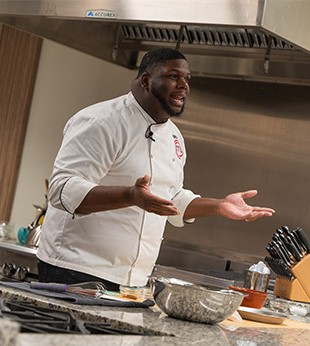 Chef Gerron treated students to tastings of his fried chicken, macaroni and cheese, braised collard greens and sweet potato casserole. For dessert, he demonstrated the necessary steps to create a chess pie. As the pie baked in the oven, Chef Gerron fielded questions from the students who were present. 
To conclude the evening of good food and company, Chef Gerron gave a presentation on Soul Food, its history and roots and the importance of cuisine being infused into one's culture. 
Blending cuisine with culture is significant because culture is cuisine. Many of the foods and dishes people eat, or the way dishes are prepared, strongly correlate to the traditions embedded in a culture, including factors like the environment in which they live and accessibility to food items. 
As Black History Month comes to an end, Chef Gerron's visit could not have been more timely. "Exposure of minority and non-minoritized students to a chef of this caliber will only enrich their educational experience," said Hornsby. When students are exposed to dishes and cuisines they have never encountered it can be an encouraging way to allow them to explore and discover new areas of interest. The "MasterChef" event and demonstration actively exposes and celebrates Chef Gerron and other young African American chefs and students.