Hart School of Hospitality, Sport and Recreation Management
Hart School Student Organizations stay busy, involved and safe
---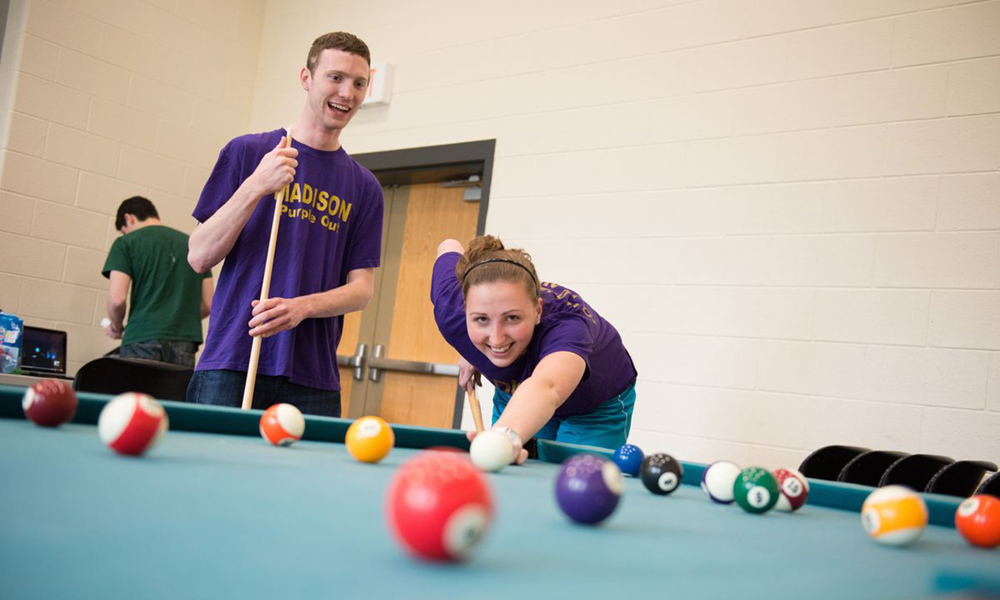 Pictured (above): Two JMU students playing pool
---
While the 2020-2021 academic year proved to be challenging when it came to gathering, the resourceful student organizations of the Hart School found quite a few ways to stay motivated, involved and safe.
Women in Sport and Recreation Management (WSRM), a new student organization within the Hart School, organized the first-ever "We Hart Racial Equality Virtual 5K." All proceeds from the event went toward creating an endowed scholarship for underrepresented undergraduate and graduate students studying Sport and Recreation Management at JMU.
The JMU chapter of the National Society of Minorities in Hospitality (NSMH) hosted fun social events in the fall semester, such as movie and game nights. Their work on professional development included a webinar with the NSMH headquarters about communication with emotional intelligence and partnering with recruiters from organizations such as Chick-fil-A, Waffle House and King's Dominion.
JMU Club Managers Association of America (CMAA) participated along with 15 other colleges in the Zoom Around the World Virtual Club Tour, and the chapter's work from this series was later featured in the January/February 2021 issue of Club Management Magazine. They participated in the Virginias Chapter Annual Golf Tournament and a student and young professional development panel put together by the National Capital Chapter of CMAA.
The JMU chapter of the Hospitality Sales & Marketing Association International (HSMAI) was named Global Collegiate Chapter of the Year for the second time in five years. They look forward to the fall when they hope to take monthly site visits to different hotels and businesses in the D.C./Maryland/Virginia area and the launch of their biggest fundraiser yet.
Sigma Rho Mu, the first and only business fraternity for sport and recreation management students celebrated their first anniversary at JMU in November and saw its membership climb to 60 brothers. They're planning Sigma Rho Mu field day in Fall 2021, giving their Hart School peers a chance to compete in tournament style field day games, such as sack races, cornhole, pie eating contests and plenty more.
The Sport and Leisure Association of Madison (SLAM) brought in guest speakers from a multitude of segments in the sports industry, such as a senior account executive with the Washington Nationals, VP of community relations of the Atlanta Falcons and president of the TD Garden Arena. Members were also treated to a guided tour of the new Atlantic Union Bank Center.
Hospitality management honor society held their monthly general body meetings on zoom and also hosted a virtual speaker event with Crosskeys Vineyards where several of their managers came to speak about the ins and outs of the winery and events business. They also participated in a highly successful virtual conference and induction ceremony put on by the International Council on Hotel, Restaurant and Institutional Education (ICHRIE).
The JMU Professional Convention Management Association (PCMA) is serving the Harrisonburg community through a partnership with the Salvation Army to prepare food in order to serve local individuals and families in need and working with the PCMA Capital Chapter to assist with Martha's Table initiative in Washington, D.C. They were able to virtually attend the Convening Leaders conference, which unites event professionals globally and allows students to learn more about leadership, professionalism and networking. They look forward to attending the January 2022 conference in Las Vegas in person.
James Madison University was one of the five founding chapters of the Eta Sigma Delta International Hospitality Management Society, which recognizes the top 10%-15% students of their class. The growth is a testament to the dedication of both students and professionals in hospitality and tourism to pursue academic, professional, and personal excellence. The guidance and support of ICHRIE has made it possible for ESD to grow, and it is the intent that this society will lead hospitality and tourism educators and professionals to the highest levels of professionalism and achievement.
The Graduate Student Association (GSA) has been an integral part of the student experience for the graduate students at James Madison University. The executive members have been active with the graduate students, listening to their concerns and getting them connected with other graduate students. So far, this year the GSA has provided professional development funds for students' professional certifications, memberships and entrance fees to conferences. The executive team has also provided COVID-19 friendly social events like miniature golf and Zoom socials.