JMU Launches New Program in Master's Degree in Applied Nutrition
News
---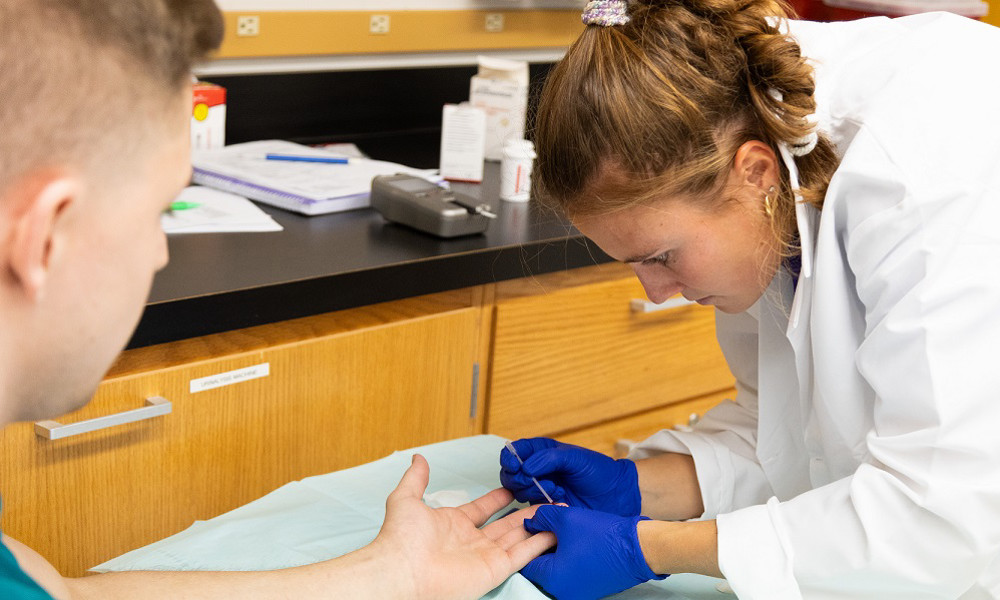 SUMMARY: James Madison University launched an M.S. in Applied Nutrition, emphasizing the importance of specialized education for aspiring Registered Dietitians and offering a competency-based, interprofessional approach to prepare graduates for various roles in the field of nutrition and dietetics.
---
James Madison University (JMU) is paving the way for a new generation of dietitians with its newly introduced Master of Science (M.S.) in Applied Nutrition. According to Program Director Jeremy Akers, starting in 2024, individuals aspiring to become Registered Dietitians must hold a master's degree. This is a crucial shift that highlights the importance of specialized education in this field and shapes the future of nutrition and dietetics. This program is designed for this purpose – to prepare students with the necessary knowledge and competencies in this field. This year, JMU proudly welcomed its first cohort into the program, marking a significant milestone in our commitment to shaping the future of nutrition and dietetics.
The M.S. in Applied Nutrition program is accredited by, and adheres to the standards of the Accreditation Council for Education in Nutrition and Dietetics (ACEND). This competency-based program, combines classroom and supervised experiential learning. Students must demonstrate proficiency in a wide range of competencies through supervised experiential learning. According to Dr. Akers, competency-based education focuses on skills acquired rather than hours of instruction and practice. Graduates of this program will be competent practitioners. He emphasizes that this unique approach sets the program apart.
The expertise of its faculty also sets JMU's M.S. in Applied Nutrition program apart from other programs. The program has adopted an interprofessional perspective, so that alumni will be well prepared to work effectively with other healthcare professionals. Faculty have expertise that includes, food science, food marketing, healthcare leadership, chronic disease, and many other relevant fields. Students benefit from modern facilities, industry-standard kitchens, lab spaces, along with opportunities to work within interprofessional healthcare teams and gain supervised experiential learning in diverse settings, such as food management services, hospitals, and other community settings.
The program's curriculum is designed for individuals from various backgrounds, including students without prior nutrition education. Students from all majors are welcome as long as they have completed eight undergraduate courses: Introduction to Nutrition, Psychology, Statistics, Human Anatomy, Human Physiology, Microbiology, Organic Chemistry, and Biochemistry. Prerequisite courses can be completed as part of the student's bachelor's degree program or later. Community College and online courses are acceptable sources of appropriate coursework. This flexibility ensures that aspiring students can easily meet these requirements and start their educational journey in the field of nutrition and dietetics.
Students who complete this program will be prepared to become Registered Dietitians who work in hospitals or clinical settings. They will be prepared to specialize in fields that include sports nutrition, food management services, or community nutrition. They will be prepared to help organizations and communities develop food policies and standards.
Dr. Akers suggests that all students choose a program that matches their future goals and is a good fit for the student's aspirations. JMU's Applied Nutrition program will provide students with education that will set them up for success. The M.S. in Applied Nutrition program is a pathway to a fulfilling career in nutrition, and a chance to shape the future of dietetics.
Students who apply by December 1 will be considered for early admission. Later applications will be considered until the program reaches capacity. More information about earning your M.S. in Applied Nutrition at James Madison University.