News
Hello, my name is Dardanë
---
SUMMARY: Come along with me as I begin my graduate studies miles away from home as an international student from Kosovo.
---
Welcome to an international graduate student adventure at JMU. I'm Dardanë Halimi, a student in the Writing, Rhetoric and Technical Communication program. I'm writing blogs to share my everyday experiences, travels, challenges and even some fun stories. Join me as I take you through my life as a grad student!
I'm passionate about writing and storytelling. Growing up, I have always used writing and art to express what I felt, how I saw the world, and my experiences. My heart is full when I'm writing stories, whether it's a compelling narrative or a persuasive piece, I'm all in when it comes to the world of writing.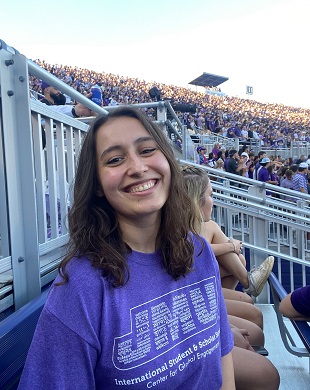 After finishing my bachelor's degree, I was constantly thinking about my next steps. "Should I just settle down with a good job here in Kosovo?" or "Should I go explore what else the world has to offer?" Leaving my small hometown in Kosovo to study abroad was not an easy decision, but I believe that we cannot grow if we always live within our comfort zones. So, here I am, miles away from home, ready to embrace a whole new world of opportunities and experiences.
When I'm not busy with my studies, you'll often find me in a small coffee shop or the comfort of my room, reading a book, or binge watching my favorite movies and tv shows. Reading and watching movies are my ways of escaping for a couple of hours and uncovering new worlds and perspectives. I'm not only about books and movies, though. I love taking long walks, and feeling the world around me. And I love coffee — sharing stories and laughter with friends while enjoying a cup of coffee is a weekly ritual.
As I start this journey, I'm excited to explore different career paths. Currently, my interests lean toward content editing and digital writing. I can imagine myself making a difference in the world of written communication, whether it's through a publishing house or a magazine. The possibilities are vast, and I'm eager to see where this adventure leads me.
I am ready to take on new adventures and explore the world of Writing, Rhetoric and Technical Communication during my master's program at JMU. I'm looking forward to creating stories, meaningful relationships, embracing every opportunity that comes my way. My plan, with this blog, is to share my graduate experiences with you.