News
Building lifelong global connections
Let's Talk About: Welfare and sustainability after the pandemic
---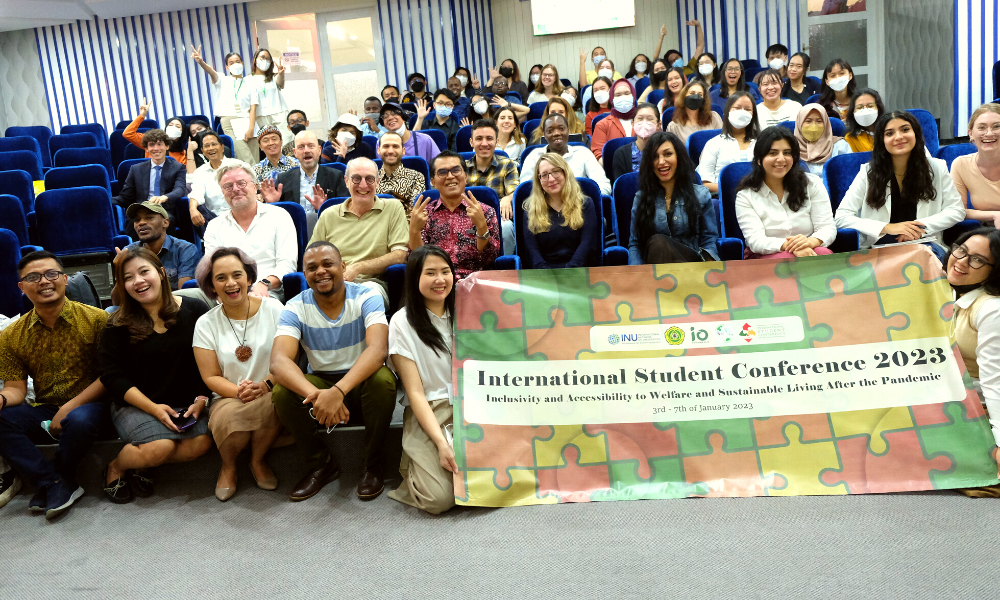 SUMMARY: Independent Scholar, Shukrana Shukrullah ('24), and classmates, Bella Santos and Casey Brewer were selected to attend the 2023 International Student Conference in Indonesia hosted by Parahyangan Catholic University (UNPAR) on the theme of "Inclusivity and Accessibility to Welfare and Sustainable Living After the Pandemic."
---
JMU student, Shukrana ('24), reflects on her conference experience in overcoming the challenges of the future as a true global citizen.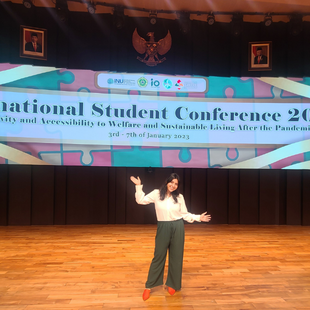 1. What are your expectations for this experience?
I am nervous but really excited. I have studied abroad and even completed internships abroad, but I have never been a part of an in-person international conference. I imagine I am going to meet really cool people and international friends! Since we are all going there for similar reasons, I am ecstatic to be surrounded by curious and smart students who are just as passionate about travel and learning about new cultures as I am. I know I am going to walk out of this with a lot of newfound knowledge about different issues globally and perhaps even learn more about my own country through cross-cultural comparisons. I expect I am going to learn a year's worth of experience within a week!
2. What do you want to learn about during this adventure?
I want to learn what it is like to talk about real problems in different contexts with people experiencing the same worldwide issue in their own regions. It seems like each country is moving through the pandemic at its own pace, and I am intrigued to learn how different nations are coping with the effects of COVID-19 even now.

After attending the conference, Casey Brewer said, "The lectures and workshops at the International Student Conference (ISC) provided me with a way to collaborate with and learn from professors and students alike, from all over the globe. The topics ranged from sustainable design to accessibility to disability services, from artificial intelligence to food waste management. I learned so much about all types of things that I had never previously learned about, and I made so many lasting and memorable connections. I am very grateful to have had this opportunity."
"This conference has made me rethink what I want to do with my life after JMU. I have decided to shift some of the focus of my personal major more towards my international interests."
— Shukrana Shukrullah
3. How did attending this conference help your educational or career goals? Would you recommend students to apply, and why?
This conference has made me rethink what I want to do with my life after JMU. I am currently in a self-designed major through JMU's Independent Scholars Program, and after attending the INU conference, I have decided to shift some of the focus of my personal major more toward my international interests. It is scary to make career decisions when you are still learning about what you like but being at this conference, surrounded by students of various backgrounds and majors, has motivated me to look for what sets my heart on fire.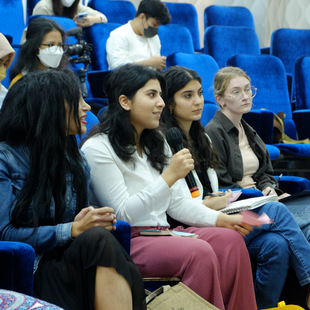 This conference reminded me of my love for travel and meeting people from around the world. Meeting and collaborating with international students on crucial topics related to welfare enlightened me about how powerful our generation is and how I want to be a part of that force.
"This conference is the perfect opportunity for one to travel to a region of the world that isn't perfect or fabricated but a raw and authentic setting where you can observe culture and society through the eyes of a local."
— Shukrana Shukrullah
I am more than grateful to have had the opportunity to attend this conference because it has given me a chance to reflect on my passions, my interests, and what matters to me as graduation nears. I feel even more determined to pursue a master's in a global music business program and maybe even a Ph.D. in International Relations!
I have learned that I want to keep learning in global settings! I have never seen myself grow so much. I would recommend this conference to anyone who wants to test their comfort zone and learn more about themselves and the bigger world. I have traveled to so many countries but going to a non-capital city (Bandung) was an enlightening experience about the people and culture of Indonesia.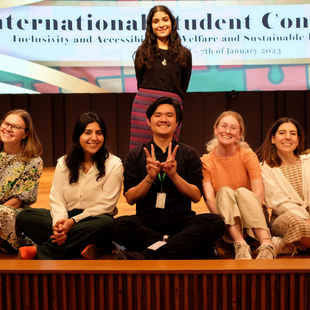 4. Did you learn something about the destination, yourself, or both?
The students at the conference's host university, UNPAR, were so incredibly kind and accommodating to me and the other students. They constantly went out of their way to help us navigate the city and even accompany us, making us feel safe and supported. I forged relationships with people there that I might not be able to do with someone in ordinary circumstances nearly as quickly. Though leaving Indonesia after a short trip was challenging, I am happy to have brought new friendships with me to the USA among my two JMU classmates. These memories and friendships are ones that I know will last me forever.
 What are 10 things you would recommend to someone else planning a similar trip?
1. Pack things for every possible scenario and bring necessary over-the-counter medication.
2. Bring a nice pair of comfy shoes that you'll probably wear for 90% of the trip!
3. Jet lag is real so track the time zones and try to adjust your sleeping times on the plane!
4. Do not exchange too much currency at the airport! Bring your credit and debit cards because you never know which will work.
5. Drink plenty of water! Bring that 32oz Tumblr! Be sustainable and carry a reusable bottle but also be mindful of where you can and cannot drink tap water!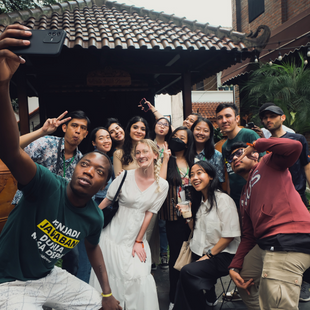 6. Buy a world travel adapter!
7. Eat all the food but be cautious of street food! Some of the best food will be street food but sometimes it's better to save that for the second or third day of your trip as street food might not be the best option for your stomach that's just getting used to the new atmosphere.
8. Do not let your nervousness stop you from talking to new people and making friends!
9. Be mindful of what you can take home in your luggage before you buy anything abroad!
10. Brush up on some knowledge of the country before you go! Basic things like social etiquette and essential phrases can make your experience even more enjoyable and easier to navigate!