News
Beyond the Classroom: The Contributions of International Students
---
Contributor: Molly McGillis
[CGE's International Student & Scholar Services' Insights is a series of blog entries and interviews meant to depict different JMU globally-minded individuals' perspectives of their JMU experiences.]
In an increasingly globalized world where students have access to higher education across the globe, it is an honor to have so many international students call JMU home. International students across the United States deeply enrich our country; they bring with them new worldviews, traditions, and beliefs that expose the communities around them to new ideas and ways of thinking. For community members who do not have the opportunity to travel, engaging with international students is a fantastic way to bring some of the benefits of traveling right here to everyday interactions in Harrisonburg.
For example, attendees at our Spicy Food World Tour in January had the chance to try new, exciting, and spicy foods from countries such as China, Italy, Germany, and Korea, just to name a few. While trying out these delicious dishes, students from all over the world talked and learned more about each other and their native cuisines while sharing a unique bonding experience: crying over very, very spicy food!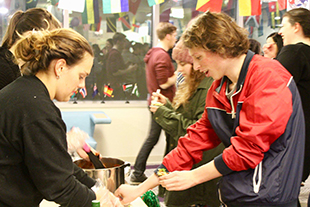 Our LIFE (Leaders in International Friendship Exchange) Program participants may not always be crying over spicy food together, but they too reap the benefits of intercultural collaboration and connection. The LIFE Program pairs international students with community members and families. These LIFE relationships greatly benefit our international students: they allow them the chance to engage with U.S. culture and traditions in the context of a family household, as well as explore Virginia beyond JMU's campus with the help of a local resident's insight and expertise. Likewise, these interactions and shared experiences benefit the community members who have this privilege of spending time with our international students. They are offered the opportunity to engage with the different lifestyles, values, and beliefs that our international students bring to the table. They even get the wonderful and unique experience of seeing their favorite local spots, like the farmer's market or the book fair, through new eyes as their new international friend experiences them for the first time.
Looking beyond Harrisonburg and the benefits of the personal, day-to-day interactions we have with our international students, welcoming international students to the United States is beneficial to our nation as a whole. On a practical level, international students are an economic boon to the institutions they study at and the communities they live in. According to the NAFSA: Association of International Educators, international students contributed $69.3 million to our area in the 2017-2018 academic year, thereby supporting 613 jobs. If that sounds like a lot, their national impact is even more impressive: according to the same report, international students contributed $39 billion nationwide to the U.S. economy, supporting more than 455,000 jobs. Our international Dukes' presence in Harrisonburg helps our local small businesses to grow and thrive in our community, as they are financially supported by the additional engagement from international students eager to try what our town has to offer.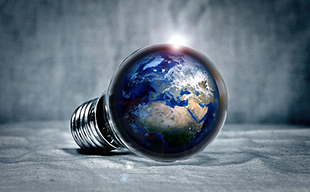 International student contributions don't stop there. International students aren't just supporting businesses – they're starting their own. According to a recent article from Forbes writer Stuart Anderson, nearly 25% of billion-dollar startups in the U.S. were founded by an individual who began their time in the country as an international student. These former international students' companies create an average of more than 1,400 jobs each. If you've ever used Stripe to process payments online, browsed local events on Eventbrite, or yearned to go to space with SpaceX, you've engaged with a startup founded by an international student. If you've ever used Cloudflare to optimize a website or sold a couch on OfferUp, then you have seen firsthand the benefits of the innovation and entrepreneurial spirit that international students contribute to our society.
Exposure to new ideas and cultural experiences; the opportunity for relationships and collaboration with people of all backgrounds; boosts to our local and national economies; startup technologies that bring innovation to our country: these are just a few of the reasons that we should welcome international students to the United States with open arms. It is truly a privilege that some of them choose to study here at James Madison University.
Sources:
Photo taken by: Duc Tam Nguyen