News
Peace Corps Prep Coming to JMU
---
Article By: Gabriela Baker
The JMU Peace Corps Prep program will launch on January 17, 2019. Peace Corps Prep is a pathway for JMU undergraduates to prepare for Peace Corps Service and other international service and development opportunities. 
Through a collaborative effort between Center for Global Engagement (CGE), Outreach and Engagement, Career and Academic Planning, and Community Service-Learning, James Madison University is now an official partner university of the Peace Corps Prep program. Since the Peace Corps was founded in 1961, 530 alumni from JMU have served as volunteers[1], traveling to various communities overseas and servicing those in need.  Recognizing this rising interest and opportunity to expand engagement opportunities for students, JMU will begin offering a specialized curriculum to students who wish to receive the Peace Corps Prep Certificate. 
As the Office of International Programs (OIP) changed its name to Center for Global Engagement (CGE), the scope of local-to-global opportunities offered for JMU students was amplified. The CGE created a special projects unit, run by Dr. Vesna Hart, Director of International Cooperation, to organize and implement opportunities for students and faculty to engage globally within their local community.  As one of their most anticipated actions, the CGE will coordinate and release the JMU Peace Corps Prep program in the Spring of 2019.
Students accepted in the Peace Corps Prep program will complete requirements to develop four competencies identified by the Peace Corps: sector-specific skills, foreign language proficiency, intercultural competence, and professional leadership.  Official completion of the program at JMU will offer students a competitive edge on the Peace Corps application process.[2] While the program is especially valuable for students who are interested in Peace Corps by guiding them in preparation for service, this certificate program will prepare all students for global endeavors and for any kind of service or employment opportunities after college.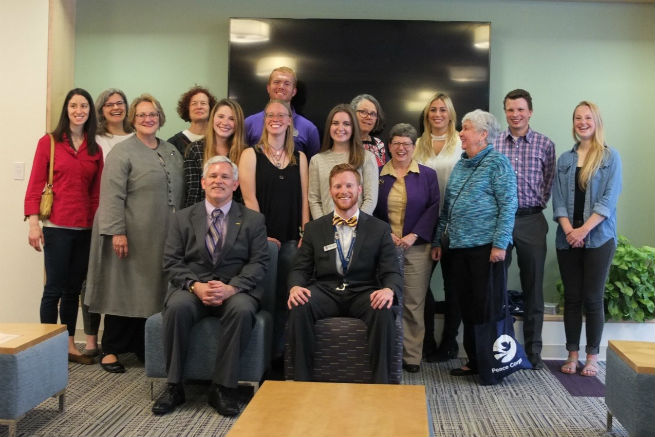 Past, present, and future JMU Peace Corps volunteers coming together to celebrate and promote JMU Peace Corps involvement.
Dr. Hart sees a huge potential for the success of the Peace Corps Prep program within the JMU community.
"Because JMU aims to be national model of engaged university, the Peace Corps Prep program provides an excellent opportunity for students to learn through academic, service, and leadership experiences that bridge local and global engagement. The appealing part of this certificate program is that students can usually fulfill the requirements with classes in their major and electives they are already interested in taking," Hart said. 
The Peace Corps Prep hopes to expand the already strong presence of the Peace Corps on JMU's campus through the work of 2013 JMU alumni and Peace Corps recruiter, Matthew Merritt.  Merritt was involved in various community-service learning organizations during his time at JMU, gaining the skills and mindset necessary for the Peace Corps.  His impactful volunteer experience and inspiration to become a JMU Peace Corps recruiter can be found here.
A group of JMU students discussing their plans to serve in the Peace Corps following graduation.
Previous JMU alumni who have become Peace Corps volunteers have also voiced their excitement for this new program.
"I became interested in joining the Peace Corps during my time at JMU. I was a Social Work Major and each day I came away from my classes inspired to affect change and promote empowerment amongst vulnerable populations, both in the US and internationally," 2009 JMU alumni and Peace Corps volunteer Courtney Crenshaw said.
Crenshaw is currently volunteering in Kosovo and managed to work out her Peace Corps requirements independently, gaining inspiration from one of her professors, Cindy Hunter, a returned Peace Corps volunteer.
"I was inspired to explore the Peace Corps when I heard Prof. Hunter's stories," Crenshaw said, "When assigning me for my field practicum, she placed me in a setting that she believed would prepare me for joining the Peace Corps."
"I started my journey in Kosovo during the summer of 2017 and am a TEFL (Teaching English as a Foreign Language) volunteer. I teach English to students in the 1st-5th grade and our goal is to improve the English language skills within the Kosovo community," Crenshaw said.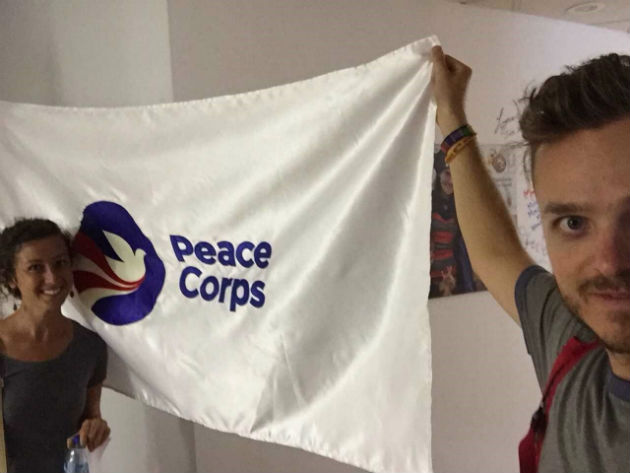 Crenshaw and her partner Maxwell Gruber at Peace Corps Prep training.
Crenshaw emphasized the Peace Corps Prep program would have enhanced her college experience and relieved much of the uncertainty she faced, stating, "It would have been very helpful in deciding to join the Peace Corps as it may have helped define my interests and skills as well as prepared me for the expectations of Peace Corps."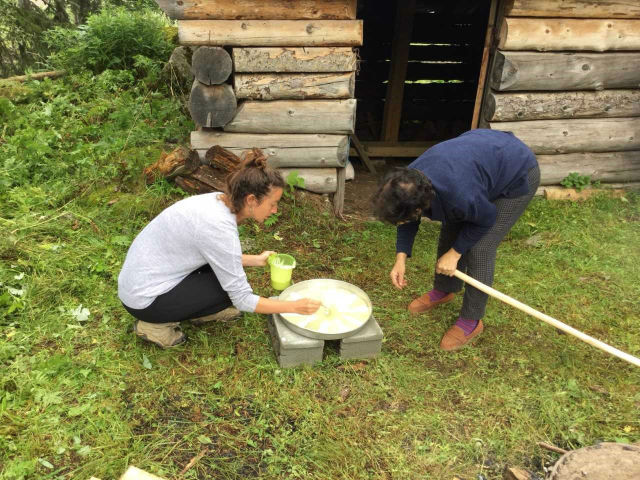 Crenshaw and her host mother making Flia, a traditional Albanian dish.
Now that the CGE is in the process of coordinating the implementation of this new opportunity, students with the same interests as Crenshaw can prepare themselves more assuredly and proficiently for the experience.
"JMU students have a passion for engaged learning and service, as well as interest to make a difference, and the Peace Corps Prep provides a process for their passions and interests to be attainable," Hart said in summary. 
For students who may be interested in enrolling in the new JMU PC Prep program, Crenshaw exclaimed, "be open about where you will serve and trust the Peace Corps process in placing you in the right community. The process in becoming a volunteer has many steps, but I believe it prepares you to be a volunteer and shows your commitment."