News
The Deep Impact of JMU's New Internship Abroad Programs
---
Article By: Gabriela Baker
Within 2018 school year, JMU's Center for Global Engagement (CGE) added Australia and Ireland to their JMU's Internship Abroad destinations, a program that gives students the opportunity to gain international work experience and simultaneously earn academic credits. JMU's Internship Abroad reaches beyond the typical study abroad classroom experience, and grants students the ability to expand their career passions and gain exposure in an international business setting. Locations for JMU Internships Abroad now include England, Spain, Germany, Ghana, Australia, and Ireland, with prospective destinations of Thailand, New Zealand, and Brazil to be offered in 2019.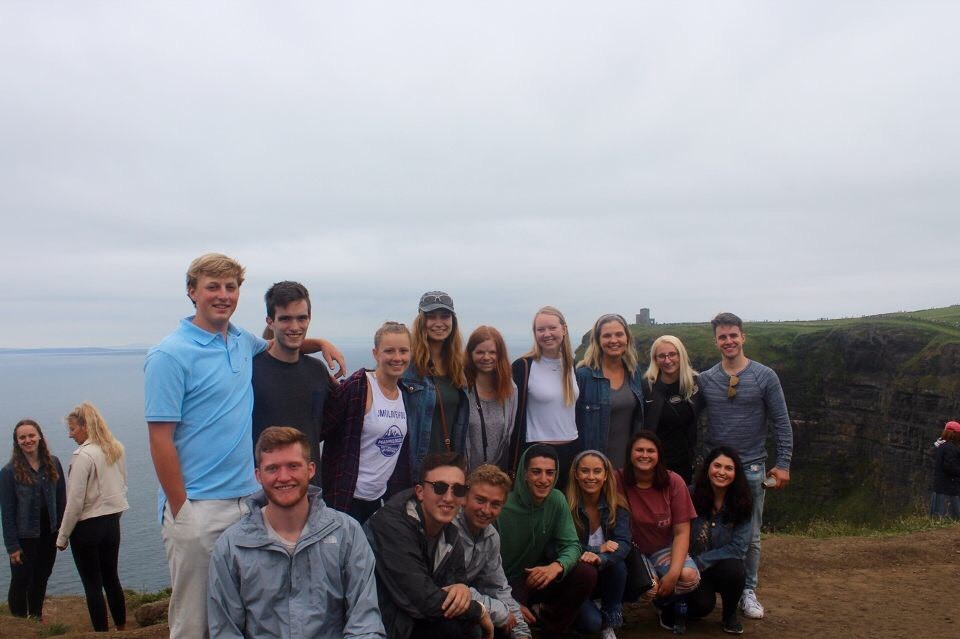 Petinga with fellow Internship in Ireland students during their first weekend in Galway, exploring the Cliffs of Moher
With 70% of survey respondents who completed an internship abroad reporting that their study abroad experience ignited an interest in a career direction and contributed to a significant degree of improvement in intercultural skills, curiosity, flexibility, confidence, and self-awareness (Adelante)[1], the CGE increased the variety of programs for a larger range of students to gain the benefits from interning abroad.  For instance, through the Ghana and Spain programs, students can choose to participate in both a study abroad and internship related to their desired career path. The newest program landed in 2018, with the addition of a Kinesiology Internship in Australia, specifically tailored to students needing to complete their kinesiology or exercise science internship requirement.  Other destinations, including the new Internship in Ireland, offers work in a wide range of industries, such as Business, Education, Communication, Legal, Health, and Non-Profit.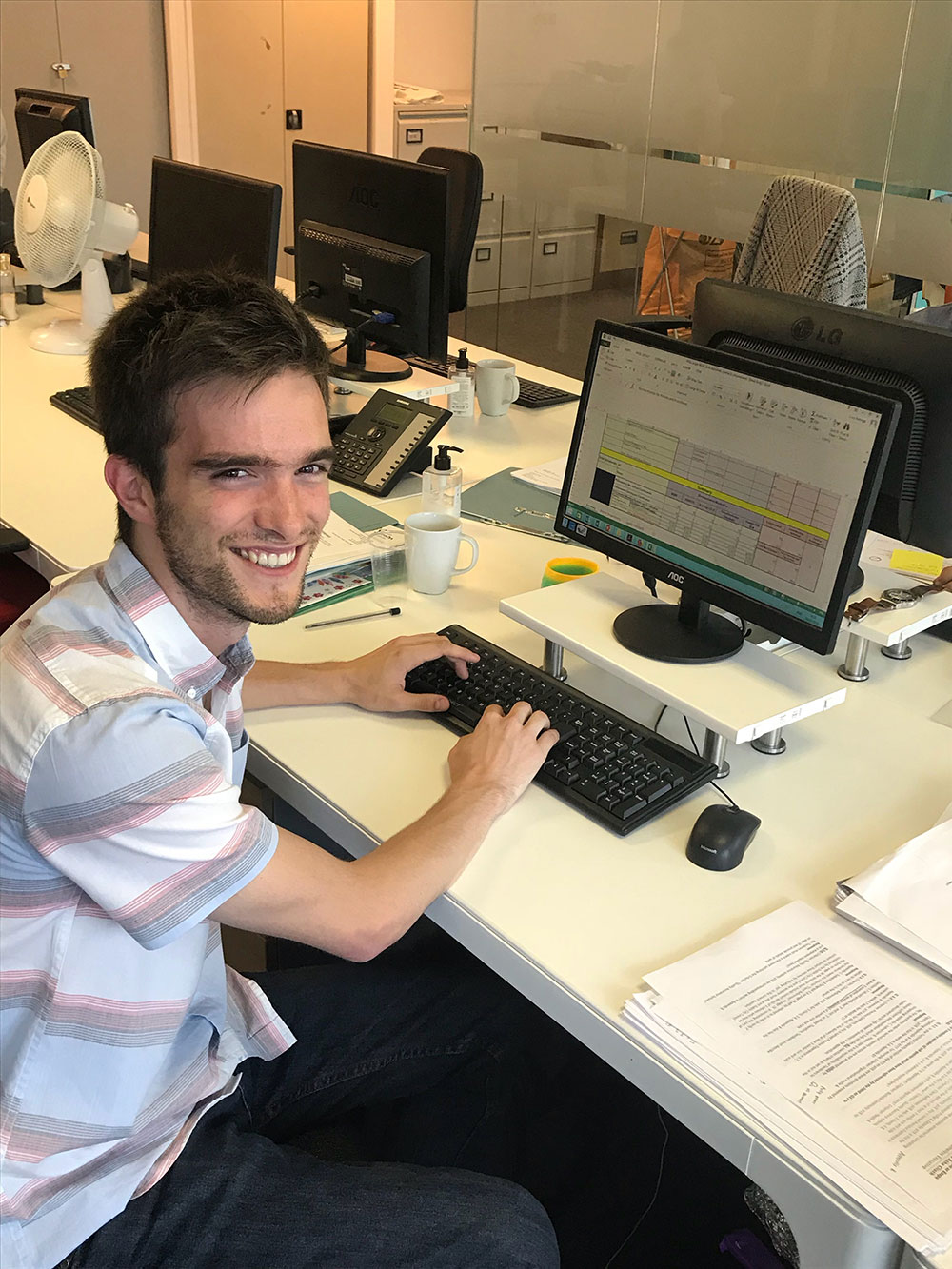 Petinga at his internship with Dublin Simon Community, helping them prepare for an upcoming EQUASS audit
Cory Petinga, a Business Management and Public Policy and Administration double major who graduated in May 2018, studied abroad in Antwerp two years ago and took part in the Internship in Ireland this past summer of 2018, explaining, "the internship program gave me a more individualistic experience."
"I wasn't simply working a 9am-5pm internship, because I was developing 24 hours a day through being independent and living in a new place. The diversity of the workplace and the importance of being flexible were heightened in a foreign environment," Petinga said.
Petinga worked for the Quality Department within Dublin Simon Community, helping them achieve EQUASS (European Quality in Social Services) certification to be considered a top social provider in Europe.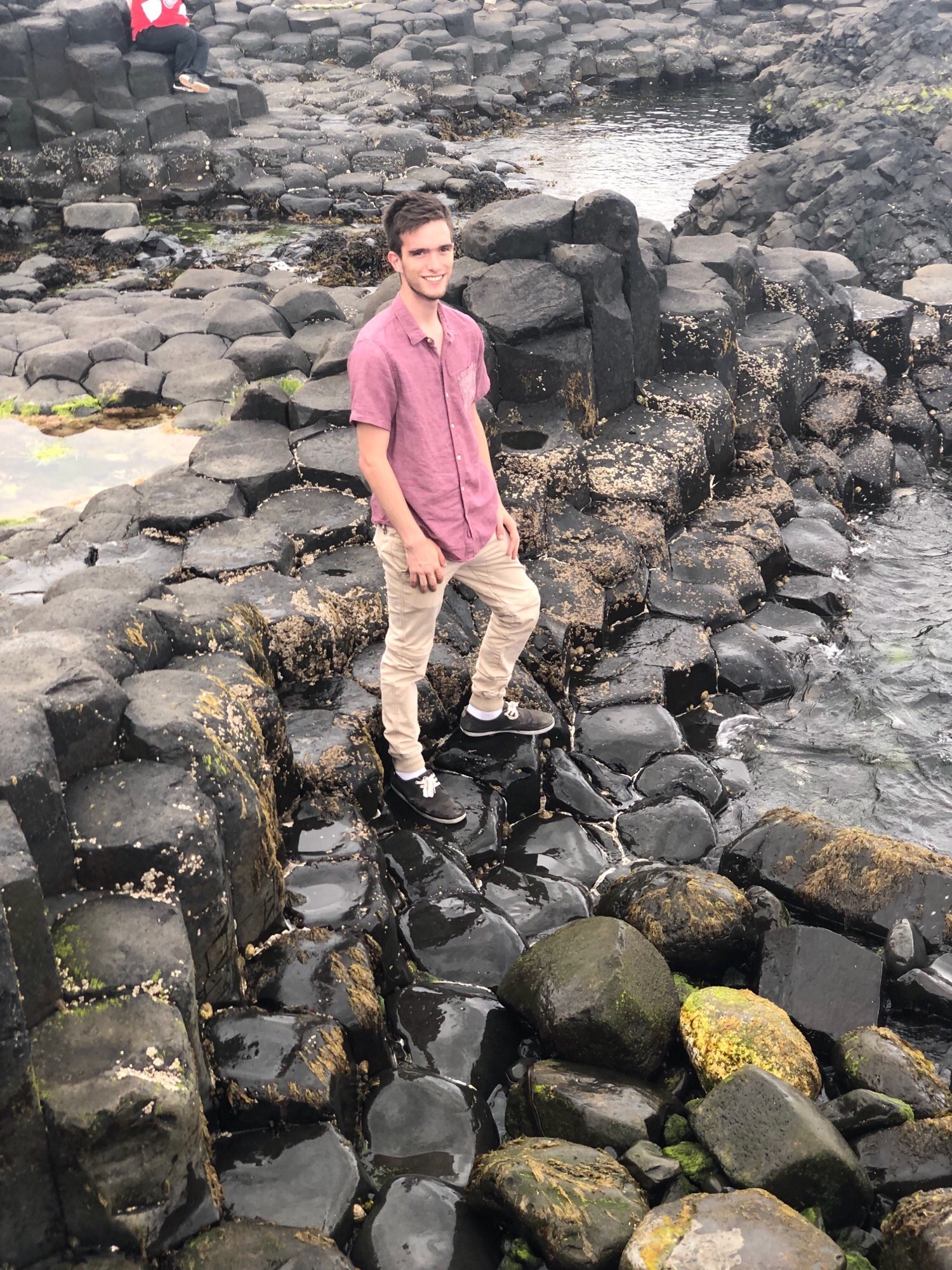 Petiniga at Giants Causeway in Northern Ireland
Impressing the company through his hard work and dedication, Petinga was offered a full-time volunteer position for the upcoming 2018-2019 year in Ireland but rejected it due to a previous job offer with IBM in America.
"It was still a great experience and after interning abroad, I know I 100% want to work abroad one day. There's a whole world out there that I want to explore and learn from," Petinga said.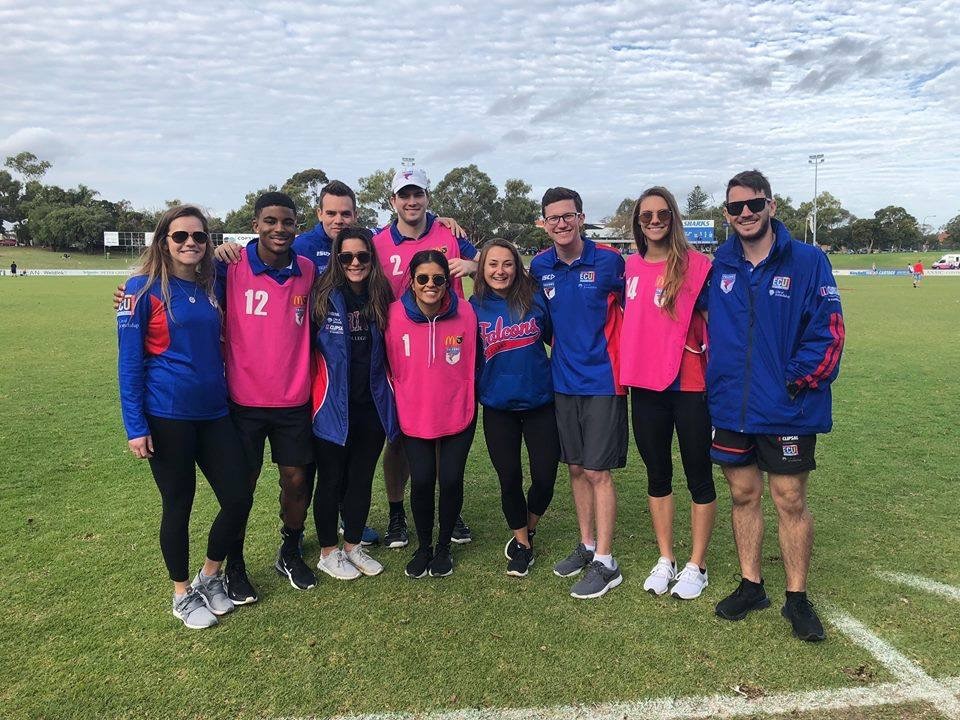 Price with fellow West Perth trainers
Brooke Price, a Kinesiology Major with a concentration in Exercise Science who graduated in August 2018, took part in Australia program, using the opportunity to satisfy the internship requirement for her major.
"I knew I wanted to travel and the last thing I needed to complete my degree was an internship, so Australia was the perfect fit," Price said. 
Price worked with Sports Medicine Australia, a local medicine and sports clinic in West Perth, conducting various fitness assessments and assisting trainers with hands-on exercise tasks.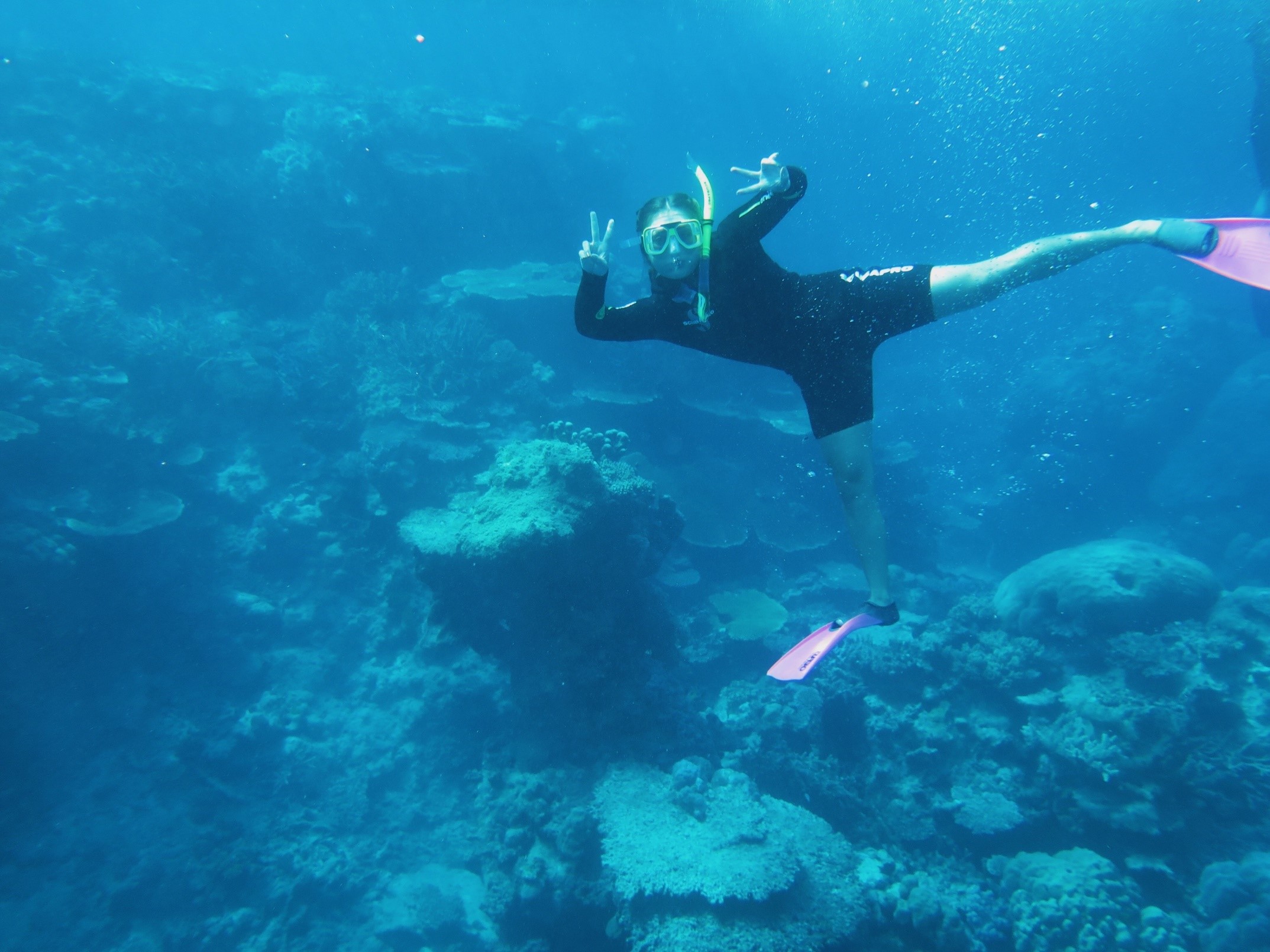 Price snorkeling at the Great Barrier Reef
 "The internship really solidified my passion for working in sports. I knew I wanted to do personal training but after the internship I was more interested in strength and conditioning as the focus of athlete based fitness programs. I also realized that I like to be involved in the entire process from training to rehabilitating," Price said.
She had such an influential experience that she applied for a full-time position as her time with the company was coming to an end.
"I loved it there, I couldn't leave.  The more time that went by the more I wanted to stay.  If I went home, I would have regretted it," Price said.
Price was offered a job from Sports Medicine Australia in July and plans to work and live in Australia for the upcoming 2018-2019 year.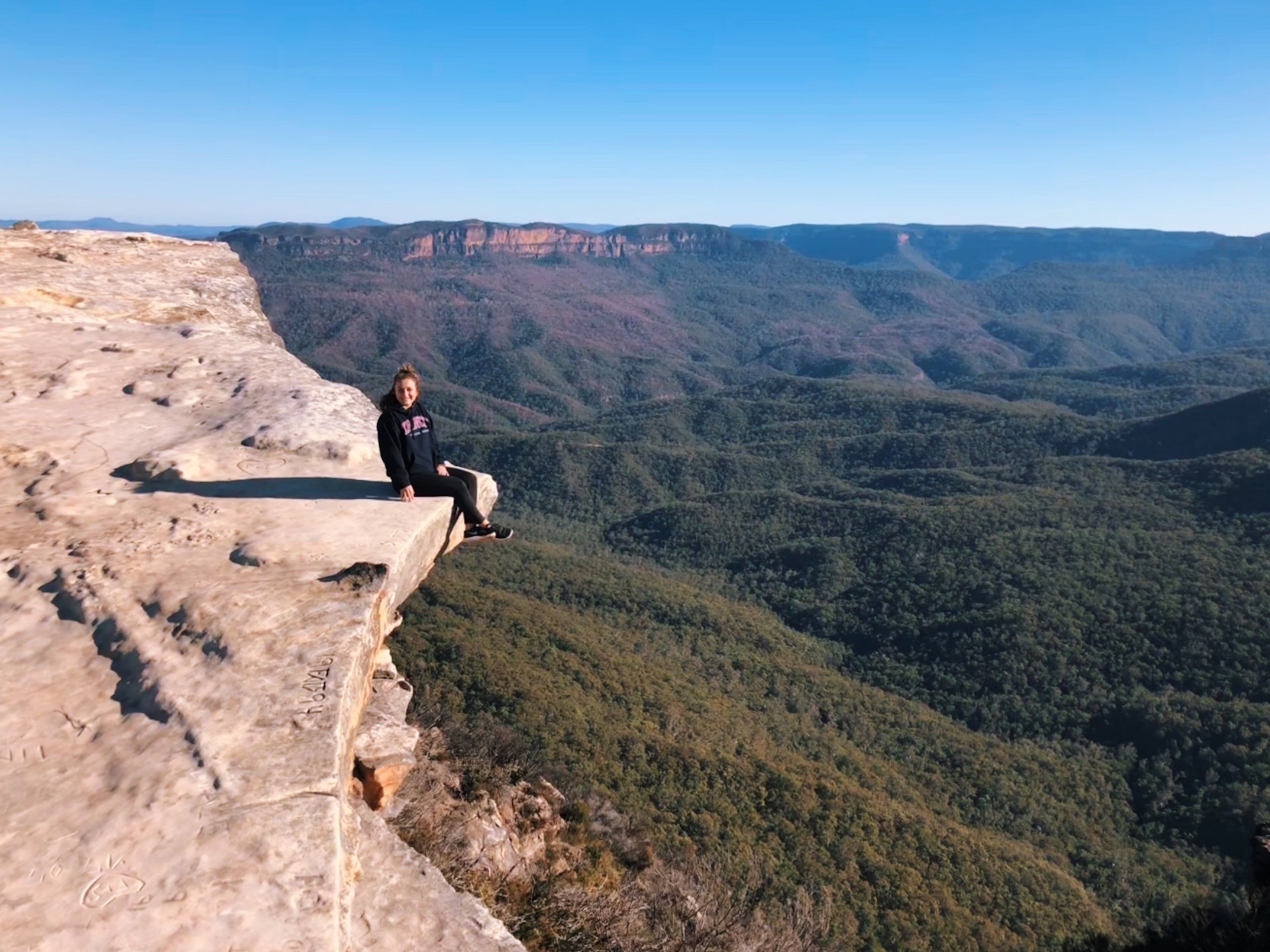 Price exploring Lincoln Rock at the Blue Mountains
Whether it be for a major requirement or diverse work experience, students can encounter a new culture and its surroundings through the JMU Internship Abroad Program while building a unique skillset to give them a competitive edge in both the domestic and international workplace.
A case study of Global Vision International Internships Program found that 100% of participants felt that they had learned about global issues through participation (Hughes, 63)[2], a sentiment both Petinga and Price can attest to through their experience.
"A quote that I have kept in the back of my mind throughout my years at JMU is that "'life begins at the end of your comfort zone."' I took a risk and my time interning abroad ended up being the best two months of my life," Petinga said.
[1] Adelante Abroad. "Why Should I Intern Abroad?
[2] Hughes, Tristram, and Tej Nathwani. "Research and Analysis on the Benefits of InternationalOpportunities."