News
2023 Furious Flower Poetry Prize Reading Available
---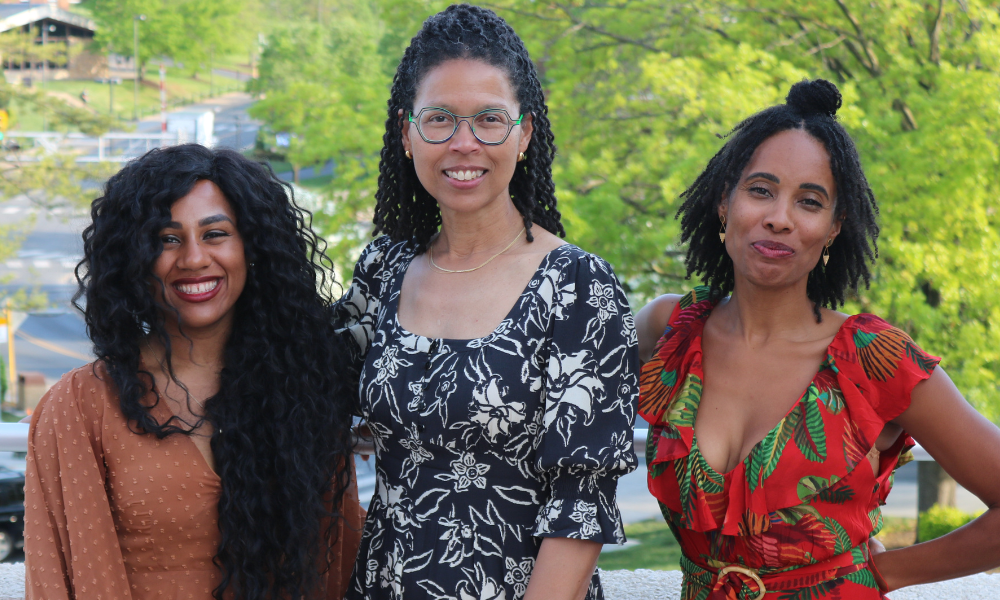 SUMMARY: 2023 Furious Flower Poetry Prize winner Alafia Nicole Sessions and honorable mention Marissa Davis read alongside internationally renowned poet, Evie Shockley in April. The reading was livestreamed and recorded, and is now available on Furious Flower's YouTube channel.
---
Alafia Nicole Sessions and Marissa Davis, 2023 Furious Flower Poetry Prize winner and honorable mention, respectively, read alongside prize judge Evie Shockley at the Furious Flower Prize Winners' reading in April. Their work will be published in Obsidian: Literature and Arts in the African Diaspora, volume 50, issue one alongside 2023 Furious Flower Poetry Prize finalists Lauren Bullock, Christian Collier, Sequoia Maner, Sakinah Hofler, and Edil Hassan in Spring 2024. 
"I've been following Furious Flower for a few years, and to be with other winners like Aurielle, Diamond, and Ariana — majorly esteemed company — I feel very honored. These poems are so dear to my heart, so it feels really good that these three are the ones that won. […] I am just in complete awe that Evie Shockley read and chose my work."
Alafia Nicole Sessions
Sessions, a Black poet and mother from Los Angeles, currently works as an educator, actress, herbalist, and doula. Her poetry has been published or is forthcoming in Southern Humanities Review, Indiana Review, Radar Poetry, Los Angeles Review, Tahoma Literary Review, Green Mountains Review, and elsewhere. She is the recipient of the 2021 Sustainable Arts Foundation Award and Randolph College's Elizabeth Dwiggins Award. She is a candidate in the low-residency MFA program at Randolph College. 
Davis, a poet and translator from Paducah, Kentucky, has had her work published in Poetry, Poem-a-Day, Gulf Coast, Narrative, and Best New Poets, among others. Her translations have appeared in Massachusetts Review, New England Review, Mid-American Review, The Common, American Chordata, and The Offing. Her chapbook, My Name and Other Languages I Am Learning How to Speak (Jai-Alai Books, 2020) was selected by Danez Smith for Cave Canem's 2019 Toi Derricotte and Cornelius Eady Prize, and she was the runner-up for the 2021 Narrative 30 Below Contest. She holds an MFA from New York University and is currently an adjunct professor of poetry at Barnard College. 
"It felt unfathomable to be part of the history of Furious Flower and the prize itself," Davis said. "Among its past recipients are so many poets whose work I have long followed and revered, and I am both grateful and deeply humbled to find myself at all in their lineage. […] There is something so special, so freeing about feeling seen by one's own. The gratitude is one too large for words." 
The Furious Flower Poetry Prize for Emerging Writers is an annual competition running from December 15 through February 15 open to poets with no more than one published book. Each year, the winner and honorable mention are invited to read as a part of the Furious Flower Reading Series alongside the judge for that year and published along with select finalists in Obsidian. The prize started in 2017 as the Gwendolyn Brooks Centennial Poetry Prize and has continued annually since.  Past prize winners include Ariana Benson, Aurielle Marie, and Diamond Forde, among others. 
Internationally renowned poet, Evie Shockley served as the 2023 judge, selecting the winner, honorable mention, and finalists from the contest's highest number of submissions to date. Shockley's poetry collections include suddenly we and the Hurston/Wright Award-winning books the new black and semiautomatic, the latter of which was also a finalist for the Pulitzer Prize and the LA Times Book Prize. Her scholarly work has been published in her book Renegade Poetics: Black Aesthetics and Formal Innovation in African American Poetry, and in such journals and volumes as The Black Scholar, New Literary History, The New Emily Dickinson Studies, and The Cambridge Companion to American Modernist Poetry. She has received the Lannan Literary Award for Poetry, the Stephen Henderson Award, the Holmes National Poetry Prize, and fellowships from the Radcliffe Institute for Advanced Study, ACLS, the Schomburg Center for Research in Black Culture, and Cave Canem, among other honors. She serves as Editor for Poetry at Contemporary Literature and is the Zora Neale Hurston Distinguished Professor of English at Rutgers University. 
"Alafia Nicole Session's poems mix simple syntax with rich diction to create compelling images about a woman's embodied experiences," Shockley said. "Sensual, socially complex, and fully charged with emotion: we cannot look away from this work."
Of Marissa Davis's work, Shockley said that her "poetry revels in the lushness and ambiguity of language; she creates intricate, dancing lines that weave the personal and the intertextual into a web the reader can't—and doesn't want to—escape." 
Furious Flower hosted Shockley in April for the Poetry Prize Reading as well as a poetry workshop for the faculty and staff of James Madison University. Cypress Dawn Smith, Assistant to the Director of JMU Theatre and Dance, said the workshop "got [him] started writing again after a hard slump." 
Amina Saidou, PhD, Assistant Professor in JMU's Foreign Language Department, said that the workshop and other Furious Flower workshops provide more poetry writing opportunities for her and allow her to "shape [her] interest in poetry writing." 
The reading featuring Shockley, Sessions, and Davis was livestreamed and recorded. It is available on Facebook and YouTube, as well as viewable below.