News
Dawn Lundy Martin reads Talking About New Orleans by Jayne Cortez
---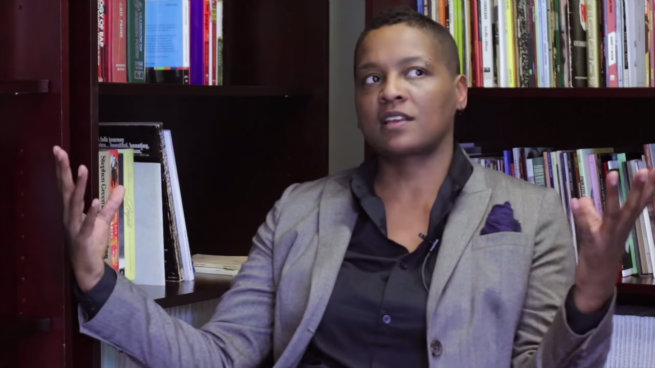 "I use dreams, the subconscious, and real objects," poet Jayne Cortez explained to Melus in 1996 by way of describing her writing process. "I open up the body and use organs, and I sink into words, and I ritualize them and fuse them into events. I guess the poetry is like a festival. Everything can be transformed."
Her poem "Talking About New Orleans" emulates this process of transformation. Here, Cortez converts the death and destruction caused by Hurricane Katrina into bold rhythms in a dense and complex poem. In that way, the poem mirrors the second-line funeral bands of New Orleans, turning death into cacophony.
In Drumvoices: The Mission of Afro-American Poetry, A Critical History, Eugene B. Redmond praised Cortez's poetry for being "musical, daring, ambivalent, complex, and technically dexterous."
Cortez's poems have often been linked to surrealism. But Cortez preferred the term "supersurrealism" because her poetry was rooted in reality — the reality of brutality and oppression. Her poetry voices the rage and resilience of oppressed groups and links the aftermath of Katrina to global injustices.
During her lifetime, Cortez wrote 12 books of poetry. In addition, she was an interdisciplinary artist who made prints; sang and performed with her band, The Firespitters; created films; and collaborated with her husband, the sculptor Melvin Edwards. She founded the Organization for Women Writers of Africa and was a lifelong activist. She received awards and fellowships from the National Endowment for the Arts, New York Foundation for the Arts, and the American Book Awards. She also received a Fannie Lou Hamer Award for "Her outstanding Contribution through her poetry to the struggle for Justice, Equality, and the freedom of the human spirit."
In this video, poet Dawn Lundy Martin reads "Talking About New Orleans" and describes how the poem captures its audience in an immersive reading experience while contextualizing the disaster.
Poet and activist Dawn Lundy Martin recently published Life in a Box is a Pretty Life. She is also the author of A Gathering of Matter/A Matter of Gathering, winner of the 2007 Cave Canem Poetry Prize, and Discipline, winner of the 2009 Nightboat Books Poetry Prize. In 2014, Martin visited the Furious Flower Poetry Center to read her own work. See her full-length interview with The Fight & the Fiddle.