News
Revolutionary poetics: Dawn Lundy Martin on experimentation, collaboration, and the university
---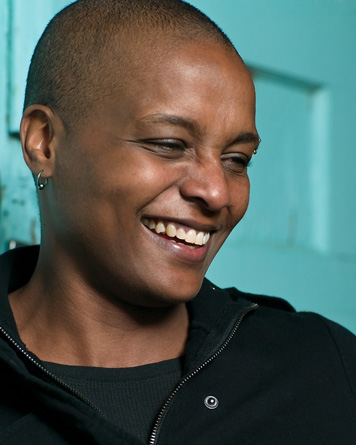 by Elizabeth Hoover
In 2014 Dawn Lundy Martin wrote her first libretto. It was part of "Good Stock on the Dimension Floor: An Opera," an experimental video by HOWDOYOUSAYYAMINAFRICAN? (The Yams Collective for short), an artistic collective that advocates for greater diversity in the art world.
Rooted in disrupting monolithic notions of black identity, The Yams Collective felt that remaining in the show would have been antithetical to their work.  In an email they sent to all Whitney Biennial artists, the collective expressed dismay at a white male artist using black female bodies for artistic gain under the guise of "conceptual art." They wrote, "This is a wound that deeply penetrates the surface of ourskin."The piece was in the prestigious Whitney Biennial, but the collective withdrew. They objected that the Biennial curators had also included pieces by Joe Scanlan, a white Princeton professor who hired African American women to perform as fictional black artists.
This incident is emblematic of some of the core themes of Martin's artistic practice: Her work is uncompromising, rooted in the body, often collaborative, and wastes no time with hero-worship of institutions. For Martin, poetry, performance, and activism are interrelated and arise from an urgent need to disrupt and dismantle dominant narratives of race, gender, and identity.
In addition to being a member of The Yams, she founded—along with poets Duriel Harris and Renaldo Wilson—the Black Took Collective inspired, in part, by Erica Hunt's essay on "oppositional poetics."
Her most recent book Life in a Box is a Pretty Life confronts the brutality meted out on black, female, and queer bodies. "I will not sing to you. I refuse to sing to you," she writes, announcing the book has other aesthetic investments besides beauty. As Julie Marie Wade writes in Lambda Literary Review, "I admire Dawn Lundy Martin's … resourcefulness in deploying a language that routinely fails us, and then, more resourceful still: her deployment of that same failing language to articulate the experience of failure."
As a guest blogger in the Harriet blog in 2013, Martin described what she values in a poem: "When I think about the poetry that appeals to me most, it is that poetry that resists closure, urges the reader to participate uncomfortably (sometimes without resolution) in its meaning-making, and stimulates our sense of linguistic possibilities. In short, it works against master narratives. This later thing, I believe, is revolutionary."
In addition to Life in a Box is a Pretty Life, Martin is also the author of Discipline, winner of the 2009 Nightboat Books Poetry Prize and A Gathering of Matter / A Matter of Gathering, which was selected by Carl Phillips for the 2007 Cave Canem Poetry Prize. She has published numerous chapbooks and received the Poetry Society of America's National Chapbook Fellowship in 2003.
In this two-part interview with The Fight & the Fiddle's editor Elizabeth Hoover, Martin describes her writing process, some of the ideas that inform her work, and the need for "oppositional poetics."
Is it possible to make a choice? | Martin describes her use of primary texts in her projects, her love of chapbooks, and how her investment in multivalant poetry creates a through-line between her two books Discipline and Life in a Box is a Pretty Life.
Innovation as necessity | Martin talks about her interest in the theorist Slavoj Žižek; the productive discomfort of working collaboratively; how she co-founded the Black Took Collective; and what experimental poets contribute to their field.