The Beacon - November 2019 Edition
Spotlighting Inclusivity at JMU
News
---
SUMMARY: The Beacon celebrates diversity and inclusion at JMU by spotlighting upcoming engaging opportunities, highlighting campus initiatives, and featuring individuals at the forefront of creating an inclusive community at JMU. Explore inclusion at JMU through the shining light of The Beacon.
---
In this issue:
Fostering a Felt Sense of Belonging and Collective Becoming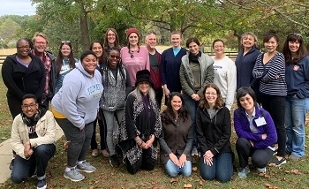 We need to value our campus and community diversity and differences and challenge the policies, practices, and structures that have historically served to separate, divide, and exclude full access and participation—for all. What I learned from a recent Center for Faculty Innovation Scholarship Residency with diverse JMU faculty members is this—sharing space, meals, life stories, scholarly challenges, and personal struggles matter in the cultivation of a vibrant, inclusive community.  Sometimes alternative spaces need to be created both on campus and off campus in order to foster community, to validate differences, and to promote equity and inclusion.
The importance of engaging with diversity at JMU is simple.  Diversity multiplies possibilities and catalyzes innovation.  Equity helps to right historical harm and repair structural violence in the cultivation of a more just and peaceful community.   Inclusion fosters a felt sense of belonging and collective becoming; it invites all of us to bring our own uniqueness and full selves to our work on campus.  This uniqueness should be, in turn, validated and valued by our JMU community.  Advocating for diversity, equity, and inclusion is paramount in the process of and efforts toward creating conditions of "sustainable peace," defined by my 2017 Inclusive Leadership for Sustainable Peace honors class as "[when]…a shared curiosity and understanding of diversity works to alleviate suffering by creating nonviolent and fair relations between and within communities of all sizes, the largest being the planetary community." Diversity is crucial for vibrant civic life and planetary survival.
Ed Brantmeier
Assistant Director (Scholarship Programs), Center for Faculty Innovation
Associate Professor, Learning, Technology, and Leadership Education Department
Broadening Horizons: upcoming events, lectures, and more

Petticoat Politicians: How Women Won and Lost the Vote in Early America
Presented by Madison Vision and Democracy in Peril? Series
Rosemarie Zagarri, a professor of U.S. history at George Mason University and early American scholar, will examine women in the founding period and the events that led to the politicization of women. She will also look at the post-Revolutionary debate about a woman's role, the backlash that led to a hostility toward women in electoral politics and how those impacts are still felt today.
Monday, November 4th at 6:00 pm, Wilson Hall
---
New Virginians: 1619-2019 & Beyond
The New Virginians exhibition explores themes such as opportunity, family, service, faith, and gratitude- and features artifacts related to the interviewees' personal journeys. New Virginians is a Legacy Project of the 2019 Commemoration in partnership with the Library of Virginia and Virginia Humanities.
November 4th through December 14th, Carrier Library
---
Future is Female
Workshop series beginning January 17th on Friday afternoons
This seven workshop series is intended for women in the second semester of their senior year and is designed to encourage young women to leave JMU as empowered leaders who are ready to navigate the "real world." Through the workshop series and relationships with peers and faculty, we hope to prepare them for the joys and challenges that come with being a woman in the workforce or graduate school.
Registration opens Wednesday, Nov. 6th.
---
Caregivers Community Network Workshop
Caregivers Community Network offers respite to caregivers of those who are 60 years old and older in our local area. This wellness workshop will discuss services offered, how to apply, and the benefits to families. Register here
Thursday, November 7th 1:00 p.m.-2:00 p.m., Wine-Price 2050
---
"To Tether Words to Righteousness": Black Poetry and a 21st Century Politics of Resistance
Furious Flower's Scholar-in-Residence, McKinley Melton, will focus on the work of contemporary black poets who, through performances as well as print and online publications, have established themselves as critical voices in ongoing conversations about the politics of art.
Thursday, November 7th, 4:00 p.m., Festival Conference and Student Center- Highlands Room
---
Shaping Safer Spaces in the Me Too Moment: Strategies from Across Disciplines
A university panel with special guest artist Claire Warden. Claire is the co-leader of Intimacy Directors International, the first ever intimacy director on Broadway, and the first woman to win a Drama Desk award for intimacy and fight direction. She will be joined by JMU scholars from multiple disciplines.
Friday, November 8th, 7:00 p.m., Miller Hall Room 1101
---
Wheelchair Basketball
Participants will learn how to first navigate the chairs and then will be able to practice and play wheelchair basketball. Please arrive dressed in active wear and appropriate shoes. Pre-Registration Required
Sunday, November 10, 5p.m.-6p.m., UREC MAC 2
---
Veterans Day Flag Memorial
On Veterans Day JMU will honor each ultimate sacrifice of service members in the War on Terror, now in its 18th year. Over 7,000 flags will be placed on the Quad lawn at dawn and retired at 1700 in accordance with flag etiquette.
Monday, November 11th from dawn to 5:00 p.m., The Quad
---
The Confident Caregiver: A Family Caregiver Conference
A day of empowerment for family caregivers, featuring sessions on health management, caregiver burnout, managing the costs of caring for a loved one, the legal aspects of caregiving, and much more. Learn more and register here
Tuesday, November 12 9:00 a.m. - 3:30 p.m. Festival Conference Center
---
Taj Express: The Bollywood Musical Revue
An electrifying fusion of film, dance and music, Taj Express is an international sensation, taking audiences on a journey through modern Indian culture and society. Reserve Tickets
Tue-Wed, November 12-13 at 8:00 p.m., Forbes Center Mainstage
---
No Man's Land Film Festival
No Man's Land Film Festival is an all-female adventure film festival based out of the Rocky Mountains of Colorado that meets a need and desire to highlight and connect women in pursuit of the radical. Pre-Registration Required
Thursday, November 14, 8p.m.-10p.m. UREC Club Room
---
Asian Student Union Culture Show
Saturday, Nov. 16th, 5:00 p.m., Wilson Hall
---
Trans Day of Remembrance Ceremony

A rememberance ceremony for trans lives that have been lost. Join us for community time and desserts. 
November 20th, 5:00 p.m. Madison Union Ballroom
---
---
Spotlighting Student Events
No Longer Invisible: Conversations with the Student Next Door
Student Diversity Summit 
Are you interested in presenting on your experience, expertise and/or research on diversity-related issues? Register to present at our first-ever Student Diversity Summit! Proposals from students are due by Friday, November 22 through this link.
Summit to be held on Saturday, February 22, 10 a.m. – 2 p.m., ISAT and EnGeo
---
Trans 101 Workshop
Join SOGIE for a one-hour workshop of transgender and non-binary identities. 
Monday, November 11th, 5:00 p.m., Madison Union 302
---
SGA Diversity & Inclusion Committee on Facebook
Check out SGA's Diversity & Inclusion Committee and their new Facebook page dedicated to highlighting diversity within JMU: @sgadiversityandinclusioncommittee
---
Food Deserts and Food Insecurity
DEEP Impact Dialogue
Wednesday, Nov. 13th 7:00 p.m. – 8:30 p.m., Madison Union Ballroom
---
Engage with Diversity through Alternative Break Programs
Each year, more than 400 students participate in its student-led service-learning experiences that put students on the ground with local, non-profit community partners. Alternative Breakers learn about a diverse range of social issues while making a positive impact in their host communities. Upcoming focus areas include animal welfare, disability, children education, housing security, youth empowerment, community wellness and empowerment, homelessness, environment, community rebuilding, and mass incarceration. Learn more today!
---
In Focus

The Unique and Colorful Quilt
Linda M. Thomas, JD, Ph.D., Director, School of Integrated Sciences
Being the Director of the School of Integrated Sciences (S.I.S.) is challenging, but the best job I have ever held. The school, which falls under the College of Integrated Science and Engineering, offers degrees in Geographic Science, Intelligence Analysis, Integrated Science and Technology, a Graduate Certificate in Cyber Intelligence, and shares the Biotechnology degree with Chemistry and Biology. I serve as the academic unit head of the school. According to JMU, "The academic unit head is a leader who must establish strategies; work toward the academic unit, college and university missions; facilitate the vision for the academic unit; encourage faculty members; and communicate effectively with the administration and the faculty, as well as seeking and communicating with outside resources for the academic unit." To me, the job is simply being responsible for the success of SIS.
"True interdisciplinarity in academia is very rare and extraordinarily difficult to achieve..."
Linda Thomas
I chose to come to JMU because of the faculty. I was particularly attracted to working with faculty who deliver interdisciplinary education. True interdisciplinarity in academia is very rare and extraordinarily difficult to achieve, but it produces holistic thinkers---and holistic thinking is needed by future leaders who will solve the wicked problems of tomorrow.
"the best ideas come from questioning conventional ways of thinking and working with people who have different viewpoints"
I have a B.S. and M.S. in Civil Engineering, a J.D. in Law, and a Ph.D. with a research area that includes Architecture and the Built Environment. I've worked as an officer in the U.S. Navy, a Civil Engineer, Construction Manager, Attorney, Professor, and Department Chair. With each experience, I've become convinced that the best ideas come from questioning conventional ways of thinking and working with people who have different viewpoints from my own.
Working in higher education has allowed me to have incredible experiences and interact with the most amazing people. I think of everyone I meet as a little square of my life's patchwork quilt, some squares are soft and warm, some smooth, and some are scratchy and rough, but all of them contribute to the unique and colorful quilt that is my life.
To Step Outside of Oneself

Hailey McGee, President of Madison Equality
My name is Hailey McGee and I am a senior Sociology major from sunny Sarasota, Florida. I am the current president of Madison Equality, JMU's oldest LGBTQ+ organization, and after graduation I hope to continue my academic career by pursuing a PhD in Sociology.
Coming from a very old-fashioned community in Florida, I never had the access or space to explore and discuss my identity as a bisexual woman prior to starting school at JMU. Here at JMU, I was finally able to talk to people who identified as LGBTQ+ and the first time I ever had judgement-free access to resources like SOGIE, the Lavender Lounge, and Madison Equality. Having the comfort of knowing there were other people at JMU who had shared similar experiences in their queer identities gave me the confidence to be proud of who I am and to be an advocate for LGBTQ+ rights and awareness.
"Asking questions in regards to inclusivity such as 'Whose voices are being heard in our space? Whose voices might be left out?' is a great way to maintain accountability and to guide the changes that need to be made"
Hailey McGee
In my Sociology classes, we discuss how identity, particularly one's race, class, and gender, affects peoples' opportunities' throughout life. Even though I began JMU already familiar with the issues related to my identity as a queer person, my coursework has helped me to further understand the issues faced by those who hold identities that differ from my own. The awareness I gained as a result was the essential first step to becoming a better ally to other communities on campus.
"listening and giving space for others to express their truth is often the gateway to mutual growth"
Since my first year at JMU, Madison Equality has been a space for me to not only connect with other LGBTQ+ students, but to put what I've learned in my Sociology classes into action. Our organization seeks to provide a social environment for students to feel welcome not only in their LGBTQ+ identities, but for their other identities as well- which requires active effort. Asking questions in regards to inclusivity such as "Whose voices are being heard in our space? Whose voices might be left out?" is a great way to maintain accountability and to guide the changes that need to be made, be it within an organization or in the greater campus community.
Something I would like to share is that while it is important to stay true to your causes, listening and giving space for others to express their truth is often the gateway to mutual growth. To me, dedicating oneself to this process is the key to inclusivity and something to strive for as Dukes.
At the Forefront: Initiatives making a Difference

Paul Jennings Exhibit
Don't miss the newly unveiled exhibit honoring the life and legacy of Paul Jennings, an enslaved African American who served the Madison family. This exhibit explores Jennings' role in history and the ascendant sweep of six generations' "right to rise". Lobby of Paul Jennings Hall
---
What's in a Name? The JMU Quad as a Lesson Plan
Learn how the Quad's named buildings collectively taught future teachers a period-specific interpretation of the history of the Shenandoah Valley, of the Valley's place in Virginia history, and the alma mater's place in both. JMU history professor and associate vice provost Meg Mulrooney shares her research in this recent post.
---
THRIVE
THRIVE is a new multi-dimensional program in the Graduate School that seeks to foster connections among diverse graduate student communities. THRIVE is dedicated to providing meaningful support and growth opportunities for graduate students of diverse perspectives.
---
Engagement Hubs 
JMU now has...Engagement Hubs! The Engagement Hubs are an interactive experience that allow students to find volunteer, leadership, as well as internship opportunities, on and off campus. Located in Carrier and Rose libraries, learn more on Instagram @engagedukes.
---
Green Zone Ally Training
Are you interested in supporting student veterans? Consider becoming a Green Zone Ally. Student veterans face numerous challenges as they transition into student life, particularly those who have recently returned home from active duty and are still transitioning to civilian life overall.  Green Zone training focuses on student veteran specific needs and available campus resources. Email Jennifer Taylor for more information on becoming a Green Zone Ally.
---
Annual Diversity Conference Call for Proposals
The Office of the President is pleased to announce the annual Diversity Conference will be held on Wednesday, March 18th, at the Festival Conference Center. The conference committee is now accepting session proposals. Deadline is December 3rd.
... and engaging views since the last revolution of The Beacon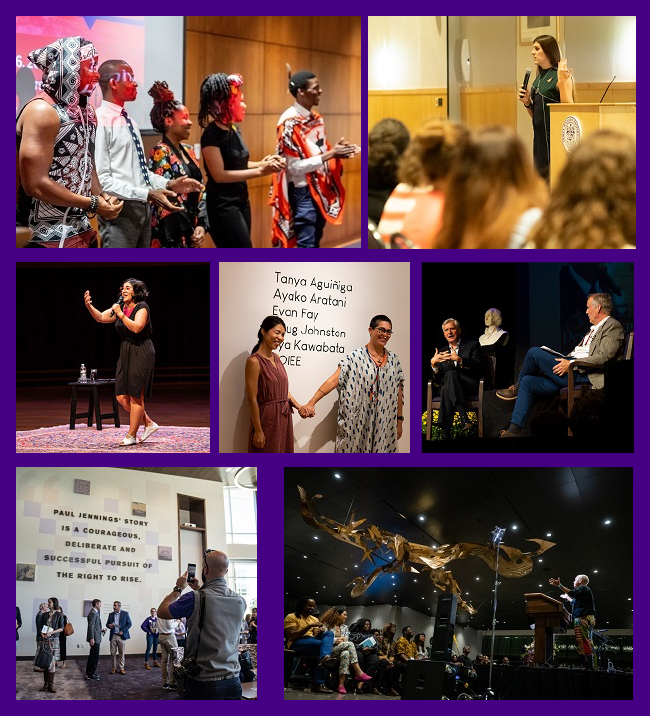 Above: Five Eswatini Poets, Delegate Danica Roem, Nagin Farsad, Edge Walkers opening reception, Writers Hour with John Grisham, Paul Jennings Hall opening reception, Furious Flower 25th Anniversary at the Smithsonian.