Computer Science
CS alumnus is a mentor, speaker, and founder of Chiedo Labs
---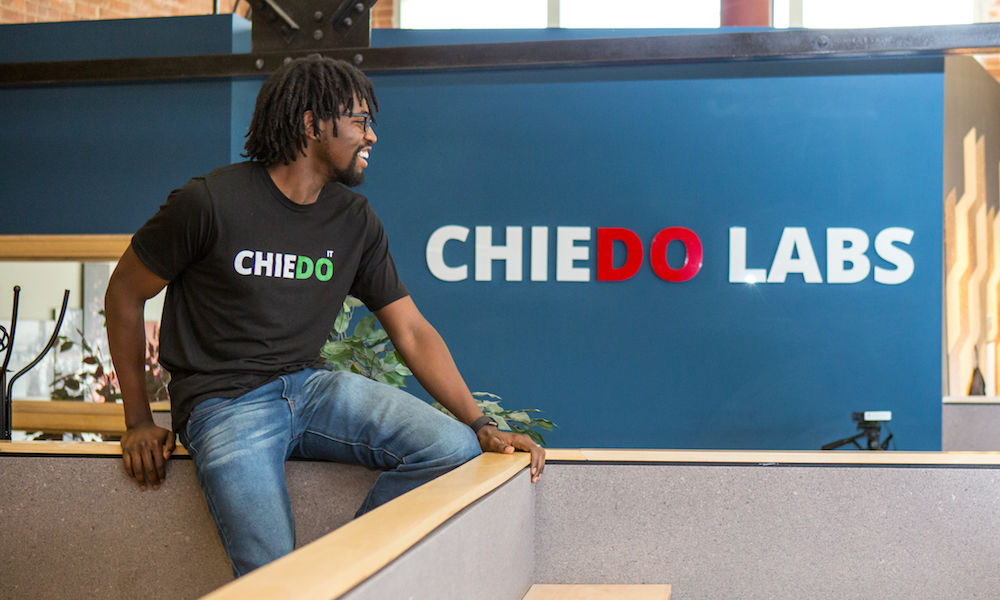 SUMMARY: Although computers and technology came naturally for Chiedo John ('13), it was the Computer Science Program at JMU that provided him with the tools he needed to further his career.
---
By Caleb Ayers
When he isn't managing his company, working with tech startups or teaching technology to children, you will find Chiedo John ('13) building chicken fences, gardening or splitting firewood for the winter. Chiedo enjoys being unplugged, spending time with his family and the great outdoors. "I love the future and love technology, but I also love the peace that comes from doing certain things the old-fashioned way. So, I try and get both in my life," he said.   
Chiedo, the founder and CEO of Chiedo Labs, developed an interest in technology at a very young age thanks to the encouragement and entrepreneurial spirit of his father, the owner of a software development company. "My dad limited the time I could spend consuming entertainment but gave me free reign if I was creating things. He gave me computer parts and told me I could have my own computer if I put them together," said Chiedo. "He also encouraged me to learn website design and development."
Because of his early experiences, Chiedo's passion for technology continued to grow. In middle school, he began working as a freelancer, tackling projects that his father didn't have time for. During high school, Chiedo began cultivating his entrepreneurial skills. He ran several small tech businesses including music production and internet marketing.
Although computers and technology came naturally for Chiedo, it was the Computer Science Program at JMU that provided him with the tools he needed to further his career. He gained a comprehensive framework that has allowed him to continue to expand his knowledge and skillset. "It was amazing in regards to web development," said Chiedo, recalling a class with Professor Chris Mayfield. "I gained a much more comprehensive look at MySQL databases and web application frameworks. The class rocked!"
While he is fluent in many programming languages, what he learned in CS and the experience he has gained since then has allowed him to be "language-agnostic" and easily learn and use languages he doesn't know. His biggest takeaway from the program was that "programming a good solution starts before you write a line of code."
In his junior year, Chiedo accepted a part-time position as a lead website developer with JMU Technology and Design. He was able to use his knowledge of HTML, WordPress, and JavaScript to design websites for a variety of university departments. "This experience was huge for me in regards to developing my skill set and learning how to teach others," noted Chiedo. 
Chiedo fell in love with the Harrisonburg area and had no desire to leave after graduation. However, there weren't many local companies looking for people with his expertise. So, during his senior year, he combined his passion for entrepreneurship and technology by founding Chiedo Labs. When he started the company, there were no employees, and he had no intention of hiring any. "I just wanted to write code and hide in my room like a good introvert," he said. 
However, as demand for his services increased, he gradually began to build a team and grow the company. He now has a team of eight, including a recently hired Chief Operating Officer (COO). Chiedo enjoys working with his team to develop and execute strategies for others. He and his team have designed a variety of websites, including Cross Keys Vineyards, Apprenticeship Connections, and Harrisonburg Downtown Renaissance. And his success didn't go unnoticed. Chiedo was recognized by The Shenandoah Valley Business Journal as one of the top 10 business leaders under 40.
As a successful JMU alumnus, Chiedo offers the following advice for current students. "It's really difficult to imagine yourself 10 years down the road. But luckily, older and wiser people are all over the place. Especially at college. Take advice from people who've been in your shoes. Ask them how you should be spending your time and what things they wish they could do differently. Remember, hindsight is 20/20. By listening to people who have that 20/20 vision, you get to play the game of life with cheat codes." Motivated by one of his mentors, Dave Urso, Dean of Academic Affairs at Blue Ridge Community College, Chiedo has started to turn to experienced executives like Michael Stoltzfus, CEO of Dynamic Aviation and Brian Davis, CTO of Active Engagement for advice and mentorship. And by doing so, he's been able to move forward in his career more effectively.
In his free time, Chiedo volunteers as a technology instructor for On the Road Collaborative, a non-profit youth program that serves underserved middle and high school youth on the road to college and career.  "I want to provide the same opportunities to children in our community who don't have the same influences in their lives," said Chiedo. "A lot of the kids won't love technology like I did but I at least want them to have the chance at a young age so they can get ahead of the game if they fall in love with it."
He is also a tech mentor to startups  at the Startup Virignia Incubator and LightHouse Labs accelerator in Richmond, and a speaker on tech and entrepreneurship.
Published: Friday, August 31, 2018
Last Updated: Monday, September 2, 2019