Information Technology-Computing
Microsoft introduces Work Locations
---
Microsoft has implemented a new feature that allows users to set an 'Office' or 'Remote' work location that will display to others on their contact card. This feature is currently limited to Microsoft Teams but will soon be accessible and visible in Outlook as well. 
MS has also announced related functionality to come in the future where users will be able to set working hours that will accompany the work location in the contact card. These new fields allow users to display more information about where/when they are working and prevents them from having to use status messages to display that information to other users.
To use this feature, click on your profile picture in the top right corner of Teams to access the work location field and set a value of either 'Office' or 'Remote'.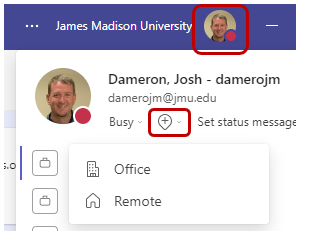 The selection will be visible to others within Teams, either in the profile view, or when hovering over a user to bring up the contact card.