Information Technology-Computing
Windows Focus Assist and M365 notifications
Customize your Microsoft notifications
---
Looking for a way to limit distractions from Teams, Outlook, or other applications when you want to work on something focused? Try using Windows Focus Assist alongside your M365 application settings to tone notifications down when you need to be in the zone! 
First customize your Teams, Outlook or other M365 application notifications how you would want them in an ideal situation if you were not worried about interruptions.   
Then go into Windows settings for 'Focus Assist' and you will see options to turn assist on/off, define a priority list of exceptions to still allow notifications from, or set for alarm notifications only. 

Setting Focus assist for 'Priority only' and clicking on 'Customize your priority list' will let you select people and apps that you want to allow the notifications from them even when in focus assist mode.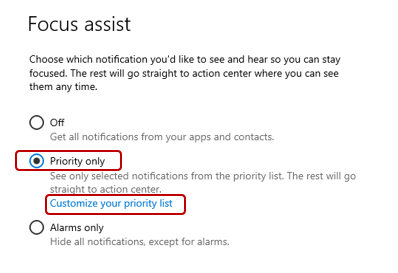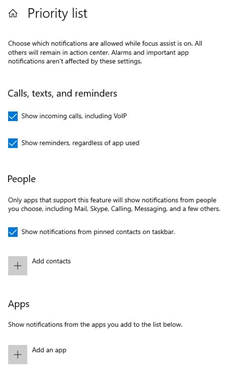 Use the Automatic Rules section to define situations, or times of day, where you want Focus Assist to automatically turn on.  This is a powerful way to carve out recurring focused blocks of time during the day when you always want to limit communications and notifications.
You can catch up on missed activity easily by clicking on the checkbox to show a summary of what was missed while focus assist was turned on.