Information Technology-Computing
New email threat protection coming July 8 and 9
---
On July 8 and 9, Information Technology will replace JMU's current email threat protection system with a comparable system from Microsoft. The new system can identify phishing messages as well as malware and prevents unsafe messages from reaching JMU inboxes, much like the way that virus protection products prevent unsafe programs from being saved and/or run on personal computers. 
Most JMU account holders will not notice any difference with this change, but if you pay close attention, will see a difference in the way that URLs are rewritten inside email messages.  In the current system, URLs sent by non-JMU senders are rewritten to include a "urldefense.com" address, and hovering your mouse over a link in an email message looks similar to:

Going forward on the new system, all URLs will either contain the actual link address or a "safelinks.protection.outlook.com" address.  Hovering over a link in an email message will look like one of the following: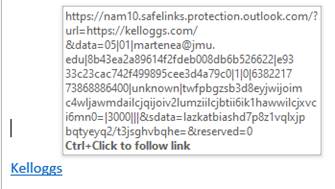 If you have questions about this change, or if you suspect you are missing any email following the change, please contact the JMU Help Desk at 540-568-3555 or helpdesk@jmu.edu.