News
Putting their best foot forward at 'Meet the Firms'
---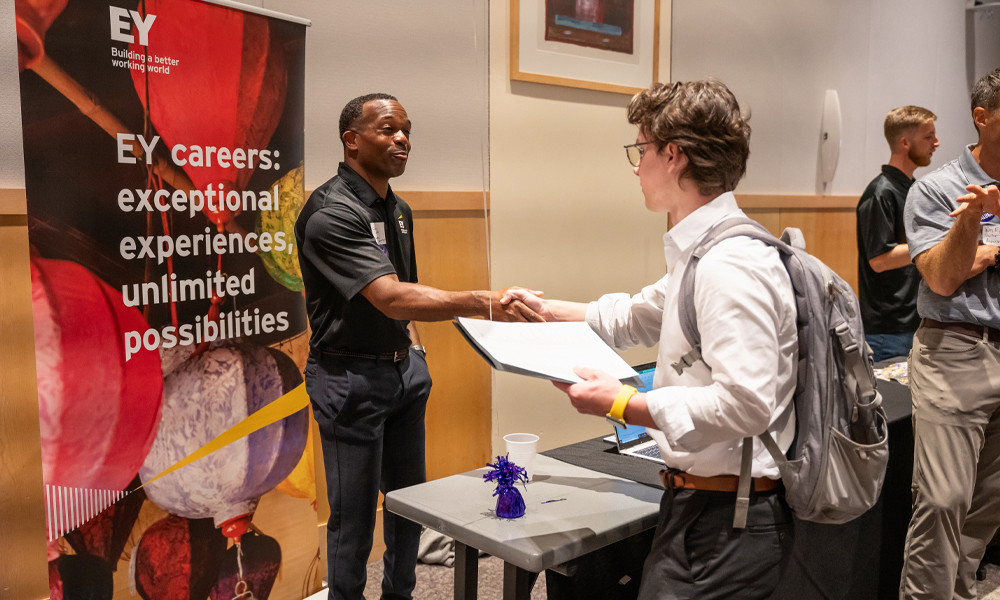 SUMMARY: It's happy hunting for accounting and business-advisory firms at JMU College of Business' annual recruiting marketplace.
---
The calendar of JMU's College of Business is chock-full of events with distinguished pedigrees. For popularity and sheer longevity, however, "Meet the Firms" is almost certainly without a rival.
The Fall 2023 edition attracted more than 500 students and an estimated 200-plus recruiters representing 51 firms throughout the mid-Atlantic region. It was staged Sept. 6 in the Grand Ballroom of the Festival Conference and Student Center.
Intended for those pursuing degrees in accounting, finance or computer information systems/ business analytics, "Meet the Firms" is an especially auspicious fit for those enrolled in JMU's fifth-year "Master's in Accounting" program.
Whether students are looking for chances to perfect their "elevator pitch" or simply want to polish their networking skills, "Meet the Firms" is a sure-fire confidence-builder — one that also provides students with opportunities to inquire about workplace culture and begin getting a sense for the kind of professional setting in which they are likely to feel most comfortable.
With so many employers all in one place and so large and pre-qualified a pool of job candidates, it should be no surprise that large numbers of the students who attend "Meet the Firms" do progress to become employees of the companies represented. Many are inserted directly into internships or externships; others may even be tendered offers of full-time permanent employment immediately upon graduation.
"Meet the Firms" has been sponsored by Beta Alpha Psi for its entire 30-plus-year history. What began as a sedate, somewhat informal gathering in Mrs. Green's in Chandler Hall has grown to become a bustling invitation-only affair. Eileen Shifflett ('89, '98M), a senior lecturer in the School of Accounting, coordinated this year's event and estimates that as many as two-thirds of the recruiters who attend "Meet the Firms" are themselves JMU alumni.
"It's really good to come back and see so many young people interested in entering the profession," said Laura Salt ('17, '18M), who completed the Master's in Accounting program in 2018 and has since become an assurance manager in the Northern Virginia offices of Cohn Reznick.
Salt credited the MSA program with having provided her with the accounting acumen it took for her to pass all four segments of the CPA exam on the first attempt. She said the program has also helped her cement enduring friendships with peers who are following the same career path she projects for herself.
"It has helped me to be able to talk to them and find out how things are going at their own firms, to see whether there are changes I might want to make in my own situation," Salt said.
Her sentiments were echoed by Caitlin Larrick ('17, '18M), a Cohn Reznick colleague and fellow product of the MSA program.
"It set me up for success," Larrick said, "so it's awesome to come back for 'Meet the Firms' and encourage others to do the five-year program — and then try to recruit them."
Another Master's in Accounting graduate who regularly returns to the JMU campus for "Meet the Firms" is Ashley Hevener ('11M). Since completing her formal training in accountancy at JMU, she has become one of the main cogs in the federal audit practice at Kearney & Company in Alexandria, Virginia.
"I really like coming back," Hevener said, "and that's not necessarily because I think everybody needs to come work for the same firm I do."
Hevener said she simply likes watching people find their professional homes and launch their careers.
"I don't know of another school with an event that compares to 'Meet the Firms,'" she added. "It's amazing how every year JMU gets so many top-tier employers to attend."