News
Funding for a future
---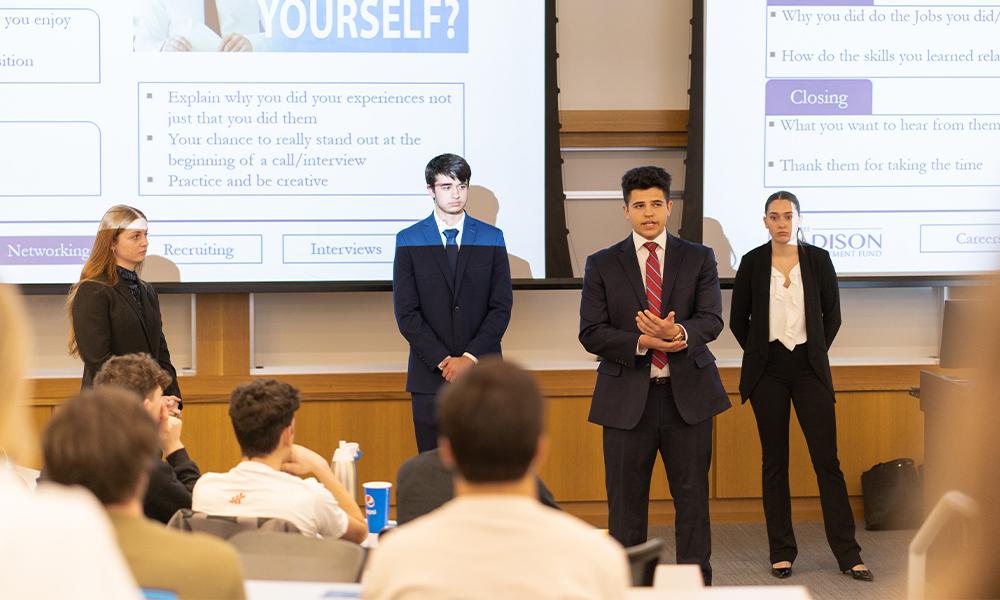 SUMMARY: The Madison Investment Fund serves as a portfolio manager for the JMU Foundation.
---
The Madison Investment Fund is a student-led organization that manages approximately $500,000 on behalf of the JMU Foundation and offers a unique experience for motivated College of Business students.
As a part of MIF, students gain real-world experience right here on campus. They serve as portfolio managers while learning the fundamentals of investment and managing real funds for the University.
Junior Finance major and MIF member Jabril Al-Hamdy said, "while handling our fiduciary responsibilities to the Foundation, we also focus on the education and career development of our members. Our goal is to put our members in jobs they are really interested in, with a good understanding of what their day-to-day responsibilities will be like."
The JMU Foundation supports the James Madison University community of students, faculty, alumni and donors and receives annual or endowed major or planned gifts as well as gifts of real estate, gifts-in-kind, stocks and more. All gifts to Madison are managed and stewarded by the JMU Foundation and students involved in MIF serve as the outside money managers to the Foundation.
Al-Hamdy, alongside fellow students and MIF members Jordan Alexander, Caitlin Tully and Michael Del Grande, hosted a discussion panel to "educate students on the variety of careers in the business field."
Their presentation began with a deep-dive into the different career paths a student can take if interested in the finance sector. They touched on career options such as real-estate banking, investment banking, accounting and financial advisory, taking an even more detailed look at time commitments for each job, how to initiate the recruitment process and what geographical locations are considered "hubs" for these careers. 
Throughout the evening, the MIF student presenters gave sound advice on networking, offered tips and tricks for interviews and recruitment and recommended online tools that students could use when searching for jobs. Al-Hamdy, Alexander, Tully and Del Grande spoke from positions of experience: all four have gone through the recruitment and interview processes and earned themselves internships with notable firms for the upcoming summer.  
Madison Investment Fund gives students the "edge" that recruiters are looking for: real world experience managing funds, leadership capabilities and self-driven initiative. Al-Hamdy concluded, "On a broader CoB and community level our hope is to provide education on the opportunities that are out there when pursuing a business-related degree at JMU."