News
Winter session road trip a perfect blend of learning and leisure
---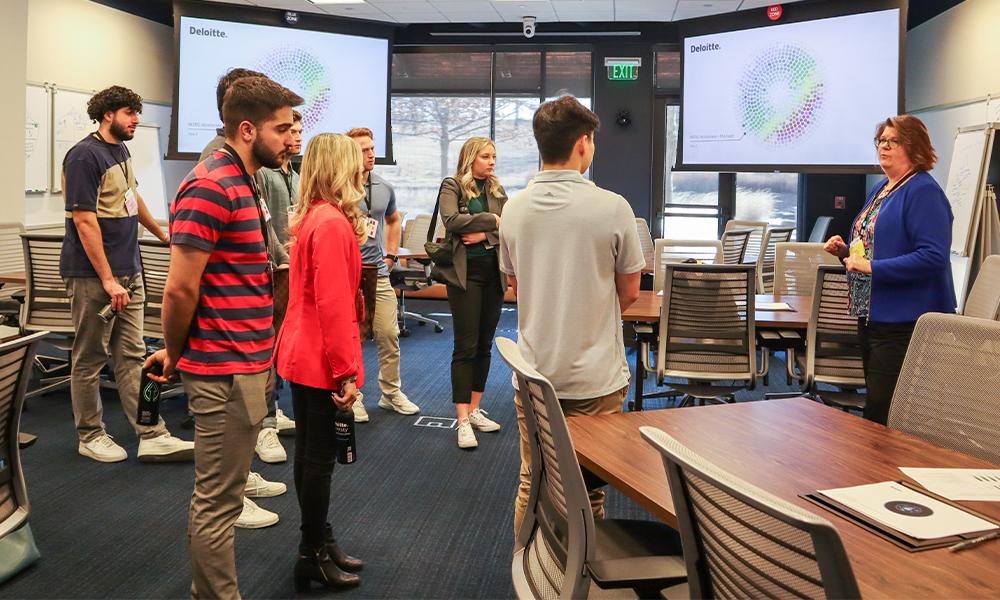 SUMMARY: Introduction to business consulting was only the beginning for these Texas-bound students.
---
Carey Cole ('81), an exceptionally well-traveled member of the College of Business faculty, was eager to get back on the road with students during the 2023 Winter Session.
A lecturer in Computer Information Systems & Business Analytics, Cole ushered in the new year by chauffeuring a group of CIS/BSAN majors around the vast state of Texas in a 12-passenger JMU van.
The short-term program orchestrated and conducted by Cole enabled the students to explore a topic in-depth for the abbreviated timeframe of January 2-14.
"It turned our class into a family," says Geena Naimoli, a senior from Haddonfield, New Jersey. "We made memories that will last forever."
During excursions that took them to several of the Lone Star State's largest and most colorful cities — including Dallas, Fort Worth, Austin and San Antonio — they studied the basic principles and best practices that are the basis of the business consultant's craft. 
The text for the class was Peter Block's Flawless Consulting: A Guide to Getting Your Expertise Used, first published in 1981 and now in its third edition. In some respects, instruction took place in a conventional way, with in-class presentations on the material covered in the text. There were papers to write and tests to take. However, the students' Texas adventure went far beyond anything they would have experienced in a traditional classroom.
"The classroom was everywhere," said Cole. "Class sessions didn't have to fit neatly into the space of a couple of hours; they took place pretty much anytime and anywhere we were together."
"It ended up being far more than just a study-abroad class," said Travis Brown, a junior from Ocean City, New Jersey. "The blend of learning and exploring was perfect."
Cole especially commended Bryan Roberts ('95), president of the Dallas-Fort Worth chapter of the JMU Alumni Association, for his help arranging visits to Texas companies for briefings on a wide variety of subjects. Roberts, an executive with Fogo de Chão, a North Texas-based chain of steakhouse restaurants, organized a reception for the students on the first night of their trip, and then brought them back for lunch several days later. "Almost everyone we met down there was someone Bryan introduced us to," said Cole.
Alexandra Gordon, a senior from Loudon County, Virginia, described the trip as being "more than I ever could have asked for." She said that "Professor Cole encouraged me to step out of my comfort zone as a public speaker and by taking over the College of Business Instagram account for a day—things I never thought I would enjoy."
"When all was said and done, I felt as if we'd represented JMU in an extremely good way," said Cole.