Reinforcing financial literacy
News
---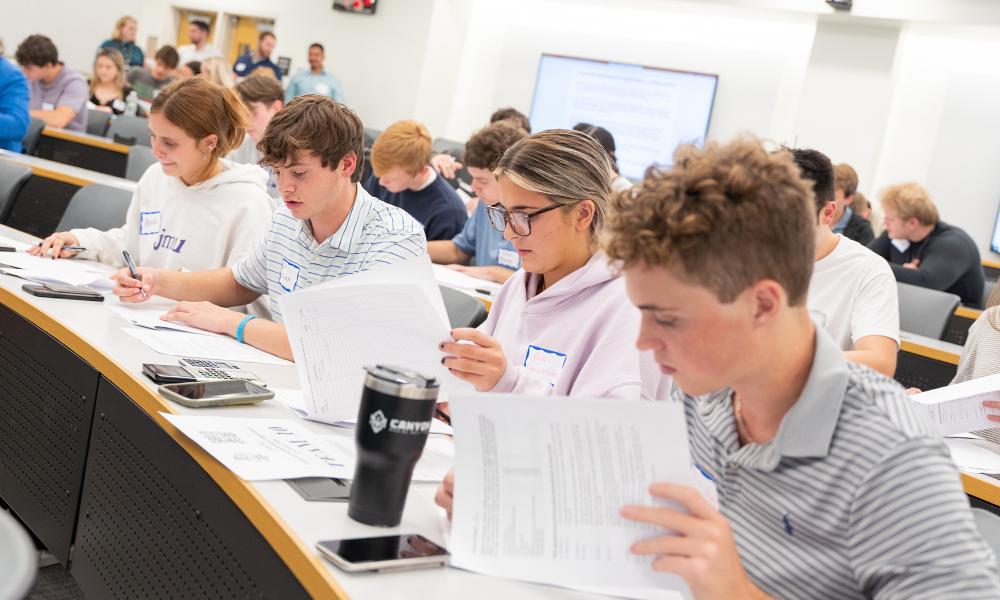 SUMMARY: Nearly 100 COB 241 students attended the Financial Statements Case Competition & Career Fair.
---
"The core financial statements include income statement, balance sheet and cash flow statement," said Associate Professor of Accounting Jim Irving. "Financial statements are the ultimate output of the accounting process and organizations use these statements to aid their decision-making processes every second of every day." 
On October 26, nearly 100 students came out to the COB 241 Financial Statements Case Competition & Career Fair, along with 20 professionals representing 14 accounting and consulting companies.
Students were assigned teammates and separated into 30 teams. As they worked to compile their financial statements, representatives of the companies present circulated around the room, assisting where needed.
The competition and career fair were organized by the School of Accounting and the Financial Professionals Club, of which Irving is the faculty advisor. "The objectives of the event were to enhance students' proficiency in creating financial statements and interpreting financial information, to simulate the accounting workplace environment, where interpersonal skills are every bit as important as technical skills and to provide an opportunity for students and professionals to interact in a low-pressure, high-impact setting." Irving also explained that, for many of the students, it was their first experience at a career fair.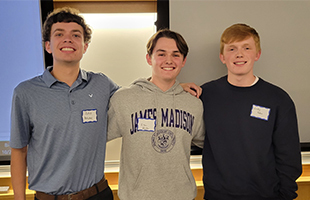 Accounting major Luke Faber, Finance major John Petchel and Computer Information Systems major Ryan Vetter comprised the winning team, answering both tiebreaker questions correctly. Members of the second place team were three Accounting majors, Sarah DeLucia, Mary Cooper Frank and Kyle Showalter, all of whom are currently enrolled in COB 241.
Irving concluded, "Students leave the event with an appreciation of the strength of JMU's Accounting program which includes nearly 100 percent job placement rates and one of the top CPA Exam pass rates in the country."