News
Co-creating to curb texting and driving
---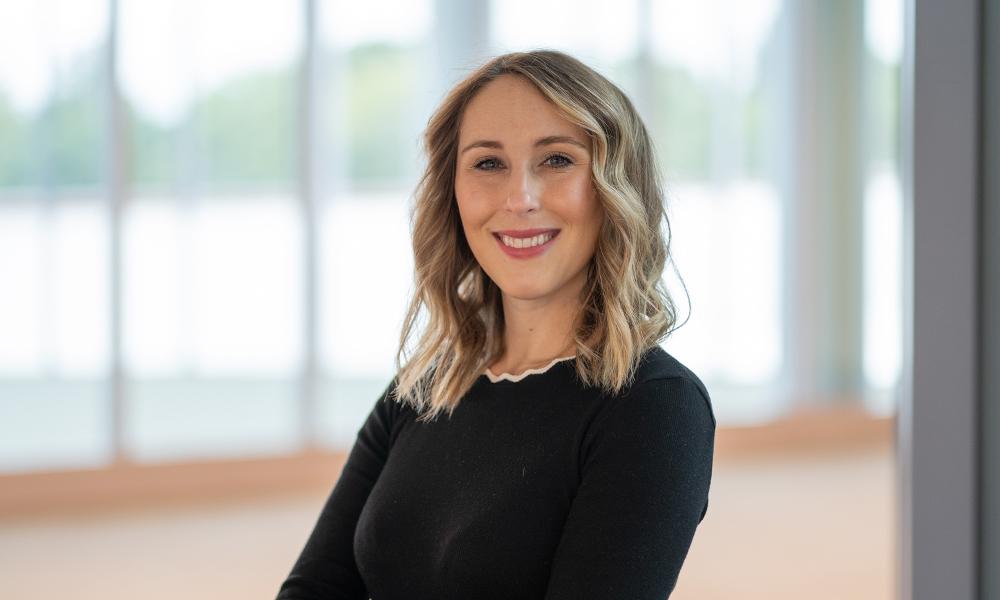 SUMMARY: Marketing scholar studies how best to craft messages that deter texting and driving.
---
Kelly Naletelich, assistant professor of marketing and recent winner of a publication award from JMU's College of Business, vividly recalls the random encounter that crystallized for her the deadly menace posed by texting and driving.
It occurred seven or eight years ago as Naletelich was proceeding along a congested interstate highway in the Dallas area.
"A car right in front of us was swerving all over the road," she remembers.
As Naletelich changed lanes in an effort to maintain a safe distance from the erratic driver, she saw something that astonished her.
"It just makes sense that giving consumers more control over a message they're seeing is a powerful form of what is essentially self-persuasion."
— Kelly Naletelich
"This other girl had her phone propped up on the steering wheel, and was FaceTime-ing as she also tried to drive the car," Naletelich says.
"That's when it first came home to me just how serious a problem distracted driving really is."
Since then, a central thread of Naletelich's scholarly research has been texting and driving, and how to deter such risky behavior.
Her most recent paper, "Curbing texting and driving with advertising co-creation," co-authored with Seth Ketron of the University of North Texas and Juan Alejandro Gelves of the College of William & Mary, has just been accepted for publication by the Journal of Business Research. It is expected to appear in print in early 2023.
The paper looks at the effectiveness in curtailing texting and driving of advertising co-creation, in which consumers become active participants in the development of marketing communications messages.
"We found that, when consumers are allowed to co-create an ad themselves, it's a lot more influential in leading them to reduce their intention to text and drive, as well as their overall distracted-driving behavior," says Naletelich.
She and her collaborators also found that, when consumers co-create an ad, it results in higher levels of sharing of the content on social media networks.
"The paper is really about turning violators into advocates for the cause," she says. "It just makes sense that giving consumers more control over a message they're seeing is a powerful form of what is essentially self-persuasion."
The paper also reports that, in a longitudinal study which over the course of six weeks tracked the effectiveness of a co-created advertising campaign compared to one not co-created, the co-created campaign showed a clear advantage after four weeks.
It also looked at whether a co-created message is just as effective if consumers only pick an image, or only a tag-line. The somewhat counterintuitive finding was that partial co-creation is just as effective as full co-creation.
Since coming to JMU in 2019, Naletelich has been published six times (with a seventh publication pending) in top-tier, peer-reviewed journals. She professes a strong affinity in her research and scholarship for social marketing.
"Many of the projects I do stem from observations I make about things I see happening in the world," she says. "If there's a project through which I'm able to contribute — by means of theory and practice — to making the world a better place, it's usually something I'm drawn to."
In her first paper on texting and driving, "Driving down danger: Using regulatory focus and elaborative approach to reduce intentions to text and drive," Naletelich and co-authors Ketron and Nancy Spears of the University of North Texas conducted four online experiments to demonstrate the relative effectiveness of marketing messages tailored to the processing styles of two distinct sub-populations.
One is made up of those who are focused on promotion, while the other consists of persons who are prevention-focused.
Members of the first group are motivated by their hopes, aspirations and dreams — concepts which arise in the imagination. Those in the second group respond to duties, obligations and securities — products of deliberate consideration.
The work of Naletelich and her co-authors highlights the importance of tailoring texting-and-driving messages in such a way as to address one or the other of these two mindsets.
"Marketing has a key role to play," she says. "The research shows how to create advertisements and where to place them in order to increase their effectiveness in deterring texting-and-driving."