Center for Entrepreneurship
Alumna entrepreneur shares wisdom
---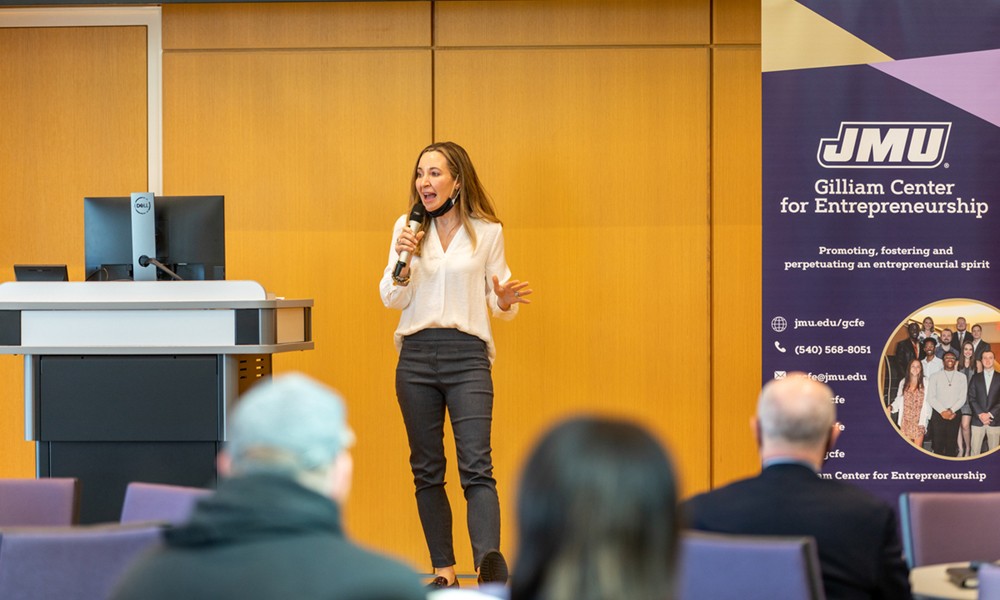 SUMMARY: JMU was her springboard to serial entrepreneurship in the wine business.
---
"Relationships matter," said Noelle Allen ('00) in a freewheeling presentation at an October 19 event marking "Women in Entrepreneurship Week" at James Madison University.
She told a gathering of students, alumni and business owners that "your network is one of your best assets, and you should be networking every day-even if it's just in small, informal ways."
A member of the Gilliam Center for Entrepreneurship Advisory Council, Allen owns Vino Bliss, a Philadelphia-based importer of boutique wines. She also owns and runs Wine LALA, a wine education and lifestyle company, and serves as an instructor for the Philadelphia Wine and Spirits Education Trust program.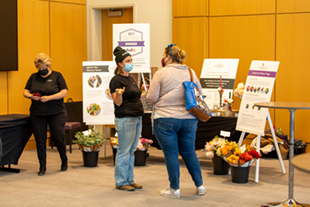 "It's not all glamorous," Allen reminded her listeners. "It may sound cool to say 'I'm going to start my own business,' but there can be drawbacks."
Among the examples she listed were having to provide your own healthcare and the challenges associated with low or fluctuating income.
Key entrepreneurial precepts for Allen include, "understand your numbers," and "have your pitches ready."
With regard to the latter, Allen said aspiring entrepreneurs need to be able to easily explain what their businesses do in pitches of different lengths-including a single sentence.
"If you can't simply state what you're doing, you're not ready to do it."
Noelle Allen ('00), entrepreneur
Allen also stressed the importance of knowing when to turn to experts.
"Hire someone who knows what you don't, and know when to take their good advice," she said.
Allen's other pursuits include educating others about wine and the business of wine at the University of Pennsylvania's Wharton School of Business, and serving as a freelance wine writer for Eater Philly.
She recently accepted an appointment to become director of development for Small Things Inc., a Philadelphia-based non-profit that distributes food to a network of local partners, who then provide meals to persons in need.
Allen graduated from JMU with a bachelor's degree in Business Administration, and went on to earn an MBA from Villanova University in 2008. She worked in corporate finance and business banking before redirecting her career into the wine-and-spirits sector.