College of Business
CoB hosts FBLA Xchange Regional Competition
---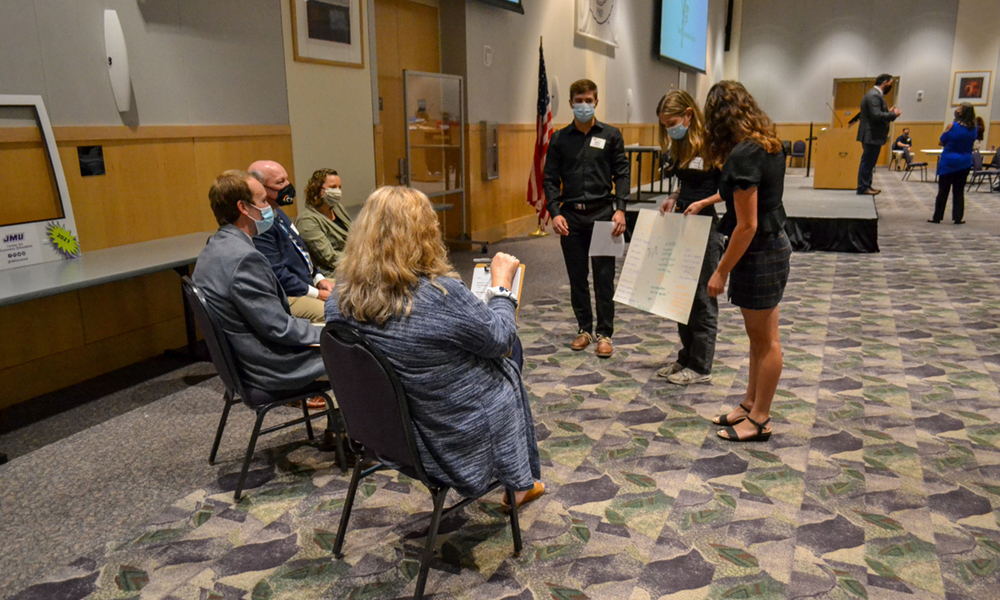 SUMMARY: FBLA partners with three centers from the College of Business.
---
Pictured (above): A group of students presents their final pitch to the judges.
---
They say it's never too soon to start planning for your future.
From an early age, teachers begin preparing students for their future endeavors and studies. Future Business Leaders of America, a high school business career development organization, held their Xchange Regional Competition at JMU on October 12.
The Center for Economic Education in partnership with the Small Business Development Center and the Gilliam Center for Entrepreneurship hosted the FBLA Xchange Regional Competition this Tuesday. The competition was created in order to give high school age students the opportunity to practice, develop and hone their business skill sets. 
John Kruggel, associate director of the CEE, said that this year's competition had two main goals: "prepare local high school FBLA students for their regional and state competitions by creating a small business plan competition, and increase FBLA membership among local schools by offering a fun, engaging and meaningful event for them to compete against other students." 
The competition was held in the Festival Ballroom, and offered students the chance to prepare for future regional and state competitions. Students attended from 10 local schools, and more than 100 students and teachers came out to participate in the event. 
"Events like this, that promote team building through other schools, and through FBLA are really nice, especially coming off of the pandemic," said D.C. Lubin of Spotswood Highschool. 
This year's competition consisted of two different segments. First, attendees were split into groups and each group was given an icebreaker challenge.  The icebreakers were business-related puzzles and offered students the opportunity to connect and engage with their new team members. The team that finished their icebreaker first won CoB themed prizes such as sweatshirts, backpacks and water bottles.
Students' main challenge was to create a business plan based on the given scenario and develop an elevator pitch. Teams were given 40 minutes to create and prepare their business plan presentation. 
"I think when we come together as a group from different high schools it requires us to think in a different way," said Colby Edwards of Spotswood High School. 
"The Rendezvous," the winning business plan, was created by D.C. Lubin and Colby Edwards of Spotswood High School, Cortney Ramsey from Stuarts Draft High School and Haile Madden of Harrisonburg High School. 
Explaining the team's success, Ramsey said, "we worked together as a group and we all put our heads together."