Professional Development and Engagement
OPDE hosts internship panel for inquiring students
---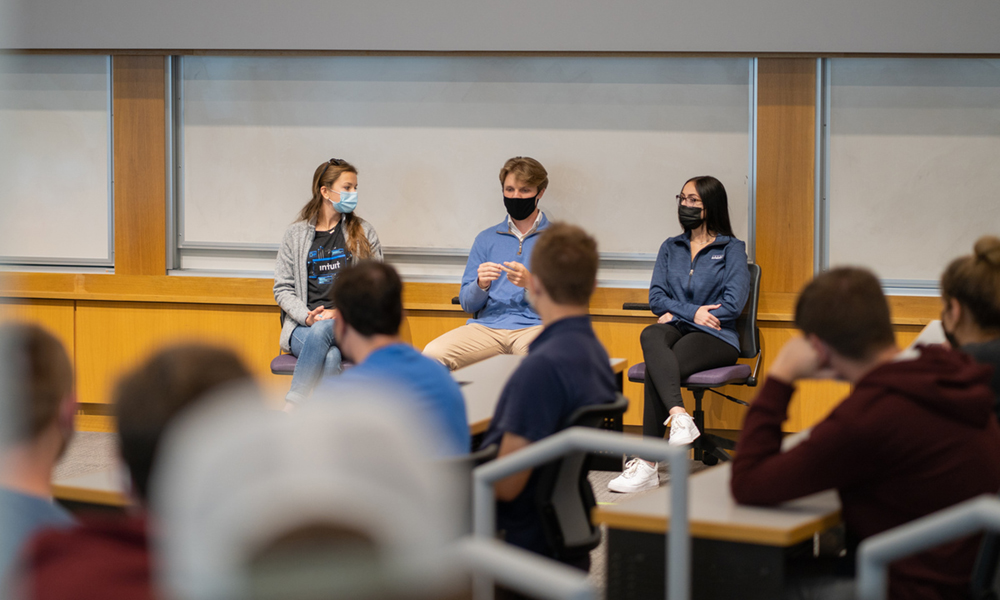 SUMMARY: The OPDE started the conversation of internships last week by holding a Q&A panel for CoB students.
---
Pictured (above): Three CoB students share their experiences from their summer internships
---
The Office of Professional Development and Engagement held an internship panel on Tuesday, October 6. The event was held in order to give students, who may be searching for internships, the opportunity to hear other students' experiences of the internship process. The evening included a Q&A session with Cassandra Considine, Libby Dickinson and Nate Reed, three College of Business students who completed internships over the summer.
Cassandra Considine is a management major with a concentration in entrepreneurship. Over the summer she had an eight-week, virtual internship with KPMG. "One thing that stuck out to me was my time in CoB 300 and learning to leverage my strengths and weaknesses in a team setting. The College of Business really prepares you for that autonomy in the workplace," she said when asked how the CoB had prepared her.   
Nate Reed had the opportunity to virtually intern with Fannie Mae. He is currently double majoring in finance and economics. "Alumni are so willing to reach out and connect with you. Engaging and initiating conversations with alumni is huge," he said of his experience networking.
Libby Dickinson, a marketing major with a concentration in professional sales, and an entrepreneurship minor, virtually interned with Intuit for 12 weeks. She credited the CoB for being well prepared for her internship. "The professors at JMU teach students the appropriate ways to reach out to them, which taught me how to communicate with upper-management during my internship. I was able to establish mentors, meet with employees from different divisions and receive coaching from my manager very effectively."
Samantha Collier, director of the OPDE, moderated the panel. The students were questioned on their interview process, online sources used to search for internships, the skills and experience they gained and advice for other students on standing out to employers. After the Q&A session, the audience was encouraged to ask questions of their own.