Finance
Finance major brings great ROI to scholarship donors
---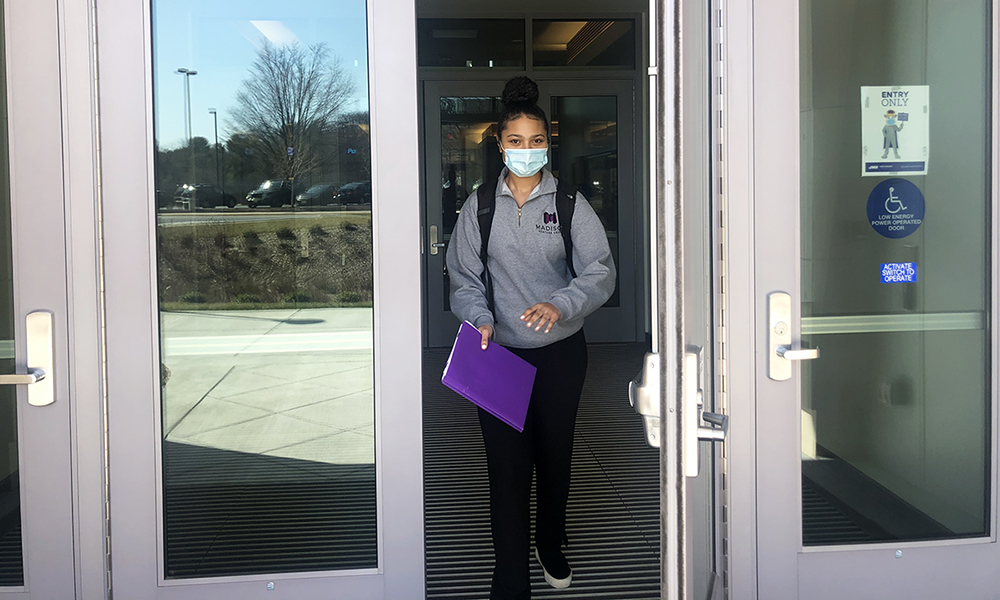 Junior finance major Mya Baptiste knows one thing for sure: she wants to pursue a career in finance in New York City. It's something she had thought a lot about, but was able to cement her commitment to the idea through her experience at JMU.
Born in Canada to a father from Grenada in the West Indies and a mother from Scotland, her family emigrated to the U.S. when she was four. An early obstacle to her dream was the need for tuition money, and with an older sibling in school already, scholarship money was going to be a necessary part of that. 
So Baptiste met the problem head-on, applying for scholarships as well signing up for the Centennial Scholars program. Since she was a freshman she has been the recipient of the Busey Family scholarship, endowed and established by Sam and Carol Busey, something she attributes to a variety of very positive effects in her life. She says having the scholarship "has opened many doors for me along the way, and has had a positive impact in how I see my future."
"Thanks to the Busey family I've been able to afford to pursue such great experiences within the College of Business," she says, "like when I had the opportunity to go on a Career Trek to New York City." While there, she had the chance to have alumni guided tours of 14 companies, including Goldman Sachs, which she says was a "great immersive experience for me." 
The experience was transformative. "Going into that week, I was really torn over whether I could ultimately see myself pursuing wealth management or investment banking. And at the end of the week, I was really able to solidify that and further my understanding of investment banking and how that related to my passion," she says. "I had the opportunity to speak with over 100 different alumni from the surrounding area and really hear about how they've developed their careers since JMU."
The networking that happened led to even greater rewards. "I had the opportunity to further network with Deutsche Bank and various alumni at that firm and I'm very fortunate to have landed an internship with them." She spent four weeks over the summer in a virtual internship that afforded her an inside view into her chosen career.
Baptiste has made the most of her Madison experience, which has been characterized by her motivation and her drive to be a doer. She is a member of the Honors College, and is also pursuing a minor in interdisciplinary studies. "I am passionate about being able to serve and grow with others, as well as having the opportunity to apply an entrepreneurial mindset when growing my organizations," she says. In addition to working the in JMU financial aid office and being a part of the College of Business Student Advisory Council, she is the vice-president of Women in Business, the first female president of Madison Venture Group, and is a member of the Society of Real Estate.
Looking back on the last few years, she says, "My Madison Experience has been fulfilling yet dynamic. I have been connected with so many peers that come from diverse backgrounds and that share common interests." With her eye to the future, she knows the hard work isn't over yet. "I envision my senior year being busy but impactful, especially with the work I plan to complete for my senior honors thesis."