Center for Entrepreneurship
Cross-campus initiative helps Harrisonburg Farmers Market
---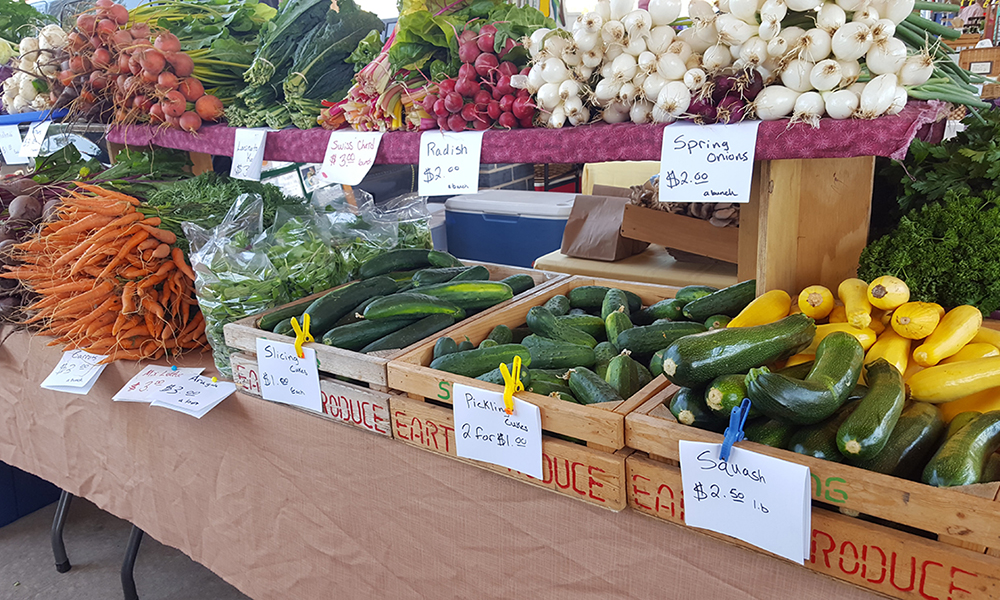 As local businesses faced unprecedented market changes due to Covid-19, members of the JMU community worked in a cross-campus initiative to create solutions that will benefit the entire Harrisonburg community.
The project began when WRTC professor Seán McCarthy had a conversation with his neighbor, who was involved with the Harrisonburg Farmers Market (HFM), and recommended to her that she work with JMU X-Labs to help them quickly shift to an online presence.
After that was accomplished, the project developed further goals and was moved from the X-Labs to become a Summer Impact Fellowship (SIF) at the Gilliam Center for Entrepreneurship (GCFE), co-managed by Aaron Kishbaugh from X-Labs and Katie Overfield-Zook from the GCFE. They worked with HFM management to develop a list of projects that would give students experiences that mimicked the early work of a start-up venture or non-profit.
The SIF's mission moved away from a strictly tech-based solution and towards helping to ensure the financial viability of the HFM during Covid-19 while also helping to lay the path for a vibrant future in a post-Covid world, and providing the students—many of whom had lost job or internship opportunities due to Covid-19—with a high impact, real-world, problem-solving, community-engaging experience.
The SIF team represented five of the seven undergraduate colleges at JMU. Following seven weeks of work, their final deliverable to HFM was ostensibly a restructuring package, complete with:
steps and suggestions for structural transformation to a 501(c)(3) organization

future social media campaigns including graphics and a vendor interview video series

a guide to executive board development

suggestions for volunteer recruitment

potential connections to JMU student orgs for volunteer work

collated data and top areas of interest from the vendor survey

a running customer survey

a list of potential sponsors, partners and grant opportunities
"The skills of teamwork, relationship management and successful communication with customers and stakeholders will be invaluable to the students as they go out into the world and work in whatever field they find themselves in, or maybe even begin a business of their own," said Overfield-Zook. "I have been so impressed by the Fellows' dedication, their willingness to take critique and suggestions, and the creative way they are finding solutions. Hopefully their work will help the HFM thrive as a cornerstone of the downtown Harrisonburg community for decades to come."