Marketing
Setting sales in a virtual world
---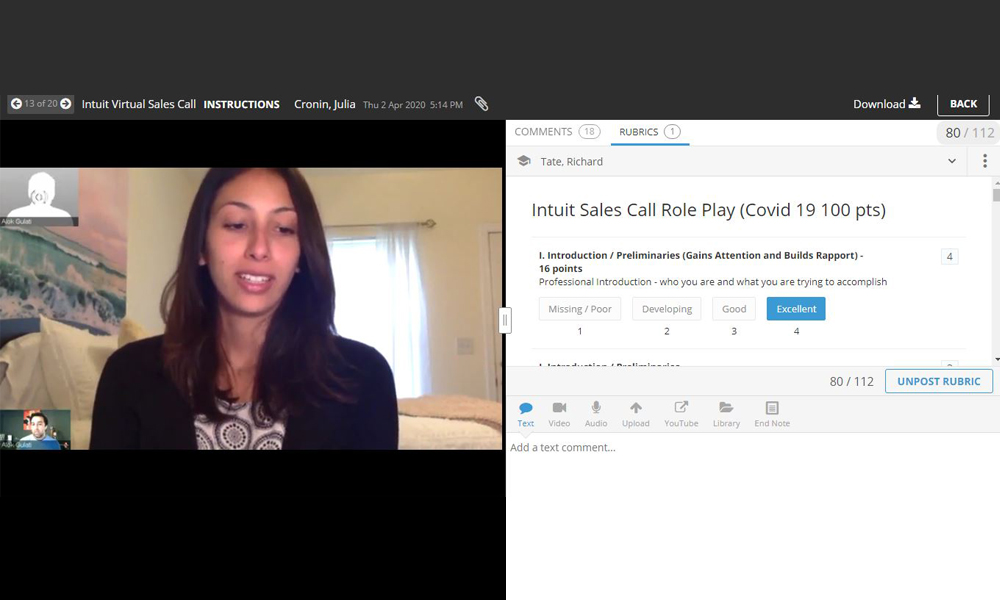 Pictured: Student Julia Cronin in a live virtual conversation with an Intuit sales trainer Alok Gulat in the lower left window
---
Professional sales is a people-oriented discipline where relationships drive success, often based on in-person meetings and presentations. Given the current physical distancing climate, teaching this very important skill set has been a challenging prospect.
Richard Tate, professor of marketing and director of the CoB Center for Professional Sales has an innovative answer. Using both Zoom conferencing and GoReact training software he has taken his marketing 430 class and their face-to-face role plays into the virtual world, with encouraging results.
"We used to do these mock sales calls in-person and face-to-face in Showker Hall, but with the Covid-19 pandemic we quickly coordinated with Intuit and they ramped up to provide our students this training via virtual role plays," says Tate. "Recently, this has become a very important skill as it mirrors exactly how real businesses are coping with Covid-19 to maintain business relationships and conduct actual sales calls."
Tate paired with software developer and corporate partner Intuit to devise role plays, with Intuit developing a real-life training scenario that the students studied for a week. Then five Intuit trainers played the role of a small business owner while the students tried to sell them Intuit services. "This process puts our students directly in front of corporate executives, trainers and recruiters," Tate says. 
Tate and the students will repeat this process in two weeks with another corporate partner, Paycom. "By moving online we have kept our corporate partners engaged in our sales program and engaged with student learning," Tate explains. "This corporate engagement increases internship and career opportunities for our students, and in fact, we have students being interviewed this week even in the face of these challenging economic times because of this program and our student—corporate engagement."
The College of Business was recently recognized as one of the "Top Universities for Professional Sales Education" by the Sales Education Foundation