College of Business
Making passion-based careers pay with the entrepreneurship minor
---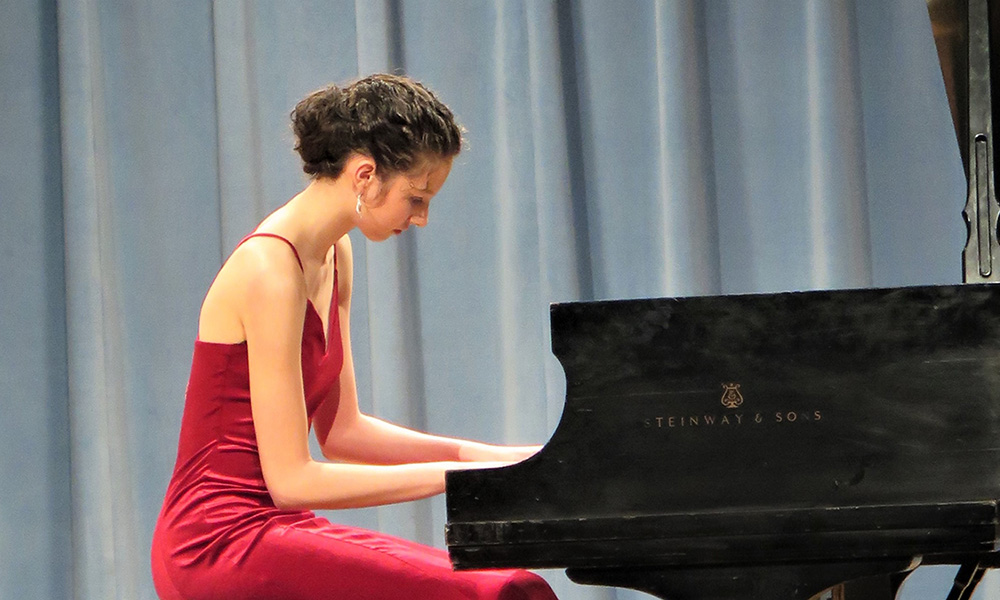 Above: Piano performance major, and entrepreneurship minor, Arielle Sukhram.
---
"We're all doing what we love, but we've got to make a living. The entrepreneurship minor is a good way to learn how, so we can continue doing what we love."
Senior piano performance major Arielle Sukhram is in her element when she sits at a Steinway, its 88 black and white keys full of potential laid out before her. She has studied music since she was six, and now teaches young students as she finishes up her bachelor's degree and auditions for graduate school.
It's a busy time. A music teacher since she was 16, she has also acted as the president of the JMU chapter of the Music Teachers National Association (MTNA) since she was a sophomore. And because Sukhram wants to turn her well-honed teaching skills into a viable career, she's learning how to be in her element when it comes to running a business too.
"Something that was attractive about it was that it wouldn't add too much to my course load. That it was actually feasible."
Sukhram found that she could add the minor by taking one course per semester, and even managed to get credit for piano pedagogy courses she was already taking. She enjoys the coursework, and welcomes the chance to get out of the "music bubble" and invest in herself.
"There is the starving musician stereotype, and I think that one of the reasons is not the quality of the musicians, but the need to figure out how to sell yourself as a professional. The arts are important, but you have to know how to package everything and fill a concert hall or fill your studio, so the business skills are also important."