Center for Entrepreneurship
CFE Takes Students on Networking Venture to Princeton
---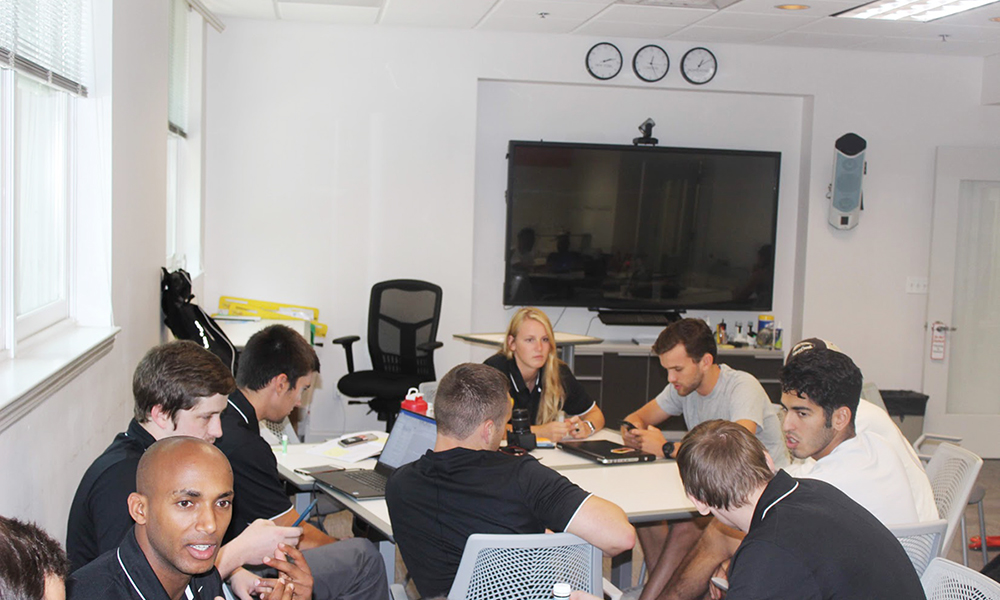 SUMMARY: Twenty-five member cohort (including three exchange students from Zambia and Kosovo) also meets with alumni and business leaders in NYC.
---
Since the funding opportunities for start-ups can materialize at any time, the Center for Entrepreneurship gathered a group of students and recent alumni and headed up to the city that never sleeps for a little summer networking and a friendly pitch competition with students in Princeton University's eLab Summer Accelerator. 
The first day found the CFE Summer Accelerator cohort in the New York City offices of Mekanism for a meet and greet with alumni entrepreneurs and CFE advisory board members. The following day they headed south to Princeton University to exchange ideas and share experiences with student entrepreneurs working on similar projects.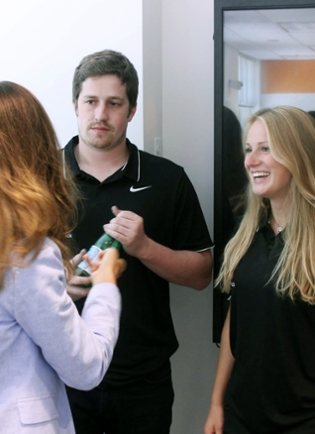 Brett Danielson ('18, management) and Sally Todd ('18, industrial design)
The highlight was a discussion led by Lisa Berry, Strategic Marketing Leader for the Consumer Sector of External Innovation for Johnson & Johnson, who addressed what she looks for when deciding to invest in start-ups. Berry then acted as a judge for a casual scrimmage-like pitch competition between Princeton's TerraVuze and JMU's BarTrack. 
TerraVuze aims to revolutionize the outdoor retail industry by using virtual reality technology to allow shoppers to browse gear while being immersed in its intended use environment. 
BarTrack, winner of the 2018 Jackson-Rainey Business Plan Competition, was an idea birthed from CoB300 studies. The group devised a sensor-enabled beer tap with an integrated software package that helps bars, breweries and restaurant owners regulate the amount of beer that comes out of the tap. 
Since then BarTrack has seen most members leave, but Brett Danielson ('18) and Hunter Markle ('18) decided to pursue it post-graduation and have taken on a few new members. They have honed their business model, developed a functioning prototype, and have seen real-time use of their product by businesses. All that experience along with the work done this summer at CFE helped them to edge out Princeton in the friendly competition. 
"The CFE is a great resource for anyone who is trying to be an entrepreneur," said Danielson. The eight-week summer program "allowed us to work full time developing our product and gave us mentors and resources that will help us grow our business." When asked about the CFE trip, Danielson said, "I really value other people's opinions and advice, and we got a lot of great advice in New York City. We had the opportunity to speak with entrepreneurs in a variety of fields and they gave us great advice on fundraising. It was really great to speak with people that have done what we are trying to do and see what went well and what went wrong."