Being the Change
The Entrepreneurial Artist
---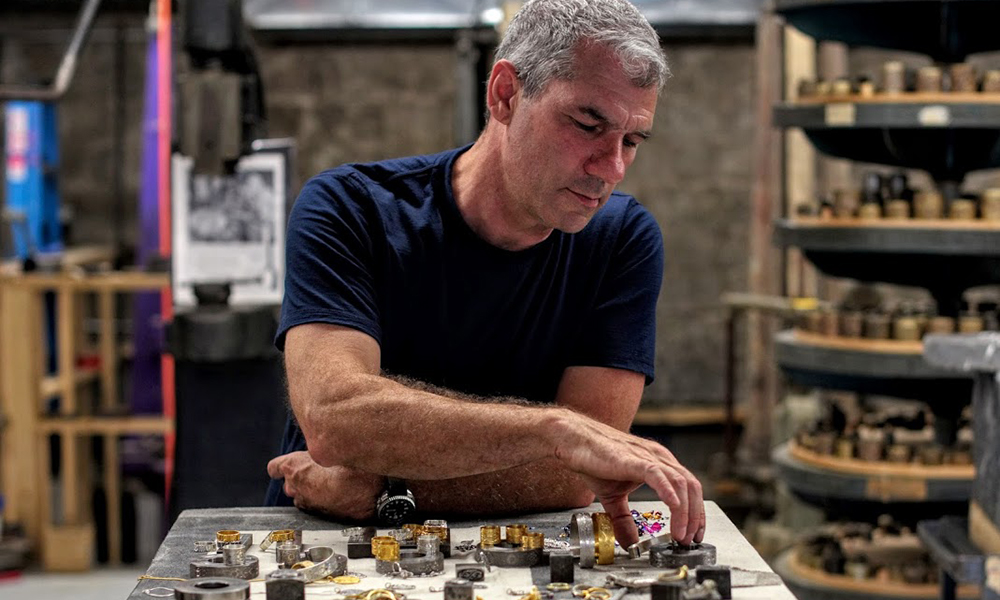 SUMMARY: Hugo Kohl, '89, turned his passion for jewelry making into an entrepreneurial pursuit that brings together a unique library of design, a goldsmith's shop and working factory where fine jewelry is created every day. (Photo courtesy of Hugo Kohl Jewelry)
---
The sight of a dump truck hauling off antique, hand-engraved jewelry hubs to be sold for scrap metal sparked Hugo Kohl's imagination and set him on an entrepreneurial path of establishing HKmfg and Hugo Kohl Jewelry—a venture that would bring together a group of skilled artisans to produce vintage and filigree jewelry.
The incident happened in 1993, when Kohl visited the historic Jewelry District of Providence, R.I. During a tour of a warehouse containing antique jewelry manufacturing machinery, Kohl noticed workers boxing up steel items to be sold as scrap metal. As boxes were being loaded onto a dump truck, one of the boxes spilled open. Kohl instinctively understood that the boxes were filled with potentially significant jewelry designs. He jumped in his car, followed the dump truck, stopped the driver at a traffic light and convinced the man to sell him some of the pieces.
Nearly a year of research revealed that Kohl had uncovered a treasure: The metal scraps actually were antique, hand-engraved jewelry hubs. They were "actual size, three-dimensional, hand-engraved carvings of a piece of jewelry executed in tool steel," Kohl, a 1989 finance and economics graduate, explains on his company's website.
Over the next two decades, Kohl collected thousands of more hubs, die sets and rolls, as well as human-powered factory equipment. He has amassed one of the largest collections of American ornament and jewelry design—with many pieces dating back to the early 1800s.
Kohl credits his business education for preparing him to succeed as an entrepreneur. By the time Kohl enrolled at JMU in his mid-20s, he had served an enlistment in the U.S. Marine Corps, worked for several years as a commercial diver for offshore oil fields and completed courses at Piedmont Virginia Community College. His life experiences contributed an interesting perspective in his CoB classes, and he formed personal friendships with several professors who became mentors.
"JMU was the right place at the right time for me, and everything worked out perfectly," says Kohl, whose daughter and niece also are JMU graduates. "I could not have gone into business for myself and be doing these things that I'm doing if it hadn't been for my experience at JMU. It gave me vocabulary for business, and it disciplined my thinking."
Kohl's enthusiasm for JMU is reflected in Hugo Kohl Jewelry's exclusive "Madison Collection" designs for Dukes fans. The collection offers six ring styles with amethyst (purple) and citrine (gold) stone settings.
The secret to success as an entrepreneur, Kohl says, is to "have fun, and do the things you love to do."