News
Ross Litkenhous Pays it Forward to JMU Students
---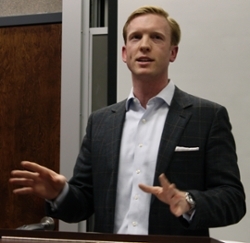 On Wednesday, March 26, Ross Litkenhous, principal at SC&H Group, spoke at Part 3 of the Beta Alpha Psi Leadership Speaker Series about planning, facilitating, and delegating efficiently.
Litkenhous first asked which audience members wanted to be remembered at the end of their lives for their great managerial skills. After seeing a large number of hands rise, he explained that, rather than being a good manager, he wants to be remembered as a great leader.
Emphasizing the differences between leadership and management, Litkenhous explained that while managing is important, the goal should be to reach higher.
"People work for managers," said Litkenhous, "but they exceed expectations for leaders."
Litkenhous also pointed out that many organizations have good managers, but several lack effective leaders. When a good leader is in place, he explained, many of the managerial responsibilities take care of themselves.
The good news, Litkenhous said, is that he firmly believes leaders are made, not born. Becoming a leader is a learning experience that develops over time. 
Litkenhous then shared the various ways to develop leadership skills He first encouraged all audience members to surround themselves with people who are smarter than they are. He stressed that it is not a sign of weakness to ask for input from others, and he encouraged students to seek input even when working in a managerial role.
Litkenhous's second point for developing as a leader was to diversify teams. He explained that every team member has an x factor, something that makes him or her special. By knowing the motivations, strengths, and weaknesses of their team members, leaders effectively delegate which individuals should belong to certain teams and hold specific roles.
Litkenhous also stressed that the client must always come first. He said that it is a leader's job to make his or her clients feel valuable and significant—regardless of what is happening within the company, it is crucial to have a unified front and understanding that the client is the singular focus.
The final point Litkenhous offered in regard to developing as a leader was never to micromanage team members. He highlighted the importance of keeping workers focused but also providing the autonomy that they need to succeed on their own.  In Litkenhous's view, team members respond better to leading rather than managing, seeing as the former leads to effective motivation.
"I won't follow someone who is lazy or unsupportive," Litkenhous added, "but I will go to the end of the earth for somebody who believes in what we're doing."
Litkenhous ended his presentation with a personal story that described his experiences working as an intern after his first semester of graduate school. In this internship position, Litkenhous learned the skills he described in his presentation, and he explained that he hoped to pay it forward by passing the information on to the audience. 
"To wrap it all up, the thing about planning and dedicating and facilitating efficiently comes down to how you are viewed by people who are following you," said Litkenhous.
The Beta Alpha Psi Leadership Speaker Series will have four parts, each highlighting different facets of leadership. James Madison University's Beta Alpha Psi chapter won first place in the "Best Practices: Leadership" category at the Regional Meeting in Connecticut this month and will compete against other regional winners from across the country at the Annual Meeting this summer in Georgia. For a full schedule of series events, click here.
By Alix Carlin (Communication studies, '14)
Published: Monday, April 7, 2014
Last Updated: Thursday, August 11, 2016