News
Beta Alpha Psi Leadership Speaker Series Features PwC Partner Jamie Grow
---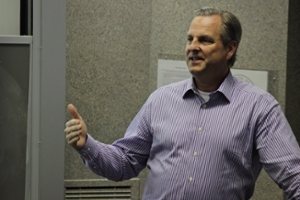 On Wednesday, March 19, honors organization Beta Alpha Psi hosted Part 2 of its inaugural Leadership Speaker Series. Jamie Grow, partner at PricewaterhouseCoopers (PwC) and member of the School of Accounting Executive Advisory Board, presented about diversity and inclusion, trust-based relationships, and Coaching Across Differences.
Grow began the presentation with an interactive activity in which students called out different words beginning with letters that spelled out "diversity game" while simultaneously defining diversity. 
Grow then showed a video featuring Reggie Butler of PwC talking about diversity filters. Butler explained that all humans have biases, attitudes that can be both negative and positive. The application of those biases is a filter. He further explained that humans selectively – and sometimes unintentionally – utilize those filters to frame observations in a way that impacts behaviors. Since such behaviors can be non-inclusive, Butler stressed the importance of recognizing filters as the first step to building competency and dexterity.
Building from Butler's arguments, Grow discussed perceptions, explaining that people see what they want to see, and as a result perception becomes reality. He defined diversity, according to PwC, as the "full range of human and/or organizational differences and similarities." He then provided PwC's definition of inclusion, which is "the process of leveraging the power of diversity to achieve a common goal or objective. 
In Grow's view, "An understanding and appreciation for diversity creates value, which makes PwC a great place to work because we are fully inclusive with respect to people's differences and we value those differences," he said. "As a result, it brings us unique perspectives on issues of our clients, it allows us to establish a point of view that's not myopic, and hopefully provides service to our client."
Following the discussion on diversity, Grow explained the importance of trust-based relationships, which are built on familiarity, comfort, and trust. The importance of such relationships is to invest in relationships, share and collaborate, walk in others' shoes, and enhance value for all parties involved.
The last point of the presentation explained Coaching Across Differences. To explain this portion, Grow showed another segment of the Butler video. Butler explained that coaching and developing someone can be easy when there are multiple perceived commonalities; however, if the coach senses many differences, he or she may have difficulty providing meaningful feedback to the "coachee."
Butler also emphasized the difference between people with hierarchical views and egalitarian views, and the ways such differences can hinder effective coaching and development. If both individuals view life through a hierarchical lens (meaning they recognize certain structures and positions of different individuals), coaching may be more effective than a hierarchical individual trying to coach an egalitarian individual, who may feel that all parties involved are completely equal.
Butler encouraged viewers to think about the differences they perceive between themselves and others and to have the courage to pay attention when coaching people with perceived differences. 
Grow concluded the presentation by explaining that PwC does not attempt to "fix" diversity; rather, it is incorporated into the way it conducts business because talent is everywhere and differences are beneficial to everyone involved. If organizations fail to accept diversity as an advantage, the rigid structure becomes stale and can ultimately lead to failure. 
By Alix Carlin (Communication studies, '14)
The Beta Alpha Psi Leadership Speaker Series will have four parts, each highlighting different facets of leadership. Beta Alpha Psi will be presenting the effectiveness of the program in March at the Beta Alpha Psi Regional Meeting in Connecticut. For a full schedule of series events, click here.
Published: Wednesday, March 26, 2014
Last Updated: Wednesday, June 8, 2016