College of Health and Behavioral Studies
A message from Dean Sharon Lovell - Fall 2022
---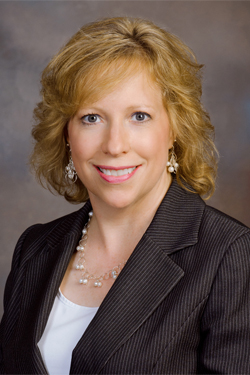 I am delighted to share with you this inaugural issue of the JMU College of Health and Behavioral Studies alumni newsletter. Timed to coincide with our 10th year as a College, the goal is to better connect you with our College, our 8 academic units, our institutes and centers – and, importantly, our faculty, staff, and students. 
This first newsletter features stories about graduate student clinicians' impact on our surrounding community, a course experience that turns students into coaches right away, a holistic health clinic established by alumni, a collaborative effort to address food insecurity, a university- community partnership designed to educate children about nutrition, and a mentored research experience focused on environmental pollution. You will also find short news blurbs as well as an invitation to share news about YOU!
We hope you enjoy learning more about the College and will also explore our website. If you would like to find ways to connect with our College and its units as a guest speaker, employer, donor, or mentor, feel free to contact me at lovellse@jmu.edu or visit our Engagement page. 
Our College is also on Social Media, and we hope you will enjoy a glimpse into the day-to-day activites in CHBS by following us!
Facebook | Instagram | Twitter | YouTube
IPE and IDE at CHBS
Growing our teaching and scholarship in interprofessional and interdisciplinary education and practice is a core strategic goal for CHBS. Research shows the importance of interprofessional practice in health care settings to reduce medical errors, improve individual and population health outcomes, and increase worker satisfaction and retention. Interdisciplinary teams are vital to solving contemporary complex problems. The College is making efforts to link all IPE and IDE efforts to four of the competencies and domains associated with successful IPE and IDE endeavors: Values and Ethics; Interdisciplinary Communication; Roles and Responsibilities; and Teams and Teamwork.
CHBS currently offers several IPE/IDE courses and learning opportunities that allow students to learn with, from, and about each other around important topics. For example, we offer interprofessional courses on ethical decision-making in health care, trauma-informed care, and family caregiving. We also offer IPE and IDE workshops and learning experiences through simulations, labs, vignette-driven patient care scenarios, a health policy summit, and interdisciplinary research.
To learn more about how CHBS is growing its IPE and IDE work, please contact Associate Dean, Linda Plitt Donaldson (plittdlx@jmu.edu), who oversees the College's IPE and IDE Initiative.
Preparing Professionals for the Field
Pursuing our College of Health and Behavioral Studies vision means we are continually adjusting our program curricula to meet societal demands.  Within the past few years, this has meant exciting changes for our Athletic Training program as it moved from a bachelor's degree program to a new program at the master's degree level.  In addition, the School of Nursing added a BSN to DNP program with two concentrations: Family Nurse Practitioner (FNP) and Adult Gerontology Primary Care Nurse Practitioner (AGPCNP).  We also created our programming with underserved communities in mind.  The UpCare (Undergraduate Primary Care and Rural Education) program in Nursing helps support the BSN workforce in Page County, Virginia.  Similarly, the collaborative RISE Up program in Graduate Psychology helps provide evidence-based behavioral health services in numerous rural Virginia populations.  These program changes, and others across the college, help prepare our students to serve the community in impactful ways.