News
JMU professor and poet nominated for NAACP Image Awards
---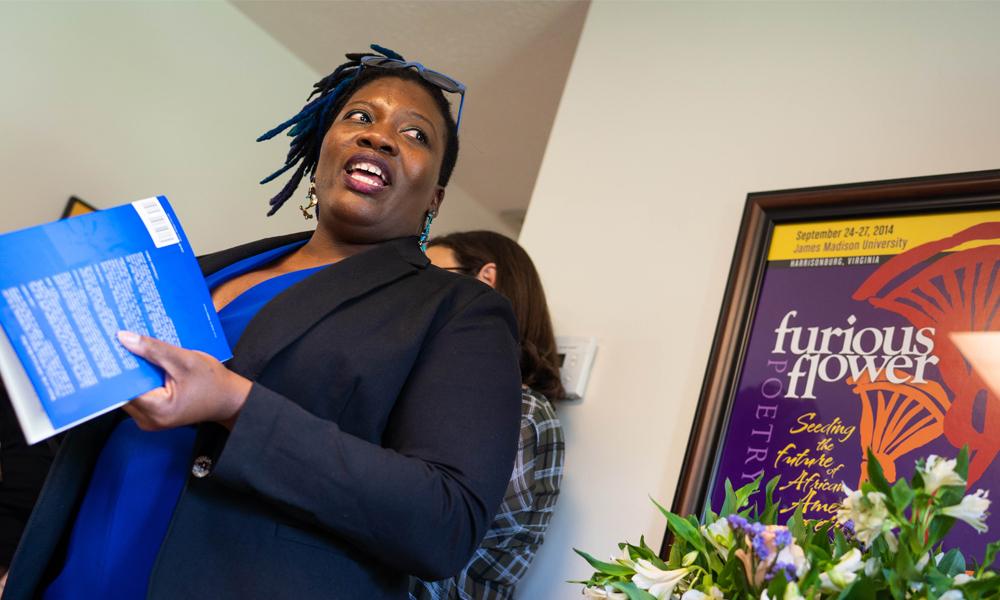 SUMMARY: Lauren K. Alleyne, English professor and assistant director of Furious Flower Poetry Center, has been nominated for the NAACP Image Awards for her book of poetry, "Honeyfish."
---
Professor Lauren K. Alleyne, an associate professor of English at James Madison University, has been nominated for the NAACP Image Awards for her book of poetry, "Honeyfish." 
The Image Awards honor the accomplishments of people of color in the fields of television, music, literature and film. The awards also recognize those who, through creative projects and diverse mediums, promote social justice. 
Published in 2018, "Honeyfish" is Alleyne's second collection and the winner of the Green Rose Prize. "What the poet serves us is the raw heart meat of love, the praise of an ineffable, indestructible blackness prized by the sun itself," wrote reviewer Shivanee Ramlochan in the Jan/Feb 2020 issue of Caribbean Beat magazine. 
Alleyne is the assistant director of the Furious Flower Poetry Center at James Madison University, the nation's first academic center for Black poetry, and the editor-in-chief of the center's quarterly online journal The Fight and the Fiddle.  
"I write as a Black, immigrant woman, and I am humbled and thrilled to know that my work has been acknowledged by this community through this nomination," said Alleyne, who was born on the twin islands of Trinidad and Tobago. "I am also honored to be included in the numbers of such incredible artistic talent!"
Furious Flower's impact on Black poetry cannot be understated. Of the five nominees for Outstanding Literary Works in Poetry, Alleyne said that four have been to Furious Flower (herself included). 
In fact, "DaMaris Hill was our first Poet-in-Residence [in 2016, and] it was here at Furious Flower that she completed this manuscript," Alleyne said. 
The 51st NAACP Image Awards will air on a two-hour live tv special on BET Networks on Saturday, February 22, 2020.  Voting is open to the public. Vote here.