College of Visual and Performing Arts
Art Gallery Internships
---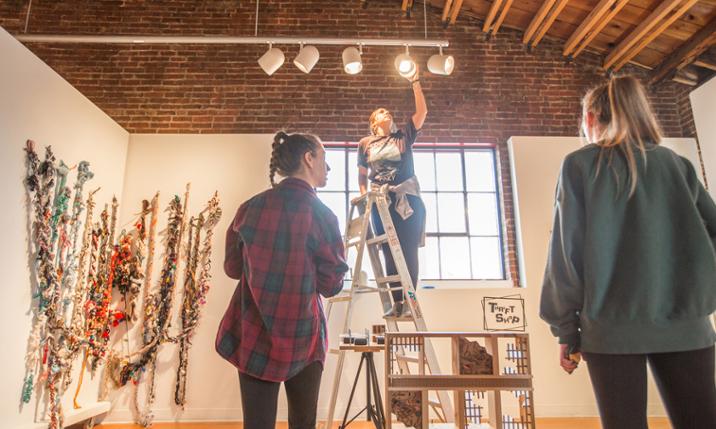 By Jen Kulju ('04M)
August 29, 2018 – Students who graduate with art gallery internship experiences are leaving JMU prepared for professional success. "I recommend that every student in the School of Art, Design and Art History (SADAH) has an internship in a gallery before graduation because it is so beneficial to whatever their career choice in the arts," says Kathy Schwartz, director of SADAH. Schwartz adds that 90 percent of SADAH students complete some kind of internship, whether in a gallery or other arts-related setting.
Duke Hall and ArtWorks Gallery Internships
Internships for credit are offered in the Duke Hall Gallery of Fine Art and ArtWorks Gallery as well as in the Lisanby Museum and Madison Art Collection. Duke Hall Gallery of Fine Art is a contemporary art space located in Duke Hall that features work by professional artists. The gallery aims to present the highest level of fine art experiences, to create an active space for robust discourse of vital issues facing our society, and to be a visionary leader of fine arts for all, according to director and chief curator John Ros, who manages the internship program at both Duke Hall Gallery and ArtWorks.
Ros inherited the internship program when he came on board in 2017; however, the program dates back to 1983 when Stuart Downs was director of Sawhill Gallery (now Duke Hall Gallery of Fine Art). To help him run the gallery, Downs hired 5-6 interns each semester until stepping down in 2008. Gary Freeburg signed on as the new gallery director, and held the position until his retirement in 2017. Freeburg expanded the program to include ArtWorks, and routinely employed 35-40 interns each semester. (ArtWorks is JMU's student-run gallery, exhibiting work by undergraduate and graduate students.) Freeburg's interns learned to install and de-install exhibitions, and to create signage and promotional materials, among many other tasks.
Davion Birdsong graduated in 2015 with a B.F.A. in studio art with a concentration in painting and drawing, and worked as a Duke Hall Gallery intern under Freeburg for four semesters. Birdsong, who started as a gallery intern and worked his way up to gallery manager, says Freeburg took him in and taught him "how to be a professional, how to manage people, how to handle art, and how to work with and alongside people from all walks of life." "My favorite part may have been interviewing visiting artists like Maria Magdalena Campos-Pons (see below) and talking with them about their work," shares Birdsong, who is now an art handler at the Virginia Museum of Fine Art in Richmond.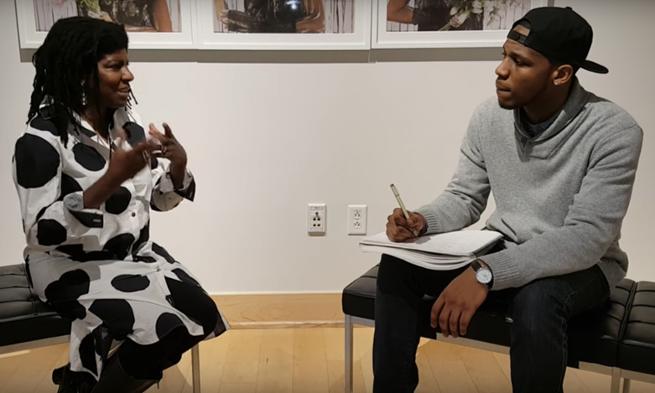 Today, a Duke Hall Gallery internship ranges from one to two credits, and involves invigilation hours (or gallery sitting) and working one-on-one with Ros to contact artists for information, write exhibition copy, edit images, design marketing collateral, establish events, and reach out to patrons. "What is so exciting about the Duke Hall Gallery is that it is not only a classroom, but it is also a workspace," says Ros. "Students are learning adaptable skills that they can apply in other nonprofit settings or to any work that is civic-minded."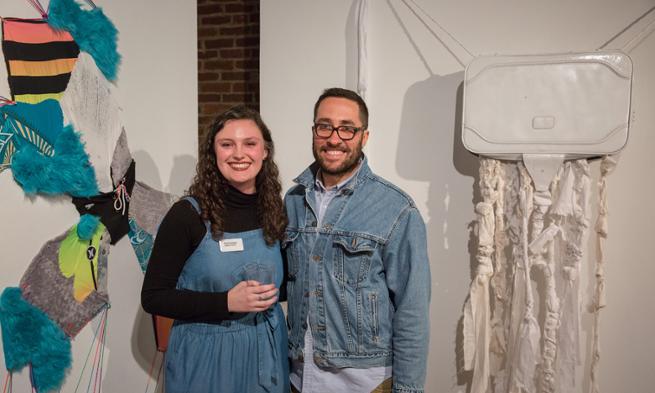 Ros reduced the number of interns to 20-22 per semester at Duke Hall Gallery and ArtWorks to make the program "as good as it could be." "Sometimes success is not growing. In this case, scaling back was success for me," reveals Ros, whose schedule also includes independent studies with students like Rachel Crowe (pictured with Ros above), who worked with Ros on professional practices before graduating in May 2018. Crowe was a history major and studio art minor with a concentration in printmaking. She will graduate with a second major in art history in December 2018. Crowe worked her way over five semesters through the ranks of ArtWorks, from gallery assistant to assistant director to director, where she earned one, two and three credits, respectively. "I'm the biggest advocate for moving up through the internship," explains Crowe of the progressive, three-tiered structure.
Like Crowe, Jonas Albro ('17) climbed the ArtWorks' ladder, and is now an archivist at NYC's The Irving Penn Foundation, the largest repository of Penn's work in the world. "It is fair to say that my time at ArtWorks formed the basis for my current professional trajectory," exclaims Albro, who has landed several positions/internships in professional galleries since graduating with a degree in art history with a concentration in museum studies and a minor in English. "At ArtWorks, I was involved in every aspect of running the gallery, including hiring interns, recruiting artists, curating shows, running installs, managing advertising and social media, as well as coordinating with faculty and student organizations to create interdisciplinary exhibitions."
Lisanby Museum and Madison Art Collection Internships
Students of any major who are interested in historical art can apply for one to three-credit internships with the Lisanby Museum and Madison Art Collection (MAC). Located in Festival, the Lisanby Museum exhibits works drawn from the MAC, JMU's permanent collection of 35,000 art and cultural objects from the Neolithic through the 20th century. Dr. Wren River Stevens, a "Triple Duke" and director of the MAC since 2003, oversees the MAC internships while Ginny Soenksen, who was hired as the associate director of the MAC in 2017, manages the Lisanby Museum internships.
Since coming on board, Soenksen has restructured the internship program so that students can "get as close to a real-world museum experience as possible." Students can choose to intern in one of eight different areas: art education, communications and marketing, curatorial, editorial, exhibition design, graphic design, interpretation, and collections management (with Stevens in the MAC). And while students each take on individual roles, they also work as team members responsible for the entirety of an exhibition.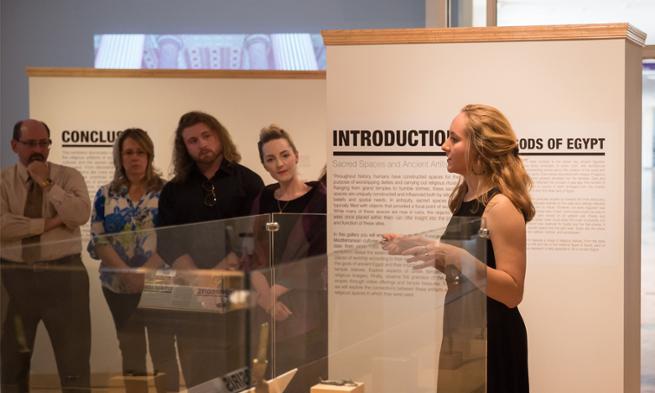 Fiona Wirth (pictured above) served as a curatorial intern with the Lisanby Museum before graduating in May 2018 as an art history major with a concentration in museum studies and a minor in Honors Interdisciplinary Studies. Wirth curated the exhibition, Adoration and Art, which was her Honors Capstone Project and the culmination of three semesters of work. As curator, Wirth says she brainstormed the premise behind her exhibition, chose artifacts to display, and wrote the exhibition text for the artifacts. The experience she obtained at JMU in art handling, exhibition design, research, as well as writing and editing helped her to land a full-ride scholarship to the M.A. in Art History program at the University of Florida.
Danny DeSousa served as an exhibition designer on Wirth's Adoration and Art during his junior year as an art history major with a concentration in museum studies and a studio art major with a concentration in painting and drawing. DeSousa says he worked with Wirth to create a cohesive, balanced layout with well-lit artifacts and exhibition text to ensure a positive visitor experience. He also enjoyed a seminar on how to handle art. "[Each artifact] was different, and being able to hold even just a piece of ancient history was incredible," shares DeSousa.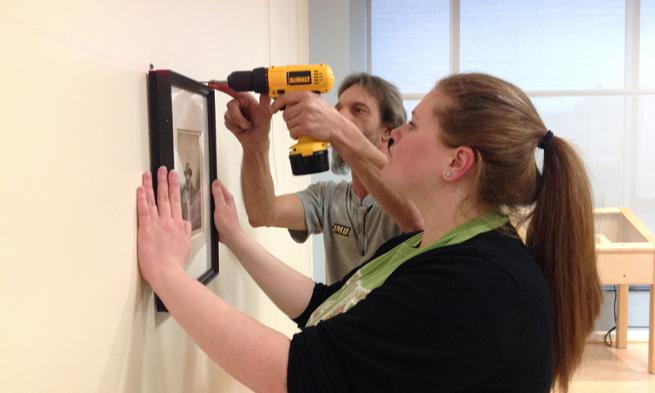 Also incredible is what 2014 JMU alumna Andrea Morgan (pictured above) has been able to achieve since her time interning at the Lisanby Museum and Madison Art Collection. Morgan, who majored in art history with a concentration in museum studies, started out at Lisanby as an intern manning the front desk and helping with miscellaneous research and tasks. She then served as Lisanby's student gallery director while working with Stevens and Dr. Kay Arthur, JMU professor emerita of art history, as a research assistant on the exhibition, Rembrandt and the Mennonite Community.
After graduating from JMU, Morgan received a tuition scholarship to the M.A. in Art History program at Tufts University. She earned her degree in 2016 and is now embarking on her third year as a doctoral art history student at Queen's University in Ontario, Canada, where she holds an Ontario Trillium Scholarship, a Principal's International Doctoral Award and an International Tuition Award. These renewable scholarships provide Morgan with over $200,000 toward tuition and expenses for four years. Morgan was recently awarded a $30,000 Alfred Bader Fellowship, which will allow her to travel to Europe to conduct her dissertation research—likely focusing on Rembrandt and questions of attribution.
"My interest in Rembrandt was stimulated at JMU while working at the MAC," says Morgan. "The opportunities and experiences I gained while at JMU and the MAC were invaluable in helping to confirm that I indeed wanted to pursue graduate degrees in art history. There is much benefit in doing hands-on work in a museum setting, especially for those who are considering a career in the arts."
Duke Hall Gallery of Fine Art and ArtWorks Gallery internships are available for Fall 2018 and Spring 2019. Visit jmu.edu/dukehallgallery/learn.shtml to download an application. (Those interested in a spring internship should fill out a Fall 2018 form and indicate Spring 2019.) Apply at jmu.edu/madisonart/internships.shtml for Lisanby Museum and Madison Art Collection internships.

Thrift Shop photo by Rachel Crowe. Rachel Crowe/John Ros photo and Fiona Wirth photo by Bob Adamek. Andrea Morgan photo courtesy of MAC.