School of Art Design and Art History
Graphic Design Graduates Create Their Own Catalogue
---
Professor of art David Hardy (graphic design) and the 21 graphic design seniors graduating this spring have created a 92-page full color catalogue of student work - Solstice - for the graduates to take with them into their careers.
The catalog serves two purposes: first, to document the multidisciplinary work that the students have honed during their time at here at JMU and show off their talents to potential employers, and second, to showcase the level of design JMU's School of Art, Design and Art History is known for and attract the next generation of JMU designers.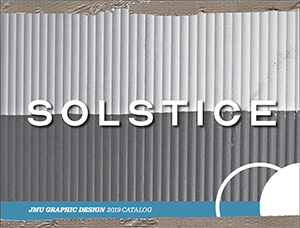 In fact, the catalogue itself shows what SADAH graduates can do; Hardy and the students featured in it created all 75 copies from scratch, from layout to binding. Students will take two copies with them and the rest will be added to the school's recruitment materials. See the digital version here.
---
Also this semester, Hardy led a six-student design team that helped to build a 95-page digital archive that documents the 1994 Furious Flower Poetry Conference. This pivotal conference featured the most accomplished and admired African-American poets of the day, including Gwendolyn Brooks, Amiri Baraka, Sonia Sanchez and Ta-Nehisi Coates, among others.
The completed project is the product of a JMU X-Labs class of 33 students and six faculty representing disciplines that included writing, rhetoric and technical communication, education, English, and graphic design. Read the design team's case study.