Office of the Provost
Using Her Past to Improve the Future
---
SUMMARY: Erin Casey's master's thesis examines the identity and relationship processes in becoming a mental health advocate.
---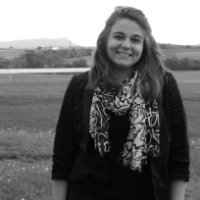 Erin Casey is a second-year graduate student pursuing her Master of Arts degree in JMU's Communication and Advocacy program. She is also the founder and president of "Where I Stand," a nationally recognized non-profit organization for increased awareness of mental illness and increased advocacy for improved mental healthcare. Her master's thesis pioneers health communication scholarship examining the identity and relationship processes in becoming a mental health advocate.
Using auto-ethnographic writing and narrative theory of mental illness, Erin seeks to recover her journey from illness to advocate by studying her medical records and her informal journaling of relationships and identities management. The project highlights ongoing relational tensions and identity dilemmas for all persons connected to individuals experiencing mental illness as part and parcel of recovery processes. She writes, "Mental illness is not just mine; it is not just my story. It is all of ours."
Her thesis adviser, Associate Professor Dr. Carlos Aleman, describes Erin's work as "quite simply the most important and innovative research project I have ever directed." Aleman states that Erin's writing offers exceptional self-reflection and critical attention to popular and institutional discourses of stigma and healing.  Erin will be presenting a pilot manuscript of her thesis at the Eastern Communication Association in Baltimore in April and defending her thesis one week later.
Erin began her service to JMU as an undergraduate. She served as campus chapter president of Active Minds, a national nonprofit organization that has over 400 chapters nationwide with a mission to reduce the stigma associated with mental illness. During her first year as a graduate student, Erin was invited to serve on the Cultural and Linguistic Competency Committee of the Virginia Department of Behavioral Health and Developmental Services. She is now the co-chair of its Outreach and Engagement subcommittee.
Working in the community, Erin has shared her story of living with mental illness at high schools, private colleges and public universities. Because of her commitment and success, Erin has been invited to be a speaker for the 2016 Walk for Hope, a multi-institutional depression and anti-suicide awareness event to be held on JMU's campus.
Erin has also significantly contributed to the success of JMU's Valley Scholars program. As a graduate assistant for the program, she helped innovate, coordinate and manage activities on campus for middle and high school student participants. Now in its second year of programming, JMU Valley Scholars has doubled its service and commitment to our local communities and has secured its place as one of JMU's flagship initiatives for outreach and engagement.