Office of the Provost
Studying Family Stories Takes Communication Studies Professor Home
---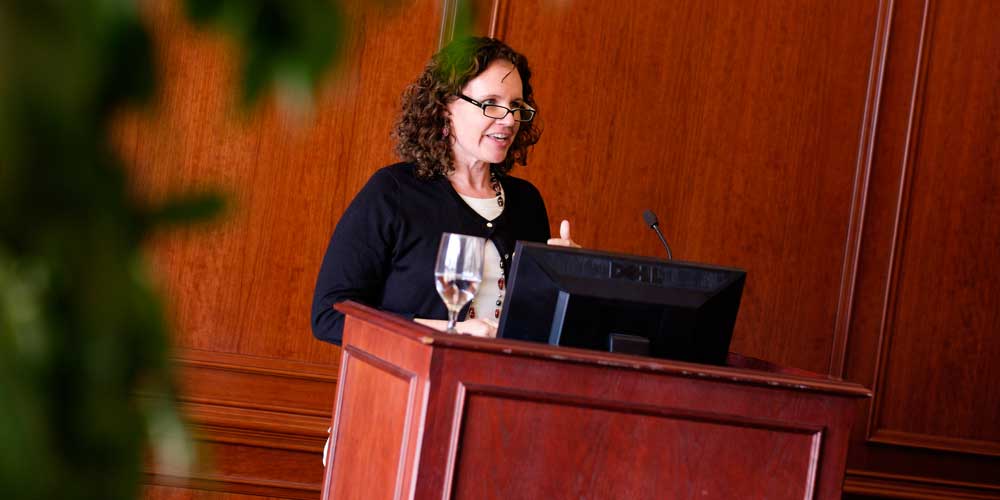 Dr. Melissa Alemán, Professor of Communication Studies and Associate Dean of The Graduate School, has been studying the communication and culture of aging families for nearly two decades. In recent years, Alemán's scholarship has led to the study of her own family. She reflects, "When you study family communication you are routinely humbled by the stories that others are willing to openly share with you – their long term marriages, their experiences as caregivers, their celebrations and losses. I felt it was time to showcase that same kind of vulnerability in my own writing and I found that opportunity through collaborating with members of my own family."
"The stories remind us that we construct that degree of wholeness in our everyday talk with one another."
Alemán's first collaborative effort was with her mother, Katherine Helfrich, Professor Emeritus at Frederick Community College and a retired social worker. In a series of papers, they examined the lessons offered in their family stories about caregiving. This examination provided Alemán and her mother an opportunity to explore the power of joint storytelling as a source of resilience for families dealing with crises and chronic illness, such as dementia. Alemán explains, "Often popular media about Alzheimer's disease treat persons with dementia as empty shells of their former selves, creating stigma and fear about caregiving. Real life stories are not merely tragic, nor are they romanticized tales. We felt that it was important to showcase how family storytelling about illness can open up opportunities to have difficult conversations about caregiving and end-of-life decisions." 
Their lead article in The Journal of Family Communication asserts, "Telling collaborative stories enable family members to reconcile that despite being a catastrophic illness, dementia is not the end of a person's social experience, identity, and story – our family members with dementia and our future selves remain rich and whole. The stories remind us that we construct that degree of wholeness in our everyday talk with one another."
Family storytelling is also an everyday activity in which all families participate. Most recently Alemán co-authored a book chapter with her husband Dr. Carlos Alemán, Associate Professor of Communication Studies, which theorized the role of storytelling in multicultural families. In their work they highlight that "lessons" found in everyday family stories told in multicultural households often communicate conflicting messages about how to be and behave. They argue that such conflicting messages are as much an opportunity for some families as they are a problem for others. Alemán and Alemán explain that it is the act of family storytelling in and of itself that is important in multicultural families. The cultural contradictions presented during storytelling enable "third spaces," new ways of being a family that are situated firmly in neither culture, and that are created through difference.
Drs. Melissa and Carlos Alemán will present this ongoing work on storytelling in multicultural families at an upcoming colloquium entitled "Family Photos and Storytelling in Multicultural Homes." at the Institute for Visual Studies on April 16, 2014 at noon. The colloquium will encourage participants to consider the ways that people use family photos as opportunity to embrace contradiction and multiplicity in family identities.
Alemán believes that storytelling is an important form of advocacy in families – particularly aging families – as stories are a critical tool for communicating to one another and to others (such as physicians and caregivers) about what is important and how needs are to be addressed.  For this reason, she was excited to play a role in developing the new graduate program in Communication and Advocacy where she served as the Graduate Program Director prior to joining The Graduate School as Associate Dean.
Looking ahead, on July 1, 2014 Dr. Alemán will step into the role of Interim Dean of The Graduate School following Dr. Reid Linn's retirement.