JMU News
Donor generosity continues post-Unleashed
---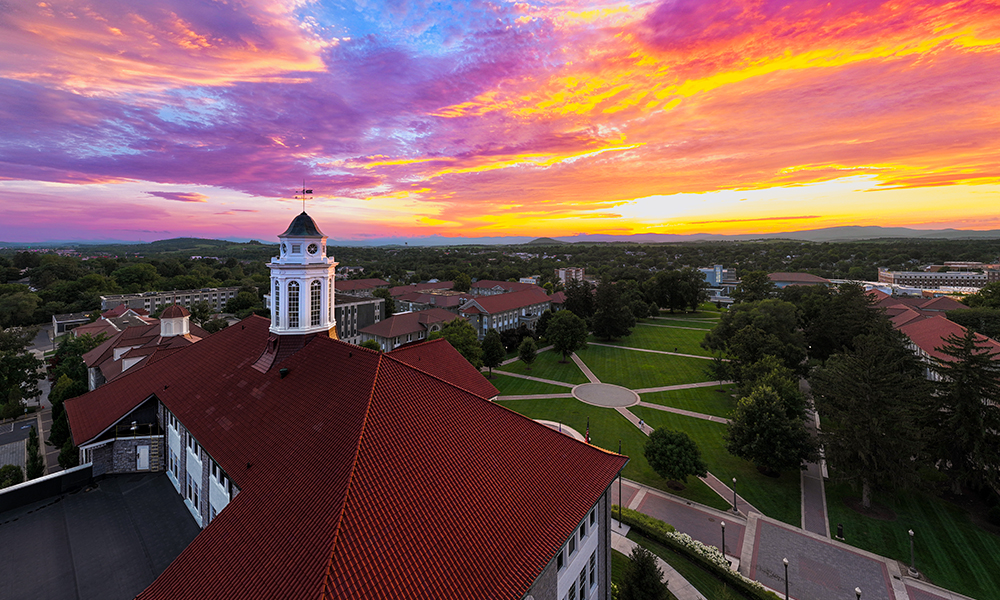 SUMMARY: Donors gave more than $27.5 million in charitable gifts to JMU during fiscal year 2023, the first full year after the conclusion of Unleashed: The Campaign for James Madison University. Total giving includes gifts of all sizes, from individuals and organizations, and benefits all areas of the university.
---
Making good on a prediction that Unleashed: The Campaign for James Madison University would effectively double annual giving to JMU, the university received more than $27.5 million in charitable gifts during fiscal year 2023.
"Our donors deserve the credit for the doubling of philanthropic giving to JMU," said President Jonathan R. Alger, who made launching a comprehensive campaign a priority from the beginning of his presidency. "But I must say that Vice President Nick Langridge and his team in Advancement executed a textbook campaign presenting a compelling case to sophisticated donors about why JMU is such a wise investment."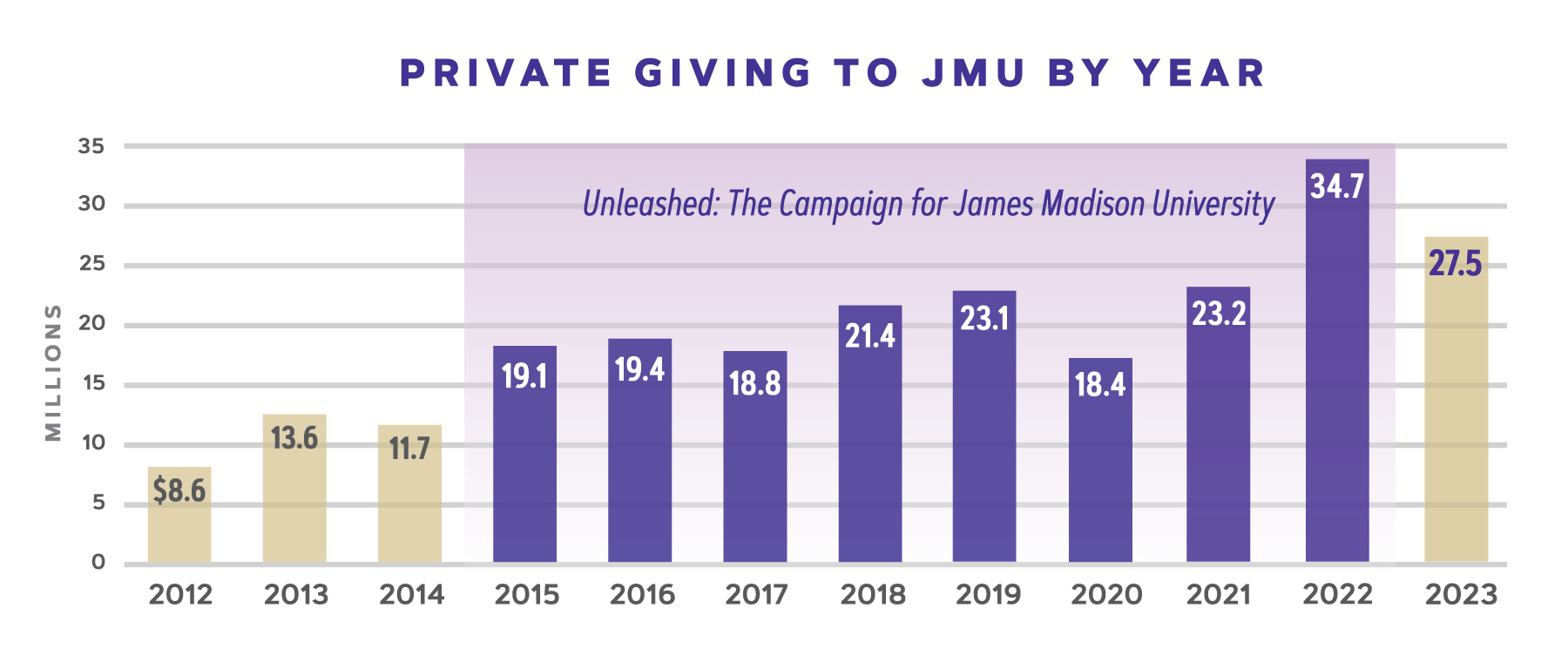 FY23 leaders
Corporation and foundation giving, success in the Sun Belt Conference, endowed gifts and a family gift for first-generation students led donor giving in FY23.
Also notable in FY23 was the May graduation of 17 students from the first cohort of Valley Scholars, due in part to donors who provided scholarships of JMU tuition and fees over the years. Ever since President Alger instituted the rigorous five-year college preparatory program in 2014, select students from surrounding schools who successfully complete the program and qualify for admission to JMU are promised scholarships of tuition and fees to the university. "Dreams become reality when people roll up their sleeves and get to work," Alger emphasized to attendees at the May 4 campus dinner and ceremony for Valley Scholars families. "It has been a long journey together."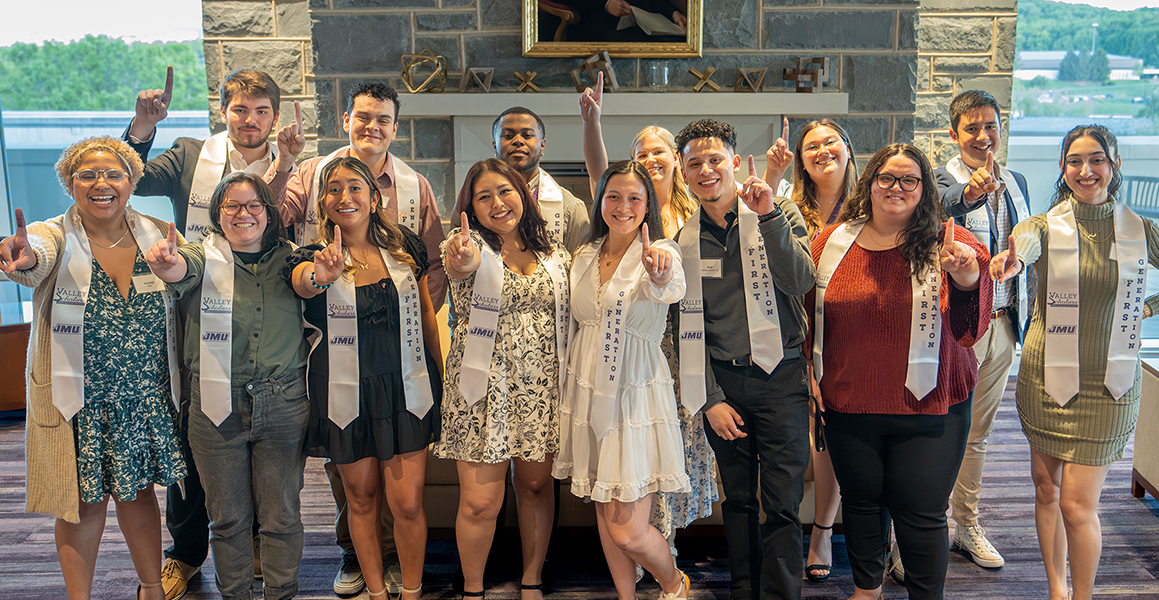 The largest single gift in FY23 came from Angela ('90) and Carl "Pete" ('88) Reddix, who committed $1.1 million to support first-generation students at JMU. The gift names the Reddix Center for First-Generation Students and also establishes the Reddix Centennial Scholarship Endowment. Their investment will fund center programming to help students who do not have a family tradition of college, helping them navigate and succeed in the university experience. The Reddixes both graduated from the College of Business.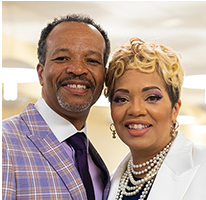 In FY23, donors made gifts of all sizes — from 2023 graduate Xaiver Williams' $10 gift to the Reddixes' seven-figure gift. All of them contribute to JMU's philanthropic success. More than 13,000 gifts of $250 or less accounted for more than $1 million raised in FY23. Nearly $2.8 million came from 16,128 gifts of $1,000 or less. The number of donors overall remained elevated at 17,484, down only 840 donors from FY22, the last year of the Unleashed campaign. 
Funding from corporations and private foundations remained high in FY23, accounting for $9.8 million, down just $1.6 million from FY22. The total is on top of the more than $24 million faculty received through federal and state grants, all together affirming JMU's continued upward trajectory in the sphere of faculty research and its new status as an R2 national university.
Of the $27.5 million total, giving to Athletics reached almost $7 million, reflecting JMU's success in the Sun Belt, with volleyball and women's basketball winning championships. JMU had the most teams (five) in the Sun Belt reach their championship games. The popularity of football and the seating and parking realignment for football ticket holders also buoyed giving. Football made the Associated Press Top 25 rankings last season, with every game day causing Google searches for "James Madison University" to skyrocket.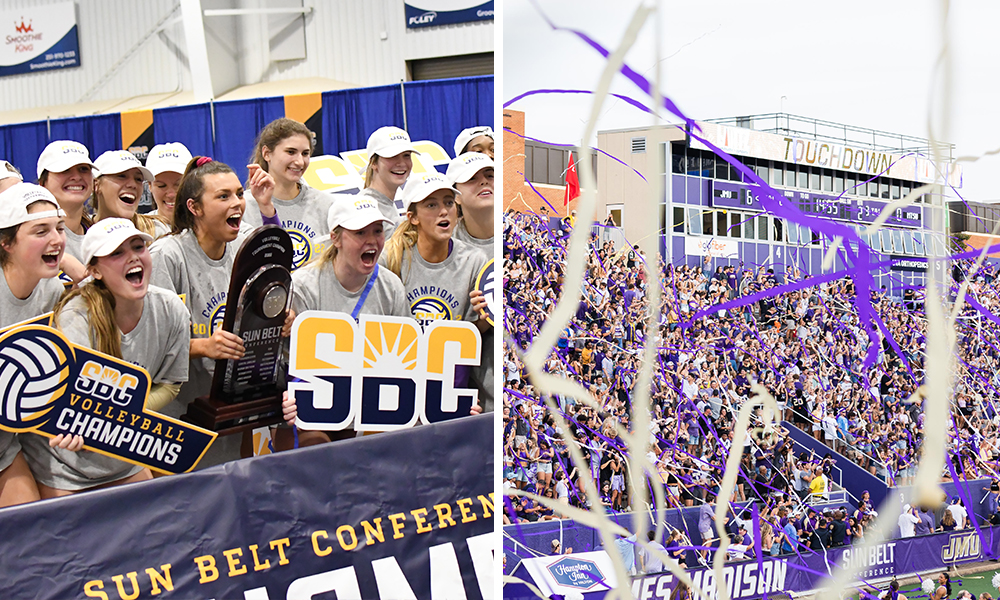 Endowed funds
Donors gave more than $6 million in endowed funds to JMU, which are invested in the stock market to build the corpus plus yield a yearly expendable award for the donors' gift designation. This type of giving provides funding in perpetuity.
Scholarships
Private contributions to scholarships totaled more than $5.2 million. These funds support current students and enable promising and deserving high school seniors to say "yes" to JMU. 
Women for Madison's Amethyst Circle raised more than $1.3 million for scholarships and programming over the last two years, presently funding 27 students with renewable scholarships. The Amethyst Circle group is beginning its new two-year membership drive to fund its next 25 scholarship recipients.
Wills and bequests
Planned giving pledges reached almost $5 million, with donors arranging to support JMU in the future through bequests, wills and other estate planning. More than $1.7 million in past planned gifts were also realized in FY23.
Madison Trust
Madison Trust investors gave more than $166,000 to support faculty innovations and research, including undertakings like the Space Biology Research Program, Mitigating Misinformation on Social Media, the 21st Century Federalist Papers Project and more. Madison Trust's 11-year cumulative investment total is $1.1 million in support of 87 projects. Often, Madison Trust is a harbinger of future major faculty research grants, providing seed money to establish evidence and proof of concept for promising innovations.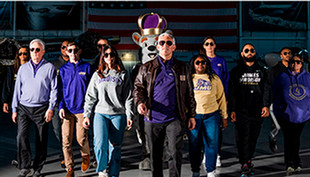 Reaching New Heights week
During Reaching New Heights week, 2,339 donors raised $581,655 in support of 94 campus causes, including an anonymous $100,000 gift for Valley Scholars and $40,000 for unrestricted giving. Giving was spurred in part by the Reaching New Heights video. JMU's traditional Giving Day returns this fiscal year on Feb. 22, 2024.
Unrestricted Giving
Donors pushed unrestricted giving to $522,173, which is even higher than the Unleashed campaign's final year of $515,000. These flexible dollars provide a foundation for JMU leaders to seize emerging opportunities and address urgent needs.