News
Kinesiology grad travels long road to walk across commencement stage
---
SUMMARY: A back-breaking bicycle accident didn't stop Tim Thome ('22) from reaching for his diploma.
---
In the days leading up to Spring 2023 Commencement, Tim Thome ('22) had that dream many of us who are preparing to walk across the stage conjure up in our subconscious minds.
"I fell," he said.
Given the long road Thome had to climb to be able to participate in the College of Health and Behavioral Studies ceremony this past weekend, no one would blame him if he had stumbled. In fact, it's a miracle he was able to walk at all.
"I was immediately paralyzed."
 — Tim Thome ('22)
Thome, a Kinesiology major and road-cycling enthusiast, completed the requirements for a Bachelor of Science degree in the Fall 2022 semester and was set to graduate with his class in December. But while home in Virginia Beach, Virginia, over Thanksgiving break, he was out riding his bike late one night when he jumped a curb, flipped over the handlebars and landed headfirst in a drainage ditch. He suffered a herniated disc between the C3 and C4 vertebrae of his spinal cord — near the base of the neck — which left him paralyzed.
On Thanksgiving Day, Thome underwent surgery to fuse the vertebrae. He spent a week in an intensive care unit before beginning an in-patient rehabilitation assignment. It took about a month for him to be able to walk again. He was discharged from the hospital on Dec. 22.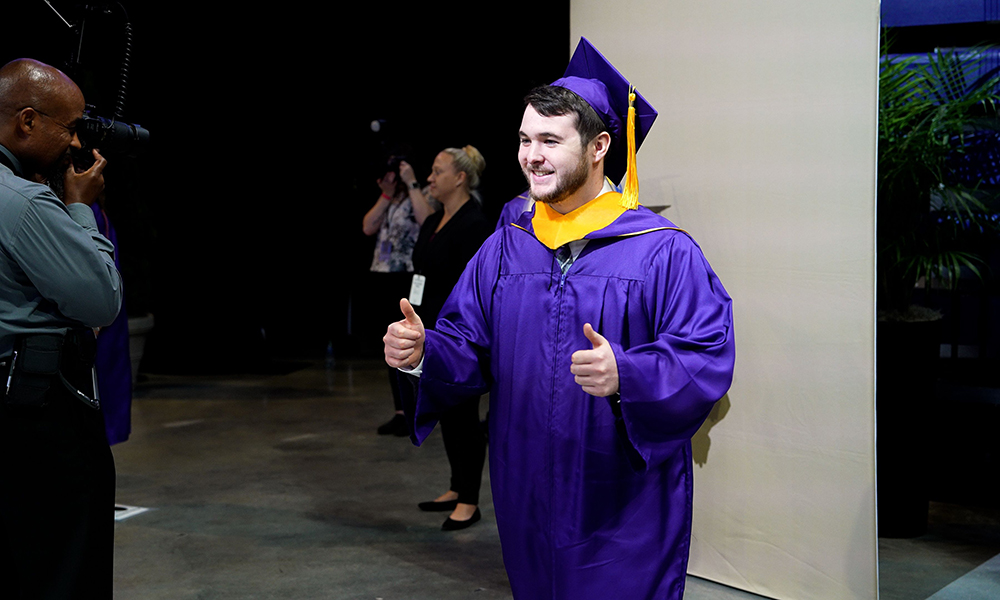 Thome said he was "devastated" not to be able to participate in Winter Commencement. "My whole family was planning to come down. We had rented a house at Massanutten. I wanted to walk across the stage, and be with my friends and my [Theta Chi] fraternity brothers."
At home, he continued to rehab with a physical therapist and an occupational therapist four days a week. In February, he began outpatient therapy at Adler Therapy Group, which was founded by fellow Duke Josh Adler ('03).
Throughout his recovery, Thome was adamant that he would return to campus in May to walk across the commencement stage. On Friday evening, he did just that, with his dad, Geoff, and mom, Anne Marie, in attendance.
Thome is grateful for the support and encouragement he received from the Kinesiology faculty. Professor and department head Janet Wigglesworth said Thome recently walked into a faculty meeting to thank them for the care package they had sent while he was in the hospital. "As he shared his story of recovery, he told us that he had his cap and gown and would be walking across the stage during the CHBS ceremony!"
Thome is now working for Adler Therapy Group, and he plans to attend graduate school for physical therapy.