Furious Flower Poetry Center and JMU Libraries release "Flowerings: A Framework for Mutual Growth"
JMU News
---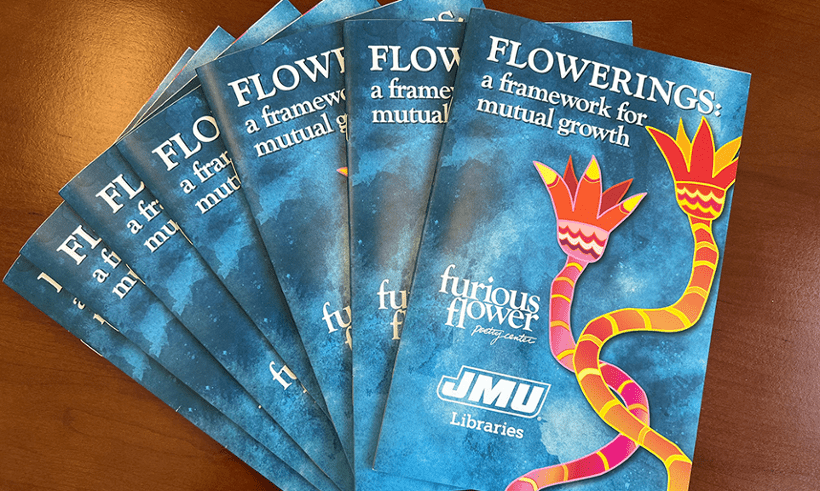 Harrisonburg, Virginia — The Furious Flower Poetry Center and James Madison University Libraries are pleased to announce the publication of "Flowerings: A Framework for Mutual Growth." The Framework addresses leaders of libraries, archives, museums, and centers for the arts and humanities who wish to partner across organizational lines and bring communities together. It also directly supports next steps in implementing a 4.5-year, $2 million grant from the Mellon Foundation to secure a digital future for Black poetry at JMU. 
The document's "frames" serve as a metaphorical trellis for the partnership Furious Flower and JMU Libraries are sowing and nurturing together: 
Forwarding a reparative understanding of library collections as partnering communities' belongings.
Cultivating an Afrofuturist understanding of archives as instruments for imagining new futures.

Developing trust and authenticity when exploring issues of authority and equity.

Focusing on holistic transformation and sustained partnerships rather than predetermined outcomes.

Engaging outside eyes to support honest, well-rounded self-examination.

Exploring how organizational leaders can build a shared vision for transformational change.
The Framework summarizes lessons learned from work on "Furious Flowerings: Developing a Partnership Model for Digital Library Support of a Living Center for Black Poetry," a planning grant funded by the Mellon Foundation in 2020-2021. 
"We are deeply grateful to the many partners, advisors, colleagues, and participants who contributed to this project," said Dr. Jody Fagan, Project Coordinator for the grant. Framework authors include Fagan, Furious Flower Executive Director Lauren K. Alleyne, founder Dr. Joanne Gabbin, and Dr. Bethany Nowviskie, dean of JMU Libraries.
###
Contact: Ginny Cramer, cramervm@jmu.edu