JMU News
JMU launches new 'Grow Your Own' programs to build teacher workforce pipeline in Virginia
$4.2 million in state support creates no-cost pathways for aspiring educators into teaching
---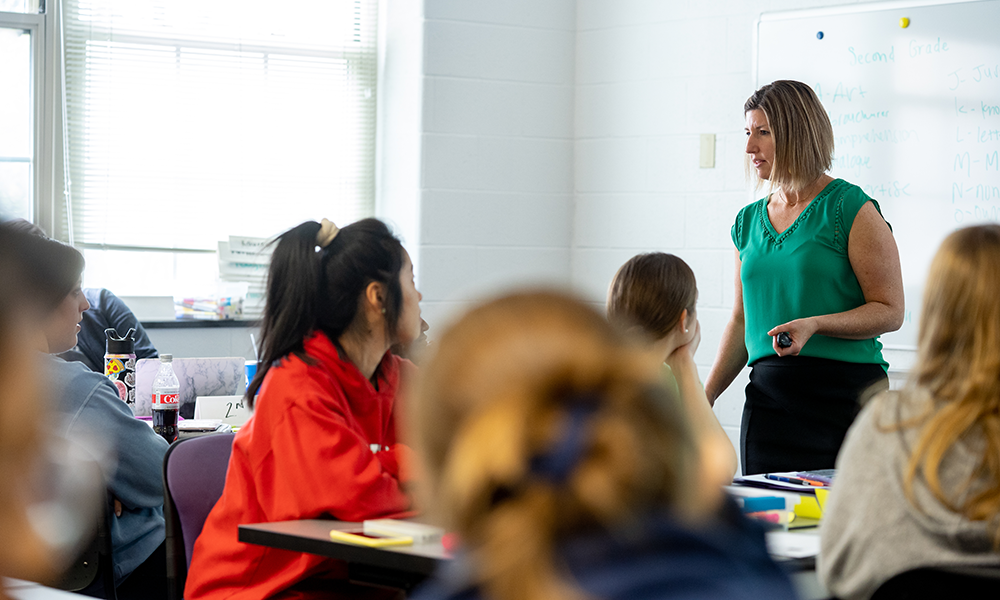 Harrisonburg, Virginia – James Madison University's College of Education will receive $4.2 million over the next two years from the Commonwealth to partner with Virginia school districts to help eligible high school students and paraprofessionals become licensed teaching professionals in their hometown school districts.

As schools across Virginia are facing crisis-level teacher staff shortages. JMU's College of Education is taking action to help fill the gap by developing partnerships with Virginia's Community College System and local schools that encourage high school students and teacher assistants or paraprofessionals to consider becoming a teacher.

JMU will receive a total of $4.2 million in state support over two years to create new JMU Grow Your Own Initiatives. The funds go toward creating a Grow Your Own Campus Teaching Fellows Program for high school students, and a Grow Your Own Paraprofessional Teaching Fellows Program for teacher assistants or paraprofessionals.

Once a student is selected to participate in the new program, they will receive full financial assistance, 100% funding of tuition, fees, and books, as well as receive access to academic and professional development support opportunities through the JMU College of Education to ensure successful program completion.

Students are required to maintain a minimum overall GPA of 2.5 to remain in the program. A two-year commitment to return to teach at the low-wealth school division from which they came is also a requirement.

"The Grow Your Own partnership approach has shown strong results in successfully supporting students who are inspired to teach in their home communities while also working to help reduce the impact of teacher shortages," said Joy Myers, Ph.D., Executive Director of JMU Grow Your Own Initiatives. "We are committed to forming strong partnerships with local school districts and removing barriers for aspiring educators to enter the teaching profession."

School divisions currently identified for recruitment include Harrisonburg, Rockingham, Warren, Frederick, Petersburg and Portsmouth for the degree licensure areas of Special Education, Early Childhood Education, and Elementary Education.

The Grow Your Own Initiative continues JMU's hallmark academic tradition of incubating student success through providing a multifaceted academic support system and career-readiness tools, through specially designed services and programs.

The program aims to build on the success of the College of Education's other teacher workforce initiatives, such as the Accelerated Teacher Training Program and Virginia New Teacher Support Program, to help combat against Virginia's teacher shortage crisis.

"This exciting new program continues James Madison University's long, proud history of educating teachers, many of whom serve schools in Virginia," said Dr. Mark L'Esperance, Professor and Dean of James Madison University's College of Education. "JMU is thrilled to collaborate with local school districts and our K-12 partners on this unique initiative."

JMU's College of Education, the second largest public preparer of teachers in Virginia, has more than 100 full-time faculty and more than 3,000 students in teacher licensure programs.
###
Contact: Clay Sutton, suttoncd@jmu.edu, (540) 236-8227