JMU News
Season's greetings as a wonderful semester ends
---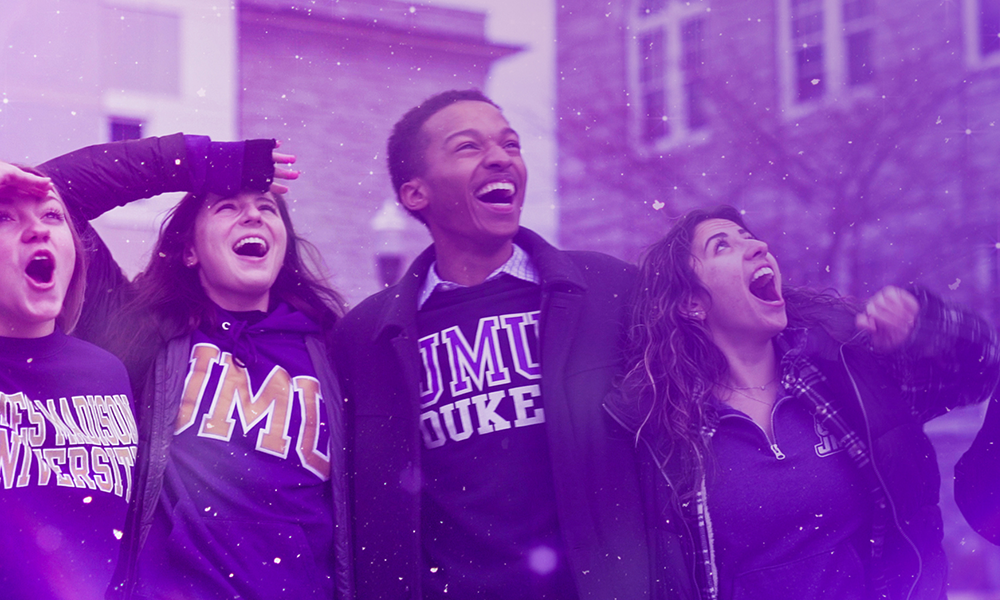 Dear JMU Family, 
I am hopeful that you, your family and friends are well and looking forward to enjoying the winter break. During this time of year when many of us gather and celebrate traditions, we are reminded of just how important relationships are to us. And if the ongoing public health crisis has taught us anything, it's that we are more mutually reliant on each other than ever before.
In that spirit, I want to express my tremendous gratitude to you for helping to keep us safe as we returned in person on campus this semester. That we were able to operate safely this fall provides a powerful testimony about your care for others and for our community. Thank you for stepping up to keep each other healthy. And to those of you who went above and beyond to stay connected with others, especially with folks who needed added kindness this semester, thank you.
And what a semester it was! The amount of good news about James Madison University this fall is a testament to your diligence, care and mission-driven efforts for our learning community. Among the highlights:
A major studyconducted by the State Council of Higher Education for Virginia (SCHEV) found that JMU alumni agree with the statement "I am satisfied with my life" at the highest rate among alumni from all 16 public colleges and universities in Virginia.
JMU made Newsweek's list of the top 200 "Best Maker Schools" in the world.
Lauren K. Alleyne, professor of English and assistant director of JMU's Furious Flower Poetry Center and Erica Lewis, associate professor in our School of Nursing both received 2022 Outstanding Faculty Awards from SCHEV.
We moved up to the Football Bowl Subdivision by

joining the Sun Belt Conference.

We received word from the Carnegie Commission that JMU will be reclassified from a "master's level" institution to a "doctoral/research" university, which will elevate us from regional to national rankings.
Generous JMU donors helped

Unleashed: The Campaign for James Madison University

exceed all five of its goals.
These are just some of the headlines from a semester during which the university made many leaps forward—thanks to you. So, as we near the end of 2021, to express my gratitude and admiration to each and every one of you, please enjoy this fun holiday video. I hope watching it will lift your spirits and remind you that we all belong to a very special JMU community. 
With gratitude and warm regards,
Jonathan R. Alger
President
James Madison University