JMU News
JMU Giving Day on March 21; University seeks to set new record
---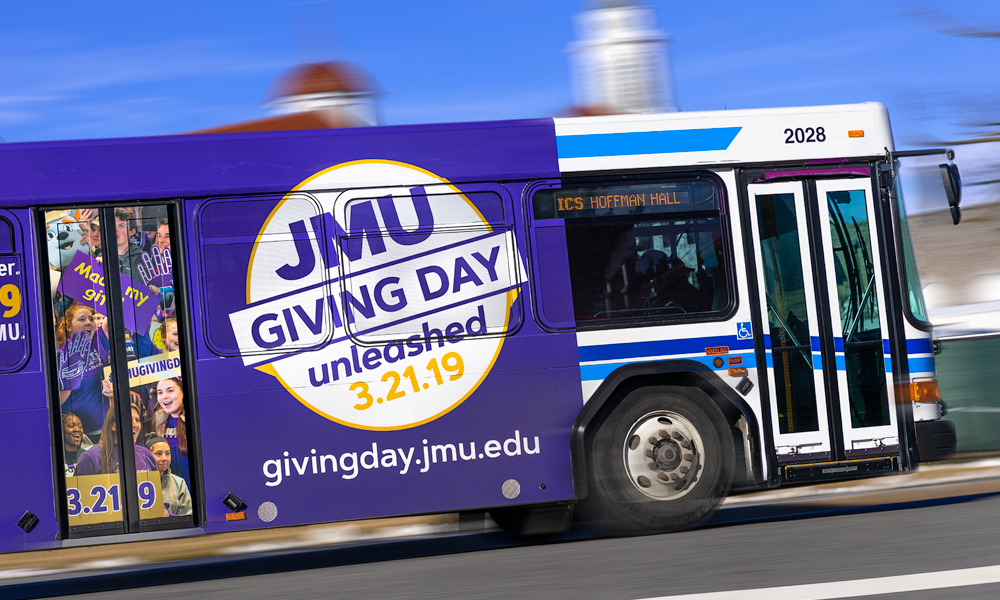 ---
Donors to James Madison University can unlock an extra $200,000 for student scholarships by topping last year's JMU Giving Day record of 5,095 gifts. The fourth-annual JMU Giving Day runs midnight to midnight on Thursday, March 21, at givingday.jmu.edu, and also includes campus activities and events for alumni throughout the country and right here in Harrisonburg during the 24-hour period.
Last year, 5,095 gifts raised more than $700,000 in just 24 hours so that students can enjoy a more meaningful Madison Experience. The stakes are high this year to set a new record. John ('88) and Karen ('93) Rothenberger have pledged $200,000 toward the Centennial Scholars program, which provides scholarships for Virginia residents with financial need, if Dukes can beat the previous number of gifts received during the day.
"Over the last three years, the excitement around JMU Giving Day has grown and ignited a spirit of philanthropy in the Madison community," said Gretchen Armentrout, Director of Annual Giving at JMU. "The gifts we receive help all of our academic programs and make a positive impact where it matters most… with our students."
James Madison University is currently in the midst of its second-ever comprehensive fundraising campaign, with goals of $200 million in total funds raised and 65,000 donors engaged by June 2022. Unleashed: The Campaign for James Madison University will help set the course for the university's future. The campaign stands at $134 million, with contributions from more than 46,000 members of the JMU community.
Supporters are also encouraged to follow along and join the fun on social media by searching and using #JMUGivingDay.
Media are invited to come by fundraising headquarters or visit us at one of the many stops that the Giving Day bus will be making throughout campus. Contact Caitlyn Read at readcl@jmu.edu for details.