Unleashed
Shelton shows how scholarships change lives
---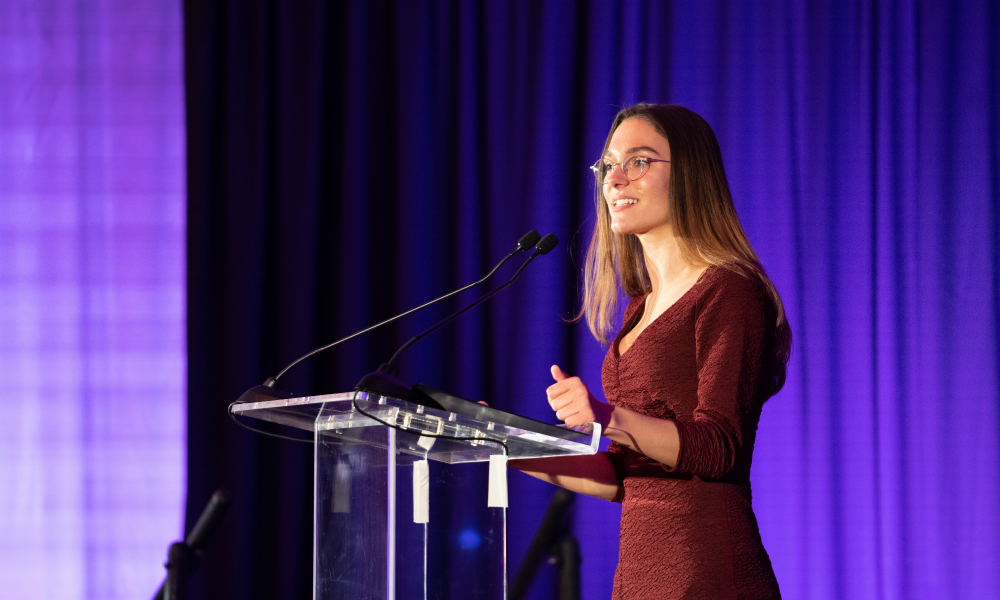 SUMMARY: Centennial Scholar Katrina Shelton shares her personal story of homelessness and the transformative power of a single email message.
---
When senior biology major and pre-med minor Katrina Shelton addressed donors at the Oct 26 launch celebration dinner, she touched their hearts and reminded everyone why Unleashed: The Campaign for James Madison University is so important.
'I must be honest with you. I have worked hard to get here and I must continue to work hard. I'm excited about this Unleashed campaign and about the idea that it will encourage more alumni to give to JMU so that more students can receive a JMU education that will change their lives too.'
— Katrina Shelton ('19)
"I was 8 years old when I realized that education was the only way I was going to change my life," she said, and then described a visit to her best friend's house. "I was in awe. I asked my friend, 'You have a bed? And toys?' I grew up in what I now realize are not normal conditions." Shelton's parents struggle with severe drug addictions that sent them to prison early in her life. "I became homeless at 15. … I never thought that college would be an option for someone like me."
High school teacher and JMU graduate Theresa Steele ('85) took Shelton under her wing. "She was the first person to believe in me. … She is the reason I applied for JMU's Centennial Scholars Scholarship, and in one email my entire life changed.
"The Centennial Scholars program opened the door for me, and I am so grateful. It has changed the course of my life," Shelton told donors. " I want you to know that people who give scholarships change lives."