Unleashed
Gilliam family names JMU Center for Entrepreneurship in honor of late matriarch
---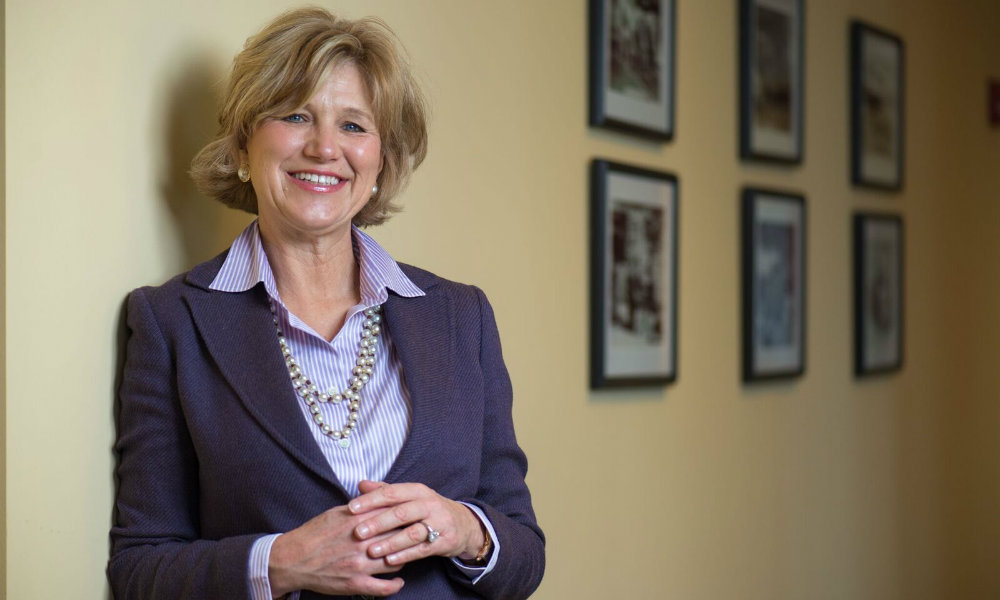 SUMMARY: The largest commitment in JMU's history names the JMU Center for Entrepreneurship in honor of leader and philanthropist Leslie Flanary Gilliam ('82).
---
Julia Gilliam Sterling of West Palm Beach, Fla., announced a $5.2 million commitment from her family to name the Leslie Flanary Gilliam ('82) Center for Entrepreneurship in the JMU College of Business. The net commitment is the largest in JMU's history and was unveiled Friday, Oct. 26, as part of the public launch of Unleashed: The Campaign for James Madison University.
Entrepreneurship is a priority of the university's $200 million comprehensive campaign and includes the center, the academic minor and a campus culture that supports a variety of entrepreneurial initiatives.
"Many, many people are involved in this pan-university movement," JMU Provost and Senior Vice President Heather Coltman said at the dinner celebrating the public launch of the campaign. "But one family in the JMU community [the Gilliam family] has been … encouraging the entrepreneurial spirit at JMU for years."
The Gilliams' investment in JMU is a passion gift, combining their passion for promoting free enterprise and honoring their late mother's passion for JMU. "We chose to make this gift as a way to honor our mother and continue her legacy," Gilliam said.
"What my mom loved most about JMU was the sense of community," her daughter says. "She was so enthusiastic about her work on the board and with Women for Madison. I remember asking her, 'What is it about JMU that's so exciting?' She said, 'I love JMU. Julia, those are my people.'"
'I love JMU. Julia, those are my people.'
— Leslie Gilliam ('82)
Leslie Gilliam was a 1982 JMU management graduate, philanthropist and leader who served as a member of the JMU Board of Visitors and was a co-founder of Women for Madison. She died in 2016.
The commitment to JMU comes from Leslie Gilliam's family, including widower Richard Baxter Gilliam Sr., son Richard Baxter Gilliam Jr., and daughters Julia Gilliam Sterling and Anna Gilliam.
"My mom loved to stand up and speak. She was a leader but always wanted to be humble about her giving," Gilliam says. "She would never have named this for herself, but now that she has passed, it's a way to continue her legacy."
As proponents of free enterprise and the roles business and entrepreneurship in particular play in creating opportunity, the Gilliams' choice to support the JMU Center for Entrepreneurship was natural.
"We believe that entrepreneurship can inspire change, encourage innovation and promote progress," Gilliam says.
She speaks from family experience. Her father, Richard Baxter Gilliam Sr., established and developed Cumberland Resources Corp., which owned and operated bituminous coal and lignite underground and surface mines in Southwestern Virginia and Eastern Kentucky. The company was sold to Massey Energy in 2010.
"My parents built a company that employed over 1,200 individuals in Southwest Virginia and Eastern Kentucky. It was not just about creating opportunity for themselves, but also about creating opportunity for others," Gilliam explains.
"The success of our parents was brought about by entrepreneurship," she says. "My dad started the business that generated the funds to give this gift. It's hard to believe, but when he first started out he had to borrow a small sum of money from his own father to marry my mom — there was no money for an engagement ring, just a simple, small wedding.
"He started with very little," she says. "He did have an entrepreneurial spirit and he had my mom. She was a supportive partner who believed wholeheartedly in entrepreneurship and hard work."
The Gilliams hope to promote the same kind of spirit at JMU for future entrepreneurs through their commitment for the Center for Entrepreneurship and entrepreneurship initiative. JMU recently launched an entrepreneurship minor in the management program, which is open to students regardless of major.
"One element of our curriculum and co-curriculum that is especially able to cross disciplines is entrepreneurial thinking and entrepreneurship," said Coltman, JMU's chief academic officer. "That's an emphasis for us. Also, just this year student teams participating in the Venture Accelerator experience at our Center for Entrepreneurship have raised $9 million in equity funding. These are undergraduates, and that's unheard of."
That's exactly the student impact the Gilliams hope to grow.
"My father actually founded his first business when he was in college," his daughter explains. "This first endeavor was not his most successful, but he took risks and put himself out there."
Gilliam said her family wants to further encourage that spirit at JMU.
"Some of the best ideas are incubated in an academic environment," she says. "That's why we believe the center is important at JMU. At the center students can learn, explore, and create with the support of their academic community. Entrepreneurship requires taking a lot of risks, putting yourself out there, and believing in yourself. Starting out with support in an academic community is important."
Ultimately, the Gilliam family believes students are the future, and the JMU center will prepare them for an important role.
"We believe that JMU students will go out into the world inspired and equipped to effect change, they will build prosperity and create opportunities," Gilliam says. "Students will have the skills and experience to go out into the larger community to create opportunity for themselves and others."