News
Paving the way for success
Time in London and Washington, D.C., marked this special Madison Experience.
---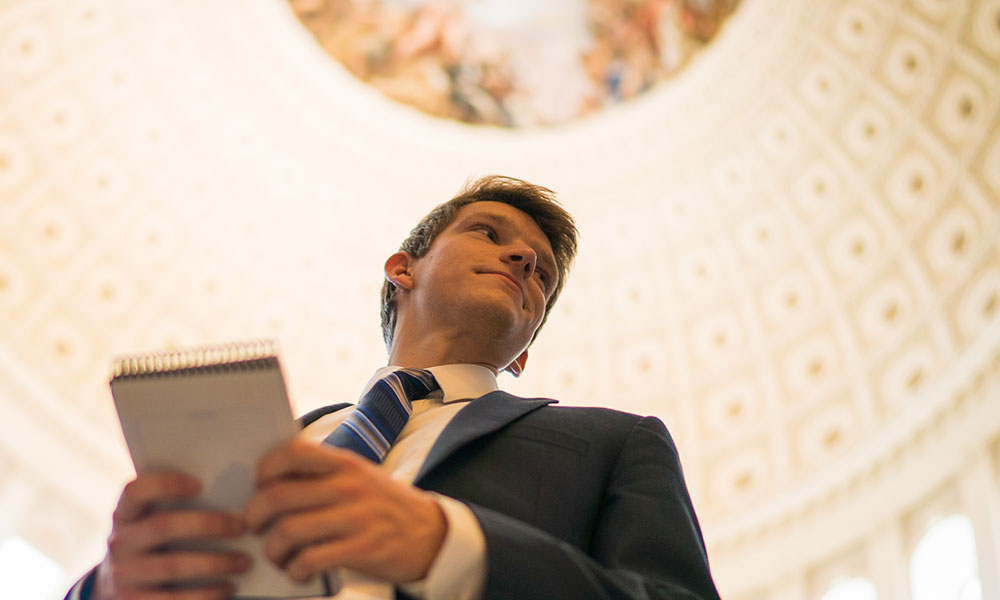 'JMU has truly helped me realize that I want to do something fulfilling that makes an impact on the world in a good way.'
Dylan Russell thinks each of us should do our part to make the world a better place.
Currently enrolled in the coveted London School of Economics master's degree program, Russel credits JMU for paving his way.
The economics and international affairs double-major truly made the most of his Madison Experience.
While studying abroad with the Semester in London program, Russell signed on for an internship with the Turkish Cypriot Community Association, a nearly 40-year-old charity that provides services to immigrants living in north London. Originally established to serve ethnic Turks from Cyprus who had relocated to London, the agency has expanded its services to immigrants of all backgrounds, to include legal counseling, assistance with health benefits, English classes and in-home care for the elderly.
"In my title as a finance and grants intern, I worked closely with CEO Erim Metto to help in the submission of grant applications for government funding for their community initiatives," Russell says, "and I also reviewed and updated some of their financial procedures." He credits his JMU economics classes with giving him the tools to help TCCA find the best solutions.
Following the London semester, Russell landed a prestigious internship with U.S. Sen. Tim Kaine's office in Washington, D.C.
"Our primary task was to help out the policy team by attending briefings and hearings, then writing memos for the policy staff," he says. "It was a great learning experience, of course."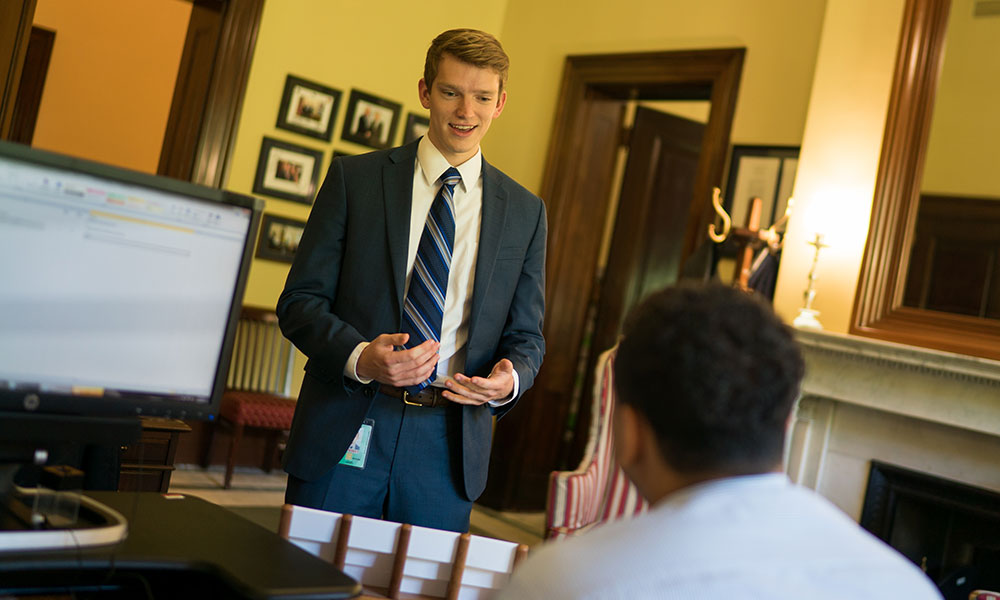 Russell says his writing assignments at JMU prepared him for his work in the Capitol up to a point, "yet to attend these [hearings] in person and try to absorb the information, and then try to break it down into an easily readable format that you could give to someone on the policy team who has to read many, many of these each day, was such a great and worthwhile challenge."
Russell was drawn to JMU because of its strong study abroad programs. "That was a huge selling point for me, and I have to say that it lived up to every expectation that I had," he says.
From his double major to his leadership roles with the Madison Economics Club and the Delta Phi Epsilon foreign service fraternity, Russell considers his time at JMU to have been well worth it. "I feel extremely fortunate and very happy with my entire path that I have taken here at JMU. It has turned out really well for me."