JMU in the Community
An entrepreneurial spirit: Madison Trust program marks its third presentation series
Madison Trust program marks its third presentation series
---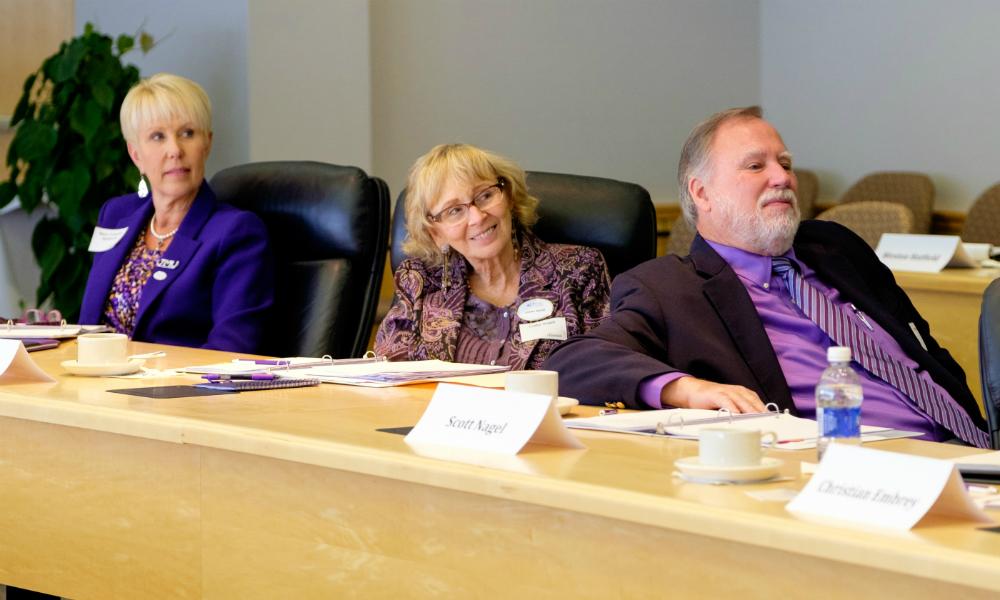 SUMMARY: The third round of Madison Trust presentations took place May 19 as 10 groups of JMU faculty and staff members pitched their ideas in support of the university's core values and planning priorities to a group of investors for the opportunity to receive funding. The initiative inspires innovation and entrepreneurial thinking across campus. The projects ranged from a brewing and distilling center, to a community music lab, to student opportunities to combat Salmonella.
---
The images below capture a few of the pitches: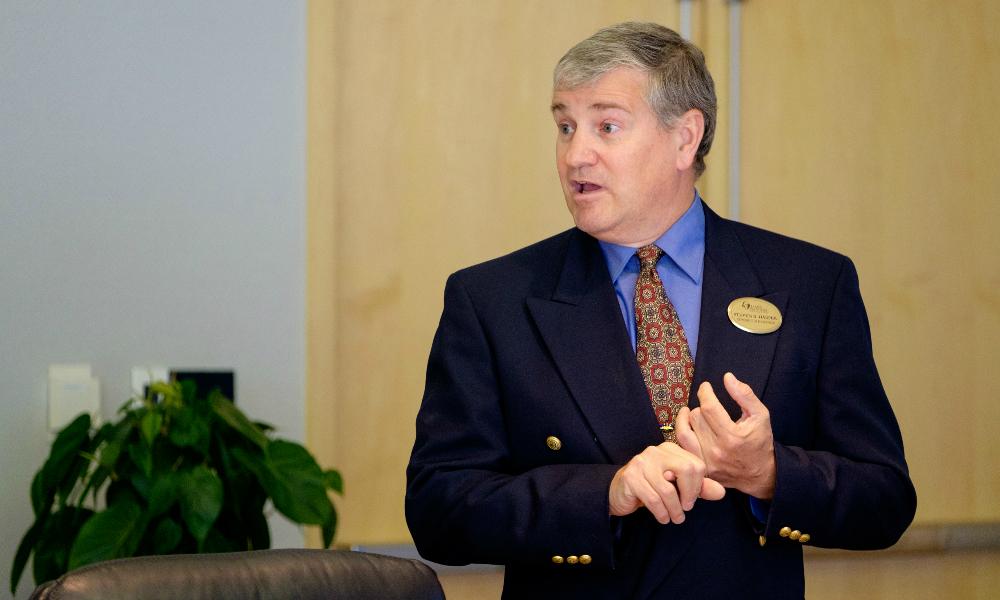 Dr. Steve Harper proposed the creation of a Center for Brewing and Distilling to enhance support and collaboration within Virginia's booming brewing industry.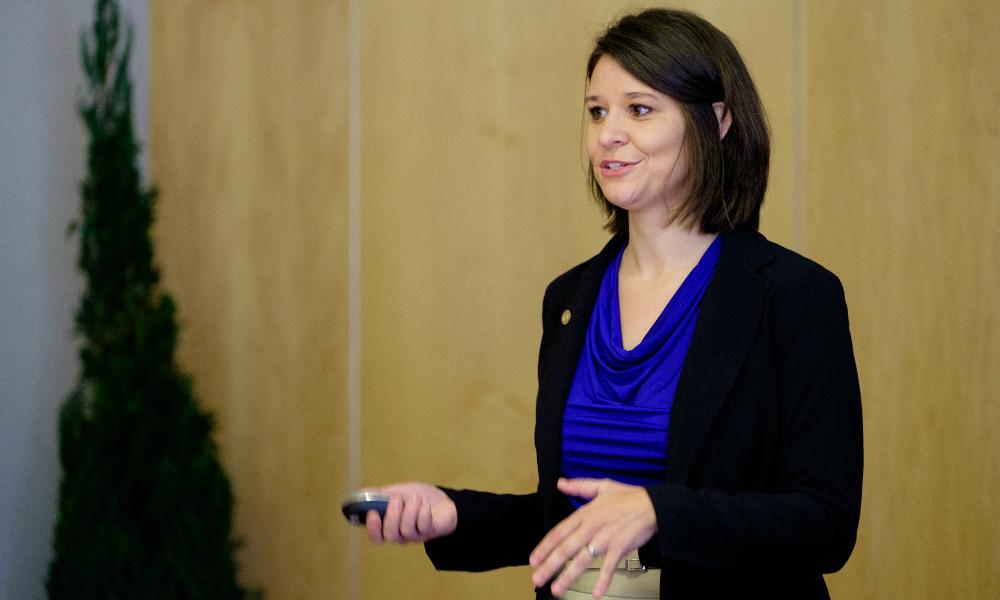 Dr. Josh Bacon and Katie Sensabaugh proposed "The Campus Community Restorative Justice Initiative" to work toward community solutions for student transgressions while growing in empathy and understanding.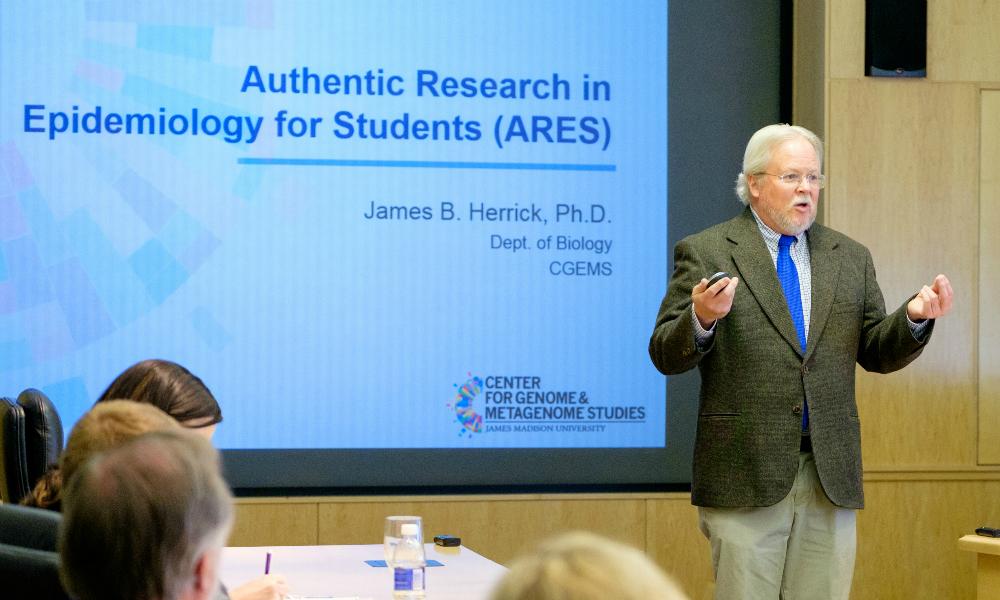 Dr. James Herrick requested funding to expand lab opportunities for students to partner with the FDA to identify Salmonella strands and to be available to crowdsource research into potential outbreaks.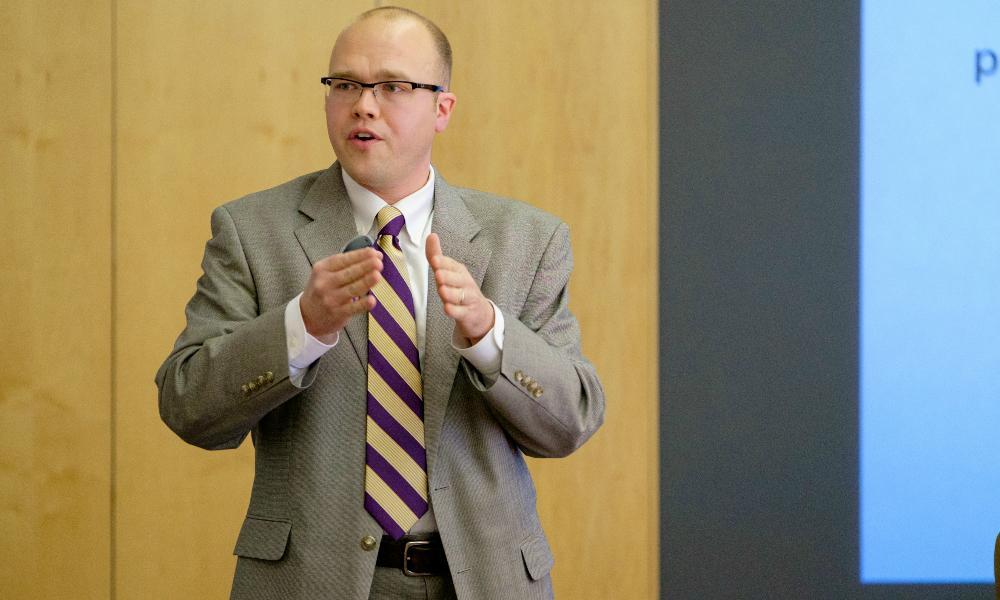 Dr. David Stringham, Dr. Perry Shank and Bob Adamek pitched "Rocktown Music Lab," a community center for a diverse student population that would reach outside of traditional music education, with the help of JMU student-teachers.
Other presentations include:
"Development of a Small Camp in Kenya" (Dr. Michelle Cude) : Constructing a small camp in Kenya involving JMU engineering, teaching, occupational therapy students and more.

"Walkable Scale Model of the Solar System" (Dr. Jennifer Mangan): Encouraging experential learning of the planets using major buildings on campus

"The Well-Being Initiative" (Dr. Gregg Henriques):  Opening a center on campus uniquely focused on mental health

 "A Novel Multi-Disciplinary Approach to Combat Pathogenic Bacteria" (Dr. Kyle Seifert, Dr. Kevin Caran, Dr. Klebert Feitosa) :  Using chemistry, physics and biology to create a more effective antibacterial agent 

"Improving Rural Mental Health by Establishing an Integrated Behavior Health and Primary Care Internship and Residency" (Dr. Tim Schulte, Dr. Anne Stewart and Dr. Bernice Marcopulos) : Benefiting the community and students by offering a rural residency in the Shenandoah Valley

"Harnessing Brain Plasticity for Treating Debilitating Hearing Disorders" (Dr. Mark Gabriele) : Increasing research on brain flexiblity to improve hearing disabilities in a cost efficient manner 
We thank our faculty and staff for their innovative and inspiring ideas. A few projects will be funded by principal investors. Finalists will be notified by June 10. To learn more about Madison Trust, click here.